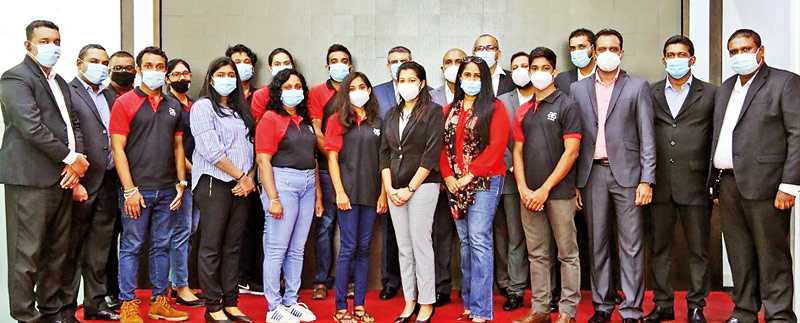 A new and revolutionary 'Self-Service – Customer Portal' was launched by AIA Insurance recently. AIA and Arimac are the first Sri Lankan entities to implement a customer experience suite on the latest version of Adobe Experience Manager, in the country.

This is a unique and convenient new user experience provided exclusively to AIA Insurance's wide customer base. The portal is cutting-edge and self-sufficient and is geared to handle the complexities of most first level customer service requirements.

"The Customer Portal takes our valued customers on a secure and cohesive service experience journey. AIA globally and locally is focused on consistently seeking out digitisation innovations and leveraging on technological advancements to stay ahead of competition and provide our customers with novel and pioneering levels of service. This Customer Portal takes the weight off some of our traditional channels and allows them to focus on and maintain high service standards," commented AIA Sri Lanka Director IT/Chief Technology Officer Umeshi de Fonseka. Elaborating on AIA's decision to partner with Arimac, he said, "We had a host of providers who pitched for our bid to create the Customer Portal. It was Arimac however, who won this project as they were the only Tech Company with the knowhow and expertise to build the software using Adobe Experience Manager which was a mandatory requirement for AIA."

Arimac Founder/CEO Chamira Jayasinghe further added, "AIA is a progressive company that is agile and swift to embrace technological and digital innovations and we are delighted to have had the opportunity to partner them on this exciting project. Arimac is proud to be the first Sri Lankan software solutions provider to successfully implement a customer experience suite on Adobe Experience Manager in Sri Lanka. This harnessing of technology, is vital in today's context, taking into consideration the new ways of working during a time when customer interactions have been completely transformed due to COVID-19, with most customer interactions being managed digitally, across the globe.

The Adobe Experience Manager used to develop the portal, provides an all-in-one customer experience. A new phenomenon is that customers expect unprecedented levels of self-service from the companies they place their trust in. They prefer to go online to research the products they need and find answers to their questions on their own time and make their own well informed purchase decisions. Easy and quick access to information and services can make all the difference when it comes to winning over loyal customers or losing them to competitors.

The trend towards anytime, anywhere access to services has spilt over into all stages of customer engagement. Now companies can efficiently create personalised content and experiences and connect, deliver, and manage experiences across diverse channels and devices to maintain a singular voice throughout the context of the customer journey. They are also able to unlock artificial intelligence and machine learning to amplify the impact of data and content.

Dedicated to being a game changer in the spheres of digital and tech solutions, Arimac Lanka was founded in 2011, by Founder/CEO Chamira Jayasinghe, who has secured the company's position at the forefront of Asia's tech industry within nine years. Arimac Lanka is an end-to-end digital solutions provider in diversified areas such as customised digital solutions that cover spheres such as mobile and enterprise, artificial intelligence, machine learning, immersive technologies, and game design and development. Arimac has extended its services to the international market taking on overseas projects for international giants such as United Nations, VISA, Etihad and Emirates. The company bears claim to a diverse investment portfolio and their in-house ecosystem to support a client base which includes Dialog Axiata, Coca-Cola, Microsoft, MAS, Hemas, Sri Lankan Airlines, Brandix, 3M, Lowe LDB, Nestle, JWT, Ogilvy, and Unilever.