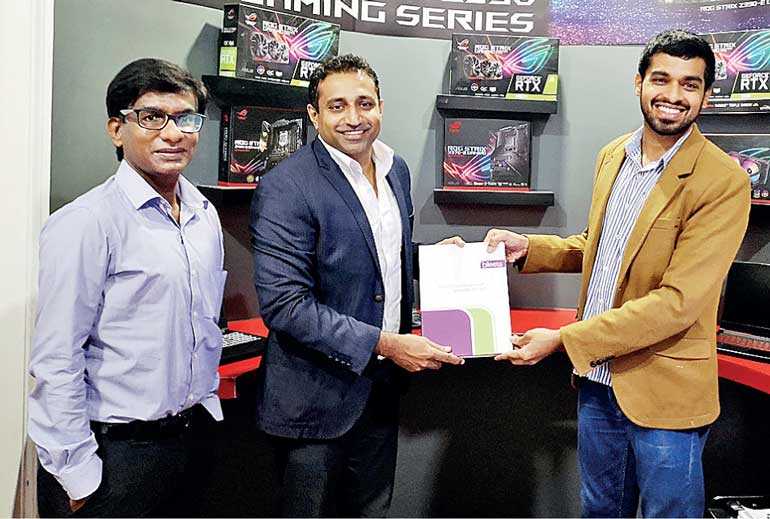 Redline Technologies Director Zaffran Zavahir with Bileeta Director CTO Sanka Weerasinghe and Bileeta Head of Business Development Benton Samuel
---
Redline Technologies with its unrivalled reputation for being a premier hardware tech store, is best known for its home grown innovative Blackbox brand that has enabled it to lead the way as a game changer in the ICT hardware industry space. Redline's Blackbox Computers specialises in purpose-built workstation and server PCs to enable top performance video editing, 3D animation, 3D modelling, CAD applications, architectural design, sound editing and many more.

The company has once again taken an innovative step to empower itself and become future-ready with a focus on innovation and business profitability. It recently signed a partnership with Bileeta Ltd., a leading ERP solutions provider in the country who will enable Redline to streamline its operational efficiency as well as provide it with access of real time data to help fuel its journey of developing the next-gen hardware technology products over the next few years.

Redline Technologies Director Zaffran Zavahir said, "We are a company who is very responsive to the rapidly changing ICT environment. We deliver our services by utilising our team of well-informed, technically knowledgeable staff combined with solid, customer care. Having come a long way over the last couple of years by building our current success on the solid foundation that has been high end gaming products and Blackbox Computers. Our company culture and vision are built on enabling our customers to have the latest technology products backed by excellent support services and the partnership with Bileeta is another step taken in this direction."

Having gone live with the solution, Zaffran explained, "Bileeta's Entution ERP Solution has helped us to think ahead and properly plan what we need to achieve from inventory and sales down to financials and customer service. Configured to fit our own unique needs and the ever-changing needs of our growing business, it has given our company a competitive and financial boost while improving company productivity, collaboration and communication. Overall, we have gained a comprehensive, real-time understanding of all our business activities.

"Striving to extend our business and boost value with technology innovations, I could say that this partnership has proved to be very much in line with our company's agenda of pioneering the latest ICT solutions and services and becoming a one-stop-shop and a trusted partner for all of our customers' technology needs. As such Bileeta's Cloud ERP solution that is built for the digital age, has been one of the best investments we made for our organisation's future growth trajectory."

Bileeta Ltd. Director CTO Sanka Weerasinghe added, "We believe that our Entution Cloud based ERP solution will be an ideal partner to support Redline Technologies gain the next step in operational excellence. We look forward to helping them extend their capabilities through giving them real time data analytics to develop more innovative products as they have done with their Blackbox model."

Built for the digital age, the Entution ERP solution embraces both mobile, social and analytics and has powered organisations of all sizes and industry verticals to gain real-time visibility of their operations, with industry-specific solutions designed to specifically meet their business needs.

As mega trends around ICT intensify, Redline is passionate about designing and delivering a host of game changing next generation products for the Sri Lankan market and will continue to invest in new age software solutions, such as they have done with their partnership with Bileeta.