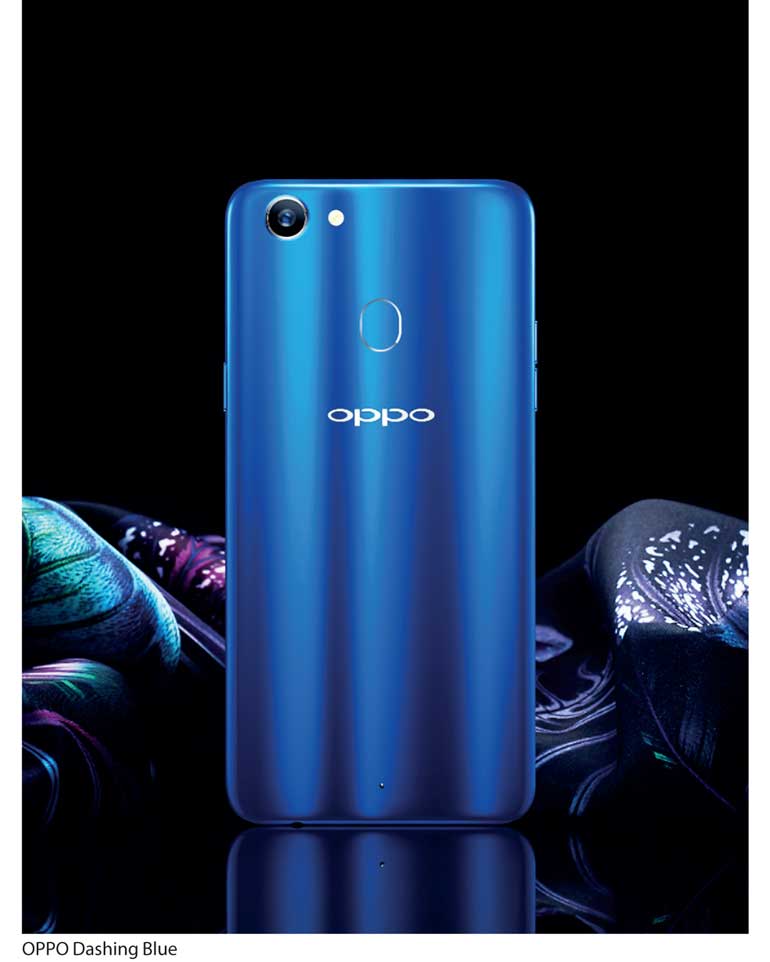 Striking new colour with OPPO's A.I. beauty recognition technology
OPPO, the selfie expert and leader, unveiled a Dashing Blue Limited Edition of OPPO F5. This striking new colour edition continues the success of the F5 series, OPPO's first full-screen model featuring groundbreaking A.I. Beauty Recognition Technology designed to personalise beautification. Priced at 49,990 and just in time for Valentine's Day, the OPPO F5 Dashing Blue Limited Edition will be available from 16 February across country through offline stores.

On this launch OPPO Sri Lanka CEO Bob Li said: "I believe that the dashing blue limited edition will find favour with our young users. We constantly try to cater to their needs and the combination of innovative technology, attractive price range and the aesthetically pleasing device itself will satisfy their love of technologically advanced features and the sense of fashion."

As a brand for more young people around the world, OPPO F5 Dashing Blue Limited Edition symbolises OPPO's passion for fashion, beauty, and romance. Perfectly capturing the light with an eye-catching effect on the rear of the body, this special edition is finished with a glossy blue effect, above which streaks of lights appear gleaming and flashing when held to the light. With a classic and bold colour, OPPO F5 Dashing Blue Limited Edition stands out in the crowd or indeed can blend in with your fashion style.

As with OPPO's other F5 series models, OPPO F5 Dashing Blue Limited Edition features A.I. Beauty Recognition Technology for personalised beauty. The A.I. gathers information and learns the specific facial features of different people from its centralised image database. Several professional photographers and make-up artists were consulted during the R&D process to improve the functioning of this technology. The resulting A.I. beauty recognition helps people capture more beautiful pictures.

OPPO F5 Dashing Blue Limited Edition features a 20MP front camera with an f/2.0 aperture and a 16MP rear camera with F1.8 aperture. Compared with other competitors' 13MP or 16MP camera in the same price range, the device has a higher resolution (2160x1080) and better photo quality. The front camera can deliver Bokeh effect, and the front HDR solves any over-exposure issues.

OPPO F5 Dashing Limited Edition features a 6.0-inch full-screen FHD+ display, giving the user a vivid visual enjoyment without the need to increase the size of the phone. It offers a high-resolution screen with 18:9 aspect ratio while the sleek unibody offers a visually slim appearance without any cut-offs. The gracefully curved body fits well in the palm, expressing a simple and elegant look. Also featured is Facial Unlock, the new face recognition Technology that will recognise its user and unlock the phone in an instant.

OPPO's Color OS 3.2, together with 4G RAM + 32GB ROM memory gives the operating system much smoother user experience; The O-share file sharing Technology is 100 times faster than Bluetooth – 8 to 10 pictures (3MB each) can be transferred between OPPO phones within seconds.

The flagship Octa-core CPU processor uses less energy, produces less heat while giving a higher performance speed (40% increased performance compared to the previous Color OS versions). With such powerful processing power, the transition between apps is smooth and gives an unprecedented mobile gaming experience. Split Screen allows two applications (e.g. Whatsapp and YouTube) can run on one screen at the same time.

The OPPO F5 Dashing Limited Edition battery life is longer thanks to the 3200Ah battery and the Continuous Optimising Technology which manages the apps running on the device, allowing the user up to 12 hours of continuous use (simulated test). The Do Not Disturb function for gaming will display an incoming call in the form of a banner. Your game play will not be interrupted while ensuring you will not miss any important calls.