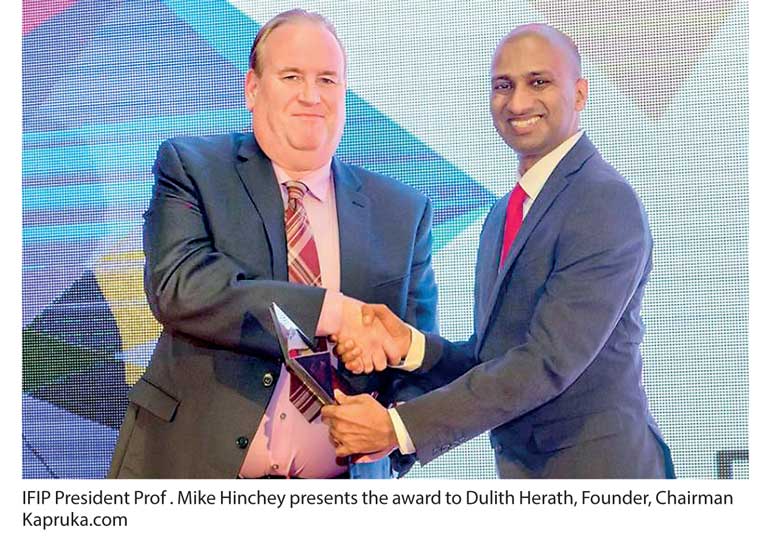 Award presented in recognition of exceptional service to Sri Lanka's ICT industry and impacting its evolutionary course through game-changing innovation
During the launch of National IT Conference 2017, the Computer Society of Sri Lanka (CSSL) annually recognises those who have served the ICT industry in Sri Lanka, with a series of prestigious awards. These awards intend to encourage, recognise and celebrate excellence in ICT with the final selections being made by a panel of experts from the industry as well as academia. CSSL ICT Leader of the Year Award is the most prestigious title awarded among all categories, and this year, it was awarded to Dulith Herath – founder and chairman of Sri Lanka's largest E-commerce organisation Kapruka.com, serial entrepreneur and Eisenhower Fellow.

Dulith almost single-handedly launched the e-commerce sector in Sri Lanka when he founded Kapruka.com back in 2002. Since then, he has made an immense success out of developing Kapuka.com to become a billion+ worth retail platform, with over 70% market share selling over 15,000 products and 300 different brands to generate over Rs. 1.5 billion in 2017. Recently, Herath debuted several more projects including his notable initiative 'Grasshoppers' which was funded by the Indian venture giant Aavishkaar and attracted the attention of global e-com tycoon Jack Ma of Alibaba.

Therefore, Herath's pioneering role in shaping Lankan ecommerce and digital purchasing realms is undeniable, and has now been rightfully recognised by the CSSL. The awarding ceremony took place this week at a private function hosted at Galadari Hotel and recognised Herath's role in Lankan ICT as a pioneer, innovator, influencer and a dynamic change-agent.

For this prestigious award, the CSSL considered game-changing innovation and creative thinking, plus out-of-the-box strategic input that impacts the way in which Lankan ICT moves forward. Herath built Kapruka.com from the very beginning to be a debt free operation that uses its own profits for growth and expansion. Stepping up a notch, he soon developed island wide delivery services for e-commerce packages to match Kapruka's consumer needs. Next, he launched the 'Global Price Checker' that lets online buyers in developing countries order products via global e-commerce giants such as Amazon, EBay, Alibaba, etc.

The most recently innovated 'Grasshoppers' venture is an e-commerce fulfilment service for upcoming companies and SMEs that require packages delivered island wide or sometimes even, globally. Herath revealed his strategy in launching and managing several operations, all at once, stating that Sri Lankan markets often get saturated, or are too slow in their growth capacity, leading entrepreneurs like himself to dead ends. It is this situation that Herath addresses by starting up several businesses that are, in some way, linked to one another.

With 37% average net profit and 52% gross profit, 'Kapruka Global Shop' became the second largest cash generator. Herath also devised its lean and unique 'zero-inventory' business model that has played an enormous role in Kapruka.com's success. The operation soon became awarded by Business Excellence (Gold), National Chamber of Exports (Gold), SLIMM Online brand of the year (Gold) and many other national awards for its excellent financial performance.

Dulith also sees a vast social significance in his work to popularise e-commerce in Sri Lanka. He sees it almost as a 'movement' to push transactions into the faster and more secure digital realm. Furthermore, ecommerce aids in the empowerment of SMEs and traditional businesses, helping them reach audiences worldwide. An example of Dulith's commitment to push ecommerce practice in Sri Lanka is how his brainchild 'Grasshoppers' is focused on 'inclusive ecommerce' that empowers everyone to do online purchasing and transactions by giving them the necessary tools such as trusted delivery services, highly secure payment platforms and easy returns etc.

This, Herath believes, is what is needed for grassroot level businesses to engage in trading online. Grasshoppers innovation was recognised by United Nations as a strong tool for all developing countries and also got the Eisenhower fellowship recognition in 2017. A visionary in his own league, Herath has predicted a future where Sri Lanka is known as the founding country of 'Kapruka Grasshoppers', bringing in foreign income through usage royalties.

It is within this exciting context of pioneering work that Dulith Herath gets recognised by CSSL as an outstanding figure in Lankan ICT. The awarding body CSSL was established as a not-for-profit body in 1976 by a group of dedicated professionals for the purpose of promoting Information and Communication Technology (ICT) and professionalism among those engaged in this field, and to maintain the highest professional standards among the ICT professionals.