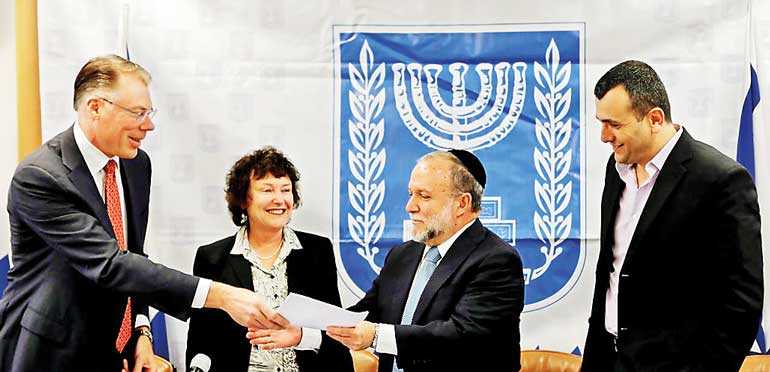 Israeli Finance Ministry Director General Shai Babad (R) looks on as International Monetary Fund-Israel mission chief Craig Beaumount (L) hands the IMF annual report to Israeli Deputy Finance Minister Yitzhak Cohen (2nd R), with Bank of Israel Governor Karnit Flug (2nd L) on hand, at the Israeli Finance Ministry in Jerusalem - Reuters
TEL AVIV (REUTERS): Israel and the New York Stock Exchange (NYSE) have begun talks on setting up a secondary stock exchange for high-tech companies in Israel that would compete with venture capital funds.

Israel has a bustling technology sector but most start-ups and established companies opt for private sources of funding rather than tap the Tel Aviv Stock Exchange (TASE), whose regulations are deemed too stringent for smaller firms.

According to the Israel Venture Capital Research Center and ZAG law firm, Israeli private high-tech firms raised a record $6.47 billion in 2018, up 17 percent from 2017.

Senior Israeli Finance Ministry officials met with NYSE executives in New York this week to discuss creating the secondary market, which would help finance tech companies at their earliest stages, as well as other financial issues.

Shai Babad, director general of the ministry, said the two sides did not discuss details of the bourse's model given that talks are in the early stages but that the hope would be that the new exchange would be a unit of the NYSE. "What we agreed on is how we can make it happen," he said. "There are a lot of accessible investors looking to pursue the high tech sector in Israel." Babad noted large demand in Israel for early stage financing of high tech firms. "High tech companies will be able to raise money, not just abroad and from foreign investors, but they can have a stock exchange to raise money with relatively low regulations and bureaucratic requirements," he said. "It will be just as easy for high tech companies to raise money on a secondary exchange as it is with venture capital.