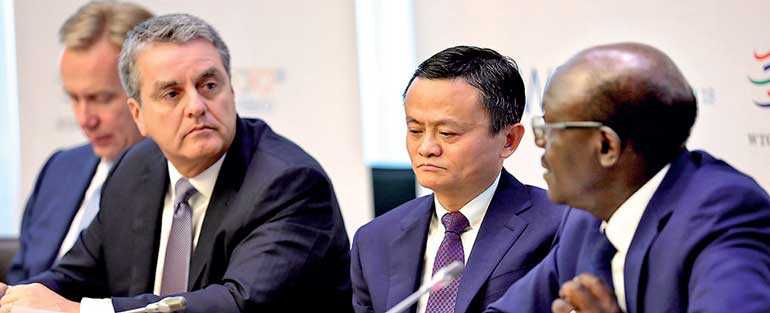 Alibaba's Jack Ma, UNCTAD's Mukhisa Kituyi and the World Trade Organization's Roberto Azevêdo say concrete action is needed to ensure poorer people don't miss the e-commerce boat
A laissez-faire approach to electronic commerce would put businesses and people in poorer countries at risk of falling further behind, the heads of UNCTAD and the World Trade Organization said on opening day of the trade rule-making body's public forum in Geneva from 2 to 4 October.

But while rules are needed, they must be business friendly and simple enough that everyone can navigate them, said Jack Ma, Co-Founder and Executive Chairman of the Chinese online commerce giant Alibaba Group.

E-commerce sales have mushroomed from $16 trillion in 2013 to around $26 trillion in 2016, offering new business opportunities to anyone with an internet connection.

"[People] can buy everywhere, sell everywhere, deliver everywhere, and pay everywhere," Mr. Ma said during a discussion on "enabling an inclusive future for e-commerce".

WTO Head Roberto Azevêdo agreed that e-commerce allows entrepreneurs to overcome some of the traditional obstacles to trade, such as physical distance.

"If you have a phone now you're connected to a global marketplace," Azevêdo said, adding that online platforms allow consumers to access a broader selection of goods at better prices. "But without the right approach, the big players could easily dominate this market at the expense of the smaller businesses," he said, reminding the audience that 4 billion people still don't have an internet connection.

"If we cross our arms and do nothing that is precisely what is going to happen. Poorer countries would be left behind."

As thick as a bible

Though Ma agreed that rules were needed, he cautioned against overloading e-commerce with too many regulations.

"We need the WTO to make e-commerce simpler and easier," he said. "When the book of the rules of trade is as thick as a bible, nobody can do anything."

UNCTAD Secretary-General Mukhisa Kituyi added that while it's important to design the right rules of the game, it's just as important to make sure developing countries have the tools and skills necessary to play. "Today, everybody in the developing world is talking about the importance of the digital economy, and everybody in the development community is saying we need to help developing countries. But there is no ODA on the digital economy," Dr. Kituyi said referring to official development assistance that governments provide less well-off nations.

"Similarly, the development banks, including the World Bank, have only 1% of their resources allocated to ICT-related sectors," he added.

A bankable project

But it's not just a question of putting money on the table, Dr. Kituyi said. It's a question of financing the right projects.

"Advocacy about investment should come with a bankable project. And you cannot bank it if you do not understand the phenomenon," he said.

To help donors better match the funds to the specific needs, UNCTAD is assessing least developed countries' readiness for the digital economy, looking at factors such as broadband coverage and mobile payment platforms. The organisation has so far completed a diagnostic – called a Rapid eTrade Readiness Assessment – for 12 countries in Africa and Asia.

Part of UNCTAD's eTrade for All programme, the readiness assessments are funded by the German and Swedish governments, and by the Enhanced Integrated Framework (EIF) – the global Aid for Trade programme designed specifically for least developed countries.

To help sharpen the global focus on e-commerce and development, UNCTAD holds an annual E-Commerce Week at the United Nations in Geneva. It is now rolling out regional versions, the first of which will take place in Africa in December.