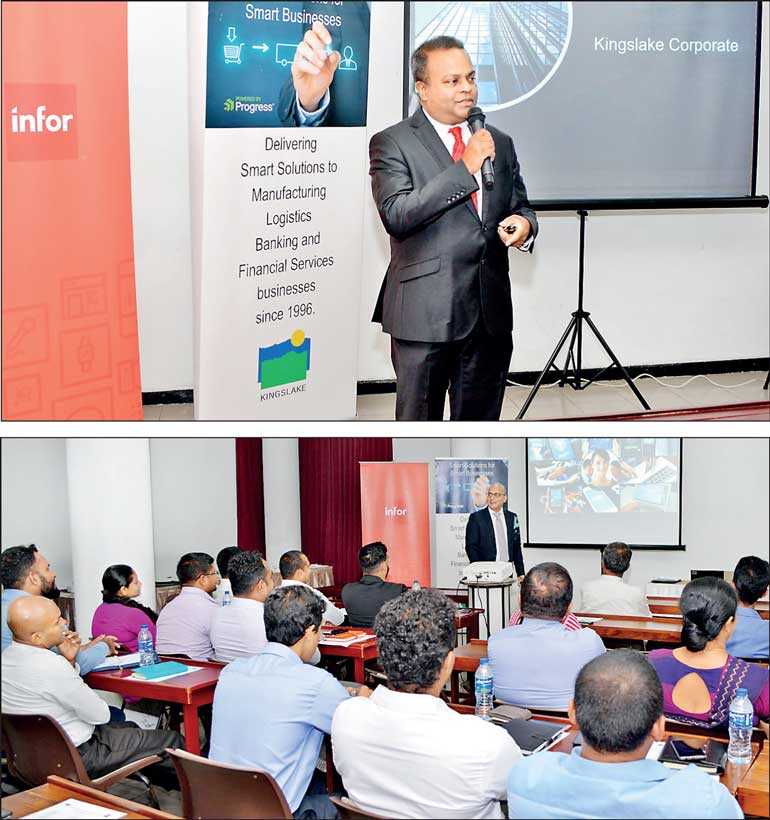 ---
A day of technology, insights and more – packed participation at Ceylon Chamber of Commerce
A large gathering of business leaders from varied industries came together to discuss the challenges of supply chain execution and enterprise asset management at the two seminars jointly hosted by Kingslake and Infor. The invitees actively and enthusiastically participated on the discussions that followed.

The event featured two specialists from Infor who spoke about the challenges organisations face globally.

Infor Director Sales – ASEAN Rajeev Ganju said, "It is easy to get excited about the potential that technology can bring to business. But if we want to pursue digital transformation, we inevitably have to think about organisational transformation."

It was a day filled with insightful inspiration and technology. The participants were shown how cutting-edge technology can be used to transform businesses.

Kingslake CEO Duleep Fernando spoke about how uniquely positioned Kingslake is to support the implementation of Infor Supply Chain Execution and Infor Enterprise Asset Management solutions.

"Ever since we set up business in 1994, we have focused on providing software to help mid-sized manufacturing companies grow. We have done this by delivering state-of-the-art solutions built with a mix of best-of-breed ERP systems, our specialised software solutions and dynamic and experienced consultants. We strongly believe in leveraging and developing local talent to provide world class solutions."
Supply chain execution
Speaking on supply chain management, Charles Barrett, Supply Chain Specialist at Infor Global explained how to bring the value chain closer to the consumer. "Some supply-chain risks and challenges include lack of supplier attention, late placed orders, internal procurement challenges, critical material damaged in shipment, and supplier induced changes."

He went on to explain how Infor SCE enabled and technology-enhanced warehouses can help unprecedented visibility into inventory, orders, equipment, and people. It helps leverage automation, reduce costs, increase efficiency, and improve customer responsiveness.

An intuitive multi-warehouse solution, Infor SCE is designed to let you manage distribution centre activities holistically. It combines warehouse fulfilment with embedded labour management and 3D visual analysis in a unified application. Of the top 10 Third Party Logistics providers 7 of them use Infor SCE.
Enterprise Asset Management
The session on Enterprise Asset Management was an eye-opener for the audience. The participants understood that good facilities management makes a huge difference to efficiency and productivity of a company, staff and even clients. Facilities Management is integral in workspace strategy as well as in supporting business continuity.

Speaking on Infor EAM, Charles explained both large and mid-sized companies use Infor EAM for facilities and maintenance management. Charles discussed how you can drive performance and optimise operations with industry specific enterprise asset and facility management software.