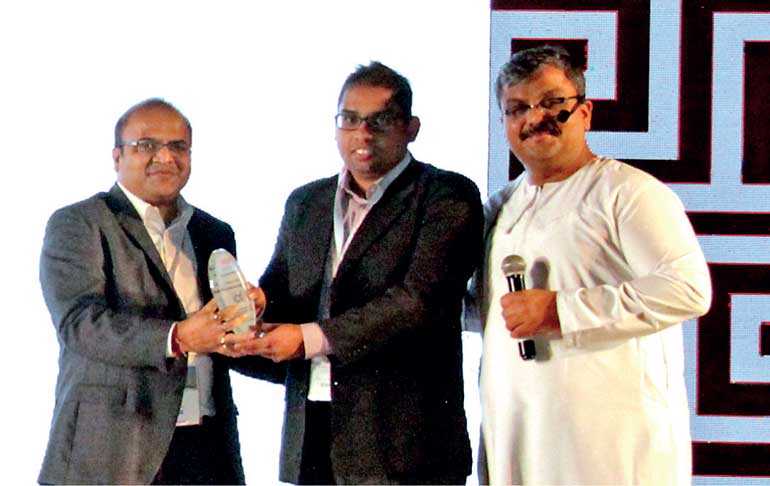 Unified Communication Assistant Manager Ganganath Ratnaike receiving the award on behalf of KBSL
---
KBSL, a leading IT solutions company in Sri Lanka, received the prestigious SAARC Partner of the Year award at the Avaya Partner Awards 2019 ceremony held in Dubai.

The award recognised the Sri Lankan IT solutions company's outstanding contribution to Avaya, an American multinational technology company, by closely collaborating in addressing customer requirements, winning new customers, deploying complex UC and CC solutions and enabling them to provide best in class communication and customer experiences.

Avaya is a global industry leader providing cutting edge solutions and elevating 'next generation' communications in terms of engagement, connectivity between organisations, customers, workforce, and communities through secure and intelligent systems.

Avaya is a transformative force in digital communications and meets the needs of businesses of all sizes. With the help of KBSL's professional engineering team, the company is fully aligned with Avaya's mission to power next generation communication.

KBSL offers a wide range of products and services in the Enterprise Unified Communication (UC) and Contact Centre (CC) space. The company's UC portfolio includes Voice, Video, Instant Messaging, Presence, Data sharing, Unified Messaging and Mobility.

KBSL's CC portfolio offers a number of services including ACD Voice, Multimedia, IVR Self Service Automation, Reporting, Compliance Recording, Advance Analytics, WFM, Dialler and CTI. Unique service value addition and after sales service are two characteristics that define KBSL's commitment to customers.

Innovative business ideas to enhance ROI, reduce TCO and integrating with latest trends in UC and CC technologies are at the heart of KBSL's engagement with customers and partners.

Effective UC and CC infrastructure enables coordinated, comprehensive and integrated services to function and adapt to highly dynamic customer behaviours.

KBSL started the UC and CC solutions journey in the early 90s with the industry giant Avaya, and has maintained an excellent track record for nearly 25 years by offering successful solutions to a number of sectors ranging from banking and finance, conglomerates, telco, hospitality, public sector and SMEs.