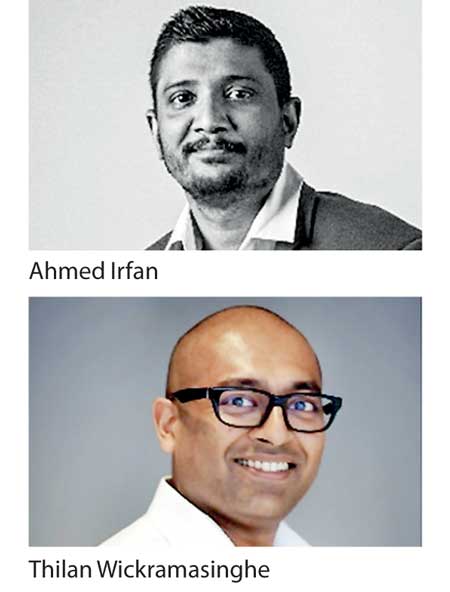 Ahmed Irfan, the Founder/CEO of Innovation Quotient Ltd. and Thilan Wickramasinghe, Co-Founder/CEO of Create Lab (Singapore and Sri Lanka), are scheduled to address the 2017 International Conference of the Chartered Institute of Logistics and Transport (CILT) to be held on 3 October at the Balmoral Hall of the Kingsbury Hotel, Colombo.

The theme for the conference is 'The age of disruption – a reality check on Logistics and Transport'. This annual symposium is the showcase event for the logistics and transport industry that will feature a power-packed lineup of distinguished guest speakers and a panel of industry experts which will dissect the current disruption trends and share their views on what the future has in store for the sector.

Irfan is an adman turned techie specialising in design thinking and digitisation. He has over 20 years of experience in communications marketing, and technology and innovation space, and has journeyed through diverse industries such as telecom, financial services and FMCG. As Head of Brands at Dialog Axiata, Irfan led the team in Product Marketing and was an instrumental part of the launch of ezCash. He was also a part of the pioneering Dialog team which set up Sri Lanka's first ecommerce platform Anything.lk/wOw.lk. Irfan's final corporate posting was at MAS Bodyline as Director – Innovation and Design – where he led the innovation team to establish world-class competency in product development for 'wearable tech'. He is also a founder of Sri Lanka's first human-centric, design-led company, Innovation Quotient.

Wickramasinghe was an award-winning investment banker specialising in equity research covering markets in Singapore, Hong Kong, Malaysia and ASEAN. He has 15-years of experience working with HSBC, Credit Lyonnais (CLSA), Credit Suisse and Arthur Andersen advising institutional investors in IPOs, secondary market trading and other capital markets transactions in sectors including transportation, logistics, finance and natural resources.

He was instrumental in advising and helping raise capital for some of Asia's largest logistics companies including Wilmar International, Olam, Noble Group, ComfortDelGro and SMRT. In his last role, Wickramasinghe was the Chief Regional Analyst for SE Asia Commodities and Logistics Research with HSBC Global Markets. His client portfolio included Sovereign Wealth Funds (including Temasek, GIC, Khazanah and ADIA) and some of the world's largest mutual, pension and hedge funds.

Wickramasinghe's work has been recognised by a number of industry awards including AsiaMoney, Starmine and Institutional Investor. He was part of the top two ranked equity research team for eight consecutive years and has also been recognised as a top five Materials and Logistics analyst in Asia Pacific. His views on commodities outlook, corporate actions and financial sector reform have been cited regularly by the world's financial press including the FT, Wall Street Journal, CNBC and Bloomberg.

Wickramasinghe is currently an entrepreneur in Singapore where he is the Co-Founder/CEO of Create Lab – a regional EduTech startup. He is also actively engaged in the startup community in Singapore as a mentor for NUS Enterprise as well as an angel-investor in emergent technologies in the region.

CILT is a leading global professional body associated with the logistics and transport industry. The institute holds unparalleled international recognition and works towards achieving its objectives of promoting and encouraging the art and science of logistics and transport through its membership and its educational qualifications. With a global membership of over 33,000 from 32 countries across the globe, CILT provides a professional identity to those in the ever expanding logistics and transport sector. It is a strong, active and unified professional association that is able to speak with authority on strategic issues affecting businesses and people in the industry and support their careers.