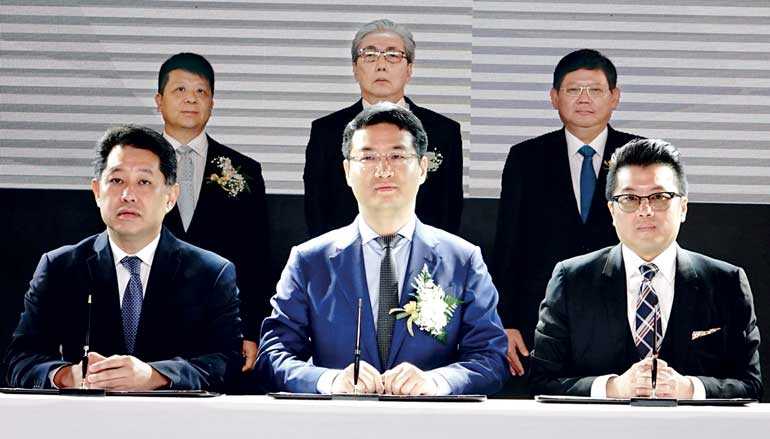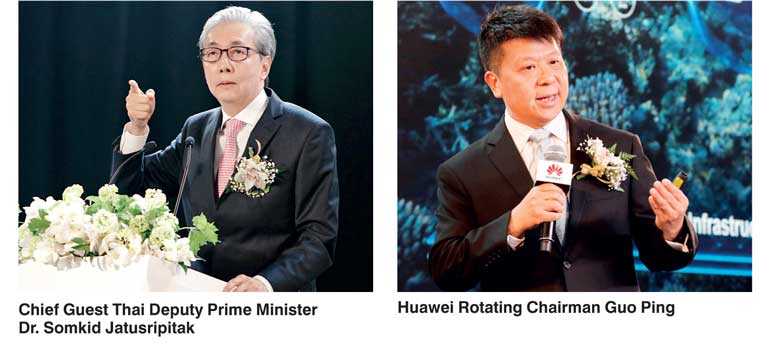 By Shannon Jayawardena,

in Bangkok, Thailand

Huawei, together with the London School of Economics and Political Science, launched their collaborative research program regarding the impact and power that information and communication technologies have on the economy and society, at the fourth Huawei Asia-Pacific Innovation Day, held in Bangkok yesterday (6 June).

The event highlighted the fact that innovative economy is key for a digital Asia-Pacific, while inviting various industry experts to share insights on subjects such as the evolving role of ICT in the economy, the technological influence of ICT as a generator of 'knowledge spillovers', technology and social innovation, and so forth.

Around 300 attendees from governments, industry and academia gathered to explore how digital infrastructure accelerates the growth of digital economy, enriches life, drives innovation, and helps cultivate an ecosystem of shared success.

As one of the most vibrant emerging markets in the world, the Asia-Pacific region faces a tidal wave of industry digitisation, with a digital economy that's progressing by leaps and bounds every day. Therefore the event this year focused on the theme 'Innovating for a digital Asia Pacific'.

Thai Deputy Prime Minister Dr. Somkid Jatusripitak in his keynote address said: "During the last many years Huawei has been a good partner of Thailand. Thailand has a dream to transform our digital structure to a digital economy which will result in developing Thailand. We need to push the agenda of digital transformation."

Deputy Prime Minister Jatusripitak noted that while over 120 million citizens in Thailand use mobile phones on a daily basis, approximately 40 million of them are engaged in using the internet, thereby showing that the younger generation today are moving towards an e-market. E-finance will be the next big trend.

"The Thai economy is on the rise, but the main issue is the price of the agricultural products. We have to change the outlook of our people. We will have to change our mentality to strive for value creation. Likewise, we need to place more attention and investment on science and technology. Thailand has great potential," he added.

Dr Jatusripitak also reaffirmed the Thai government's commitment towards creating a favourable environment for digital innovation, stressing Huawei's role as an important contributor to the development of Thailand's ICT industry. He said that he would like to see more in-depth collaboration between Thailand and Huawei.

The seminar touched upon the research frames of the evolving role of ICT in the economy, in the context of the well-known 'Solow Paradox' which emerged during the 1980s, when researchers noticed the presence and impact of computers seemed to be everywhere except in the productivity statistics. In the 1990s, the drivers of the productivity surge were widely recognised as coming from firm and government investments in ICT capital stock, as well as complementary investments in human and organisational capital. The event thereby stressed on the fact that a productivity surge, powered by the new generation of ICT, will hit the economy in 10-15 years' time.

Thai Science and Technology Minister Dr. Suvit Maesincee said: "This year is the fourth year that the Ministry of Science and Technology has taken part in this event with Huawei, and you will meet people of various experiences sharing a common goal, which is the future of the digital economy."

Dr. Maesincee emphasised on the fact that in this era, digital innovation tends to be more popularised and socialised and will ensure that nobody will be left behind. Huawei Technologies Rotating Chairman and Deputy Board Chairman Guo Ping noted: "The Thailand 4.0 policy was launched in the past years to drive ICT as a new engine for economic growth. In the past years, Thailand has had an increase in growth and the country has a hierarchy of needs, which includes digital needs. This consists of infrastructure, connectivity, security assurance, industry digitisation and digital brain, which are very important." "In the past years, ICT has depended on its own supply chain, but Huawei has worked to create 4G and so forth. What's needed is more collaboration. Collaboration with cloud service providers, software providers and other enterprises will better enhance the industry. A robust ecosystem is needed for a digital innovation and economy is key," he added.

Ping also said that they strive to have an open and innovative ecosystem. "Managing co-operation is more important than managing competition in striving, and as a result you will observe value-sharing, which in turn is the sign of a good ecosystem. With such technologies, we are able to manage water waste and usage, and could do so much more. A pioneering ecosystem development has three key players: the government, telcos and enterprises," stressed Ping.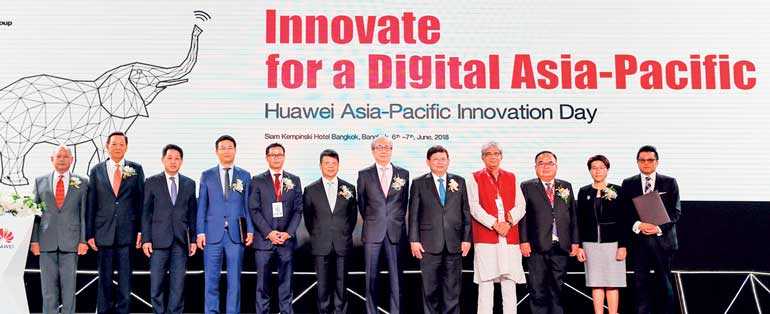 The event also gave stage to a MoU signed by the Huawei National Innovation Agency and the National Science and Technology Development Agency to carry on the pre-existing partnerships for a further three years. The signing was done as an initiative to further strengthen the digital innovation in Thailand, while carrying out enhanced technology that could be shared with countries across the world.


The evolving role of ICT in the economy

London School of Economics and Political Science Professor Mirko Draca said: "Research suggests that the current productivity slow-down is most likely due to an implementation lag. Just as the 1990s productivity surge was preceded by multiple decades of investments by companies and governments in physical and human capital related to ICT, the same process is likely to repeat itself with a new generation of technologies."

Draca also noted that the large knowledge spillovers associated with ICT hold even when ICT is compared to other exciting frontier technologies such as biotech and clean energy. For example, wireless technologies generate on average more than 50% higher knowledge spillovers than other types of technology.

Finally, the report's research on labour market trends in the 2000s and 2010s finds no conclusive evidence that employment or wages are changing in line with a new of wave of automation hitting the high-skill jobs previously shielded from the effects of technology. Moreover, the data suggests that recessions and their aftermath are far more influential in driving structural changes in employment. That is, the first credible evidence of a new wave of automation hitting the labour market is unlikely to emerge until the next cyclical downturn in economic activity.


ICT and the production of new ideas and innovations

ITU Regional Office for Asia and the Pacific Project Coordinator Ashish Narayan said: "Many ICTs are cross sectorial and are being deployed by all sectors. For example, if we look at agriculture, we have to look at banking. Finance drives the industry. To have an innovative economy, you have to look at things both horizontally and vertically."

Knowledge spillovers are an important underpinning of innovation and economic growth. They arise when the knowledge produced by one inventor is used on a non-rival basis without direct cost by other inventors, stated experts at the seminar.

Within the set of ICT technologies, wireless communications has undergone a long period of high spillovers from the early 1980s onwards. Knowledge spillovers from the robotics field spiked in the 1970s and 1980s, but have stayed constant since that time. However, similar to the field of AI, the latest developments in the creation and spread of knowledge in robotics have not had time to manifest in the data. Overall, the high level of spillovers seen across ICT-related fields indicates that there is an on-going role for government policy in supporting commercial R&D and basic scientific research related to ICT.

"We are sitting on an opportunity curve in this digital society. 5G, IOT, big data and artificial intelligence are the new drivers of the ICT ecosystem, and today we are in the fifth generation which consists of collaborative regulation," stated Narayan.

The event also invited Dr. Maesincee, Draca, United Nations Economic and Social Commission for Asia and the Pacific (ESCAP) ICT and Development Section of the ICT and Disaster Risk Reduction Division Chief Atsuko Okuda, MDEC Vice President Hew Wee Choong, and Huawei Technologies Public Affairs and Communications Department Vice President Edward Zhou to a panel discussion to share their insights on the impacts of digital innovation. The session was moderated by Bloomberg Intelligence Asia TMT Senior Analyst Anthea Lai.

Okuda said: "We at the UN believe that digital innovation is critical in meeting the Sustainable Development Goals, while ensuring that no one is left behind. Blockchain innovation is now being used to help Syrian refugees. So technology and digital connectivity needs to be shared across the world."

Dr. Maesincee highlighted the fact that there are nine major shifts towards the digital economy, namely: a centralised hierarchical structure, command and control, internalised, me society, sense and response, financial capitalism, economic growth orientation, representative democracy and incremental change.

Choong stated: "Connectivity and access are very important when it comes to digital innovation and its transformation. Like connectivity, competition is equally vital, and we need to focus more on these aspects. In the future, we believe that there will be more connectivity and growth."

He also stressed on the fact that we must know how to use the platform in terms of cloud computing, especially as it is a part of the system. That is one thing that is lacking, and is a huge challenge in terms of the rapid transformation that is taking place. He urged the public and governments to build the platform which will stimulate the growth of the eco-system.

"Disruptive technology comes from talent, and talent builds start-ups. We need to educate students, university students, even secondary and primary school students so that they develop the talents that they already possess," noted Zhou.

He also emphasised on the fact that propagation of digital innovation cuts across, and we see driving innovation as an inclusion for SMEs to further develop, which is very important to not only strengthen the sector but the economy as a whole.

Draca said: "Think about the theoretical framework behind digital innovation. ICT has two fundamental aspects, which are communication and co-ordination. Likewise, digital innovation has two major economic affairs. It creates more dense networks, and it links the many information gaps together."


Diffusion of broadband technologies and socio-economic benefits of the internet

The event also highlighted the fact that the Internet is now established as a core part of the ICT economy. It has gone through many phases of development, from the emergence of dial-up access in the late 1990s, the roll-out of ADSL in the 2000s, the spread of fibre-optic cable technology, and the ongoing expansion of mobile infrastructure.

Using newly compiled historical databases for the UK, the LSE report tracks this history and discussed the economic effects of broadband internet on the economy. Only 40% of the UK population, focused specifically in urbanised areas, had access to ADSL by early 2001, and it took about six years for the roll-out to be completed. In turn, these early receiving areas had a major head-start in exploiting the economic benefits of broadband. Modelling by the LSE research team indicates that the roll-out of ADSL was associated with moderate labour market changes, such as a decline in the share of the 'routine manual' occupations that are most likely to be displaced by ICT in the long-run.

The spread of ADSL was also associated with higher wages. The typical 30% increase in broadband penetration rates experienced by individual areas in this era was associated with 0.6% higher wages. This is similar to estimates for Norway and the US using comparable modelling strategies, and indicates that broadband was an important contributor to wage growth during the 2000s.

Data effects of fibre optic roll-out still requires some time to settle in, but similar wage effects can be expected, particularly in areas that have experienced a major 'scaling up' of download speeds relative to ADSL, noted officials at the seminar.


Automation and the future of employment

Policy debates are currently gripped by what can be called 'automation anxiety'. A 2017 survey by Pew Research Centre found that over 70% of American adults are concerned about having robots perform a greater variety of tasks, 67% are concerned about the use of algorithms in evaluating and hiring job candidates, and 54% are concerned about the development of driverless cars.

While the LSE report tracks and acknowledges the impact of technology on employment and wages over the last 30 years, it recommends caution in projecting the impact of automation into the near future. In particular, the report stressed that the spread of automation does not uniformly imply that whole occupations are displaced, as some estimates have assumed, but rather implies that partial subsets of tasks within an occupation are affected. This trend of 'partial automation' therefore puts a ceiling on the near-term negative impacts of automation on employment and wages, stated several experts from the industry.

The LSE report went on to examine recent trends in the US labour market, in order to test for evidence that a 'new wave' of automation that affects high-skill jobs has started. Over the period from 2000-2010, patterns of employment moved in line with measures of the 'task content' of jobs. Automation or computers, for example, can be substitutes for the tasks of routine jobs, but enhance tasks of non-routine jobs. This leads to differential impacts of automation across occupations, which can be systematically modelled. In terms of policy responses, the report recommended that governments further develop their toolkit for dealing with labour market adjustment, for example, exploring the suggestion of a skills and training tax credit put forward by the LSE Growth Commission over successive contributions.

Huawei South East Asia President James Wu stated that over the next three years, Huawei will invest $81 million in building Open Labs, enabling cloud developers, and cultivating ICT talent in the Southeast Asia region."Huawei aims to empower developers and young talent in Southeast Asia. We have over 30 years of ICT capabilities and experience. Through APIs and development platforms, we will open up our capabilities to our partners in the region. It's a huge opportunity for developers to create targeted solutions for industry digitisation and grow their own businesses. Working together, we can dream bigger and fly higher," added Wu.

According to Wu, Huawei will officially open an Open Lab in Delhi in August this year. This Open Lab, along with the one in Bangkok, will serve as open innovation platforms where Huawei joins forces with local partners to develop industry solutions for the region.