Panel discussion, from left: HNB Chief Information Officer Ruwan Bakmedeniya, Ceylinco Life Insurance Chief Digital Officer Upamalika Ratnayake, Oracle Digital Prime APAC – Singapore Cloud Solution Industry Architect Srikanth Gonuguntla and Moderator Rohan Jayaweera
Over the past few years, technologies such as blockchain have gained traction in the tech industry, and discussions have travelled into several fields. Blockchain holds a revolutionary promise to reshape industries across the border.
For the insurance industry, such technologies hold the promise of explosive growth upwards of $ 375 billion. Foreseeing its revolutionary potential, Informatics International Ltd. together with Oracle and the Insurance Association of Sri Lanka (IASL) held an event discussing how blockchain can be effectively utilised by the insurance industry. Held at the Ramada Hotel Colombo, the event witnessed over 100 professionals from the insurance industry in attendance.
Blockchain, Artificial Intelligence (AI), chatbots and image recognition are helping insurance companies to serve their new prospects and existing customers in a more holistic way. The process is becoming effortless and more user-friendly. The emerging models are helping to shrink costs while providing highly personalised services and products beneficial to both insurers and customers.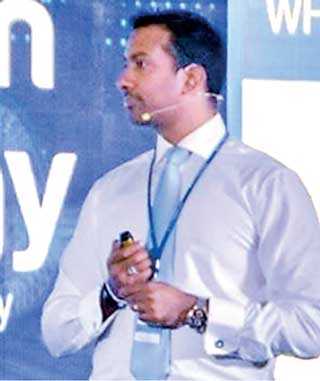 Informatics Group Managing Director Hiran Wickramasinghe speaking at the event
The insurance industry is seeing a broader spectrum of software solutions incorporated. This combination of disruptive and foundational technology will help in increasing efficiency and promote growth. In turn, allowing insurance carriers to build better customer experiences and boost operational efficiency.
Speaking at the event Informatics Group Managing Director Hiran Wickramasinghe stated: "We ensure that whatever we build, would immensely enhance our customers. It is important that we look at how we can help our clientele's businesses drive more revenue, reduce operational cost and eliminate paperwork."
For over three decades, Informatics Group (www.informaticsint.com) has built a host of systems catering to the needs of industries across multiple spectrums. The company has also been a stronghold responsible for the IT systems used by Immigration Departments in Sri Lanka, Fiji and Mauritius for the past 20 years.
Informatics Group's systems also play an integral role in running the National ID Department of Sri Lanka. In addition, its software currently caters to the needs of insurance providers in 10+ countries across the world. As the company expands, Informatics is invested in innovative technologies like blockchain to grow further beyond Sri Lankan shores.
Oracle Singapore Cloud Solutions Architect Srikanth Gonuguntla gave an introduction to blockchain and the opportunities it offers many industries, including insurance. His keynote focused on two areas of blockchain at the enterprise level, shared ventures and smart contracts. He highlighted the benefits of blockchain for the insurance industry, namely reduced processes, enhanced security and reliable transactions, which can facilitate an enhanced and efficient insurance industry.
Headquartered in Colombo, Informatics has gained a prominent position in the global IT sector over the past 36 years, providing cutting-edge software and infrastructure solutions. The company' local and international clientele includes sectors such as e-government, border control, telecommunications, enterprise, banking, and insurance since its inception in 1983.
With branches in the United Kingdom, Singapore, Mauritius and Australia, Informatics offers numerous IT business solutions across the globe. The company primarily caters to increasing the efficiency and operating functionality of any organisation.