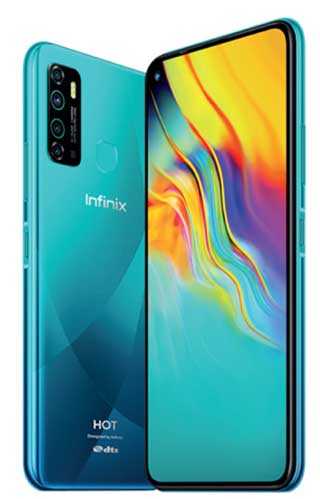 Infinix, a premium online-driven smartphone brand designed for today's young generation, has unveiled its newest smartphone model: Hot 9 Play. The model is sleek, stylish, and targets the mid-market segment seeking a high-performance yet affordable and aesthetically pleasing alternative.

Launched in 2013 and targeting the young generations, Infinix Mobile is a premium online-driven smartphone brand. With 'The Future is Now' as the brand essence, Infinix aims to allow consumers to stand out in the crowd and to show the world who they really are. Infinix is committed to providing the most cutting-edge technologies, bold and stylish designs, keeping consumers on trend and up-to-date. Infinix's portfolio spans five product lines – Zero, Note, Hot, S, and Smart; empowering users to own innovative technologies and experience intelligent lifestyles! Infinix has a presence in more than 30 countries around the world, covering Africa, Latin America, the Middle East, Southeast Asia and South Asia. For more information, please visit: http://www.infinixmobility.com/.

Sri Lanka offers the ideal market, with an estimated 23% (4.4 million) of its population falling in the 'youth' demographic. The country also offers a very high number for mobile subscriptions per 100 inhabitants, the number being 115.06 as of 2018. Having made its mark already in other South Asian countries in the region that host similar markets (Pakistan and Bangladesh), Sri Lanka now seems like the next logical step in Infinix's success story. Infinix is planning the launch of at least two to three total phone models in the upcoming weeks, all of which cater to the varying lifestyle needs of the Sri Lankan youth. The launch of these phones is expected to create a disruption in the high-performance phone segment in Sri Lanka, offering a variety of models that cater to varying lifestyles, needs and aesthetics, all at competitive prices that give premium high-performance phones a run for their money.

Hot 9 Play is the phone of the new generation: it is sleek, engaging, and efficient. With a super slim exterior at only 8.9 mm thickness, the phone can easily be carried anywhere. Another impressive feature is the 6.82" HD+ cinematic display for a fully immersive experience with all sorts of mobile viewing. The view ratio of the screen is 20.5:9, close to the Imax movie ratio.

Hot 9 Play also resolves all battery woes for the younger generation. With a unique AI power optimization system, Battery Lab, overall standby time is improved by approximately 15%. Battery lifecycle has also been enhanced by 60%, ensuring longer run-time.

Hot 9 Play comes equipped with a new Android OS: Android 10 (Go Edition). This OS offers better speed and better security, faster and more efficient app-switching, and a 10% faster launch-rate for apps.

The 13MP dual camera helps capture portraits, landscapes and night scenes in all their glory. The phone also offers an 8MP front camera, with image-enhancing AI capabilities. Images taken in the dark are automatically adjusted for brightness, ensuring the best selfies no matter the time of day.

Other features of the phone include Facial Recognition and Fingerprint ID, Double SIM capacity, unique jewel-toned colour options: Quetzal Cyan, Midnight Black, Violet and Ocean Wave. It also features a gem-cut texture design. Hot 9 Play offers a plethora of unique features, sophisticated style, and cutting-edge user experience all at a budget-friendly price tag.