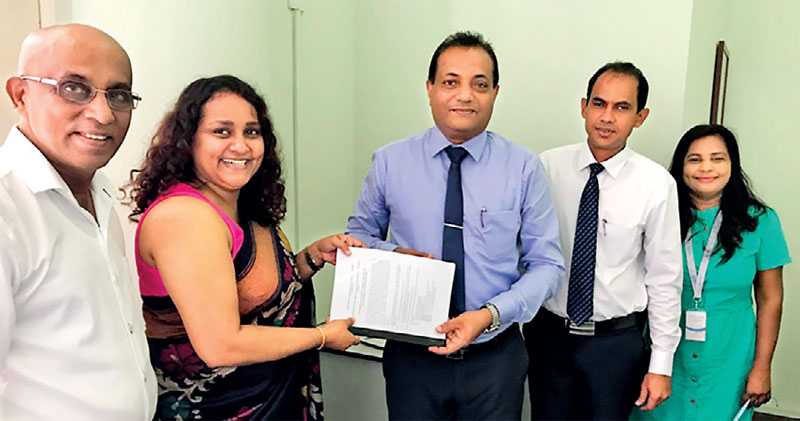 From left: SRL Chairman Neel de Silva, SRL CEO Mihirani Dissanayake, ICTISC Chairman Chinthaka Wijewickrema, TVEC Director Information Systems Manoj Ganepola, and ICTISC Manager Chadika Yahampath
---
ICT Industry Skills Council (ICTISC) recently signed an agreement with Survey Research Lanka (SRL) to conduct skills gap analysis to identify skills needs and gaps in the ICT-BPM industry in Sri Lanka.

The project runs with the supervision of Ministry of Skills Development and Vocational Training (MSDVT), Tertiary and Vocational Education Commission (TVEC) and other stakeholder groups provide consultancy support for these skills gap analysis. Skill Gap Analysis Report will be the base document for setting skill development strategies for ICT education in Sri Lanka.

"IT-BPM is one of the fastest growing industries in the world as well as in Sri Lanka. On the other hand, the government of Sri Lanka has defined its national policy framework giving high priority on ICT sector. Hence, ICT industry is expected to record a significant transformation with an exponential growth in years to come," said ICTISC Chairman Chinthaka Wijewickrema and added, "The report should capture the current demand as well as the future trends of the industry. The report should be based on the demand considering where industry wants to be with an overall vision of catering to local demand and to become an ICT skill hub of the Asia by creating 300,000 skilled ICT workforces by 2025 as part of the ICT Skills Council Vision for Sri Lanka."

The objective of this skill needs and gap analysis is to provide analysis on the training and skills development requirements of the whole ICT industry for a five-year period. It will be a key document in preparing a training intervention plan and will provide with information on which TVET sector can design future training services. The analysis will gauge existing skill gaps, skill shortage, changing requirements and future demands in line with sectarian growth and technological modernisation.

Like its economy, the Sri Lankan ICT scenario is developing. In order to bridge this gap between ICT skills expectation and local demand, the ICT Skills Council was tasked with the responsibility of developing highly skilled people in the industry. ICT Skills Council has established collaboration and believes that the national competency development is a collaborative effort by multiple stakeholders. ICTISC linked up industry, industry bodies, government bodies, government training arms, private training arms, academia and the workforce under a defined set of national goals.