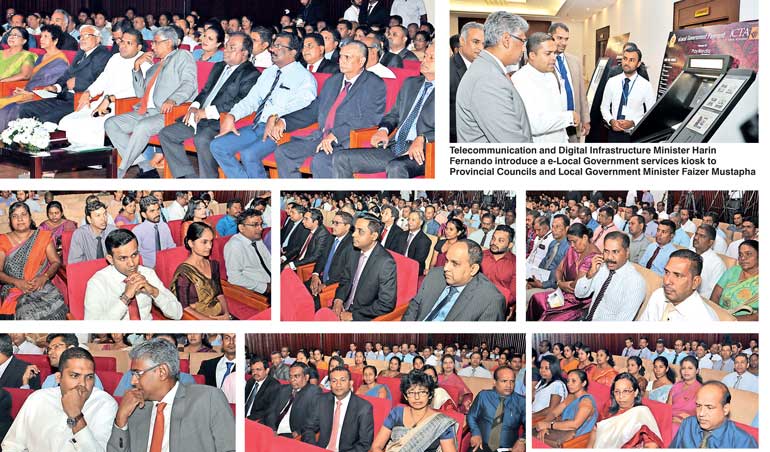 By Himal Kotelawala

The Information & Communication Technology Agency (ICTA) together with the Ministries of Provincial Councils & Local Government and Telecommunication & Digital Infrastructure yesterday launched an electronic local government (e-LG) initiative, connecting 30 local authorities.

The e-governance project is part of an ambitious digitisation drive that seeks to link up all 341 local bodies, allowing the citizenry to access government services online, at the grassroots level. According to ICTA, among the objectives of the eLG project is the promotion of digital nativity in the Government through facilitation of digital access to public services.

"The solution aims to assist the public in setting their assessment taxes, obtaining certificates (business and trade related) and permits (construction and other) as a first step. The highly scalable solution is further expected to introduce other avenues of public service access to citizens introducing unmatched convenience and efficiency to the largely archaic present mechanisms," the Agency said in a press release.

Speaking at the launch ceremony, Provincial Councils & Local Government Minister Faiszer Mustapha said electronic interactions and cashless transactions, as opposed to personal, face-to-face dealings, could help minimise corruption at the local government level.

"Local government is an essential arm of the Government that the people of this country deal with regularly. However, local authorities have also become corrupt institutes. If we don't eliminate corruption at the local level, this country cannot progress," he said.

Noting that at local authorities, chairmen have a tendency to exercise their executive powers directly rather than through a secretary, as is the case with the central government, Mustapha said a foundation needed to be created for eliminating corruption.

Removing face-to-face interactions at the front office is a start, he said, adding that his Ministry has directed several authorities to facilitate a technology that doesn't involve officials directly collecting payments.

"Both [Telecom-munication & Digital Infrastructure Minister] Harin Fernando and I are committed to this," he said.

The Minister was critical of the Colombo Municipal Council (CMC) which had yet to come on board the eLG program. "It is unfortunate that this couldn't be implemented at the CMC. I urge them to please take these village level local authorities as an example," Mustapha said.

Minister Fernando, who shared similar sentiments, said that an efficient CMC was essential to advancing Sri Lanka's position on the ease of doing business index. "The CMC is the most important when it comes to ease of doing business. Without it, progress in this regard is going to be difficult," he said.

The Minister also urged the media to help publicise the digitisation drive of the Government, instead of getting hung up over the controversial Google Loon project that drew flak for popping before it could reach the clouds.

"Digitisation is not a joke, it's not just about a balloon. It is unfortunate that it's become a joke to some media," Fernando said, calling on the media to give as a wide publicity as possible to the services made available by the eLG project. "Implementing these services is not enough if the media doesn't talk about it. People need to know that they can access these services with their fingertips," he added.

Noting that many ministries are very lethargic when it comes to implementing ICT solutions, with some of them going as far as to actually shooting down digitisation proposals, Fernando heaped praise on his Ministerial colleague Mustafa for "bravely stepping forward" and utilising the eLG solution to minimise corruption.

By 2020, Sri Lankans will really start to benefit from digital tech, he said, referring to a school in Badulla that utilises a digital screen and tabs to conduct classes.

ICTA Chairperson Chithranganie Mubarak said the Agency's primary objective has been to ensure that access to digital services and infrastructure is made available to the masses and not just restricted to the urban areas and demographics.

"We remain committed to our vision of bringing solutions like this to the grassroots levels of society and the local governments is the best place to start in our view. We are confident the new solution will not only enhance the user experience but also spearhead the digital revolution taking place in Sri Lanka currently," she said.