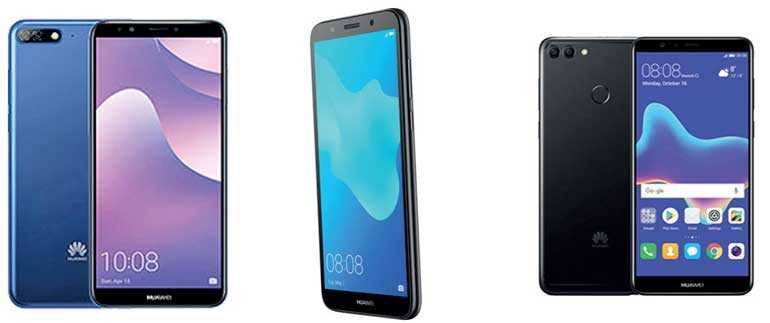 Huawei, Sri Lanka's number one growing smartphone brand has recorded a positive sales performance this year with the Huawei Y Series smartphones showing higher demand than anticipated in Sri Lanka.

The Huawei Y Series comprises the Huawei Y5 Prime, Y7 Pro and Y9 devices and has grown in popularity amongst local smartphone enthusiasts according to company research.

With innovative devices that cover a range of features to suit the needs of a smartphone aspirant, the Huawei Y Series has continued to gain interest since introduction of the series. The Y5 Prime, Y7 Pro and Y9 sport Huawei's latest 18:9 'FullView Display' providing users with a superior viewing experience. The Y7 Pro and Y9 run on Android 8 Oreo while the Y5 Prime runs on Android Oreo 8.1.0

Huawei Device Country Head Peter Liu said, "The Huawei Y Series smartphones, which were all released early this year are performing very well in the Sri Lankan market. The devices also range in battery capacity between 3020mAh and 4000mAh and are available for users who opt for a dual SIM option, front and rear cameras and smart power-saving technology. These make our innovations a strong contender in the market."

The Y5 Prime, which is an entry-level smartphone is available in black and gold variations, ideal for younger customers. The smartphone comes with great features such as the only entry level phone with a FullView Display accompanied by a rear 13MP camera and a 5MP front camera with selfie toning flash making it undoubtedly the best option in this level. The device also encompasses a three-card slot design which can accommodate 2 SIM cards and a micro SD card (up to 256 GB), giving you more flexibility in your hand.

Furthermore the Huawei Y7 Pro features an 8MP front camera and 13MP and 2MP rear dual cameras, making it the first mid-range phone in Sri Lanka with three cameras. The front flash includes exciting features such as the selfie toning flash for the most natural looking selfies. It comes with a FullView display and a 3GB RAM plus 32GB ROM. The Y9 offers quad cameras with a 4000mAh battery capacity with the added convenience of Face Unlock. Its fabulous quad camera system makes it ideal for those for those who enjoy capturing images on their phones or even those who love taking selfies.

The Huawei Y Series devices are available at all Huawei Experience Centres, including Sri Lanka's leading smartphone marketer, Singer Sri Lanka. Huawei enthusiasts can browse at Sri Lanka's largest retail network, which includes Singer Mega, Singer Plus and SISIL World stores, comprising over 420 retail outlets and Singer's digital media channel serving 1,500 dealer outlets.

Huawei was ranked number 83of the Top 100 of the Latest Fortune 500 List and number 79 in Forbes World's Most Valuable Brands list in 2018. Huawei increased its brand value by 22% in the past year and now ranks 48th in the 'Top100 Most Valuable Global Brands' list according to the latest BrandZ report. Recently, Huawei escalated to number 25 on the Brand Finance Global 500 Most Valuable Brands 2018. Huawei has also achieved the No. 70 status on Interbrand's Best Global Brands list.