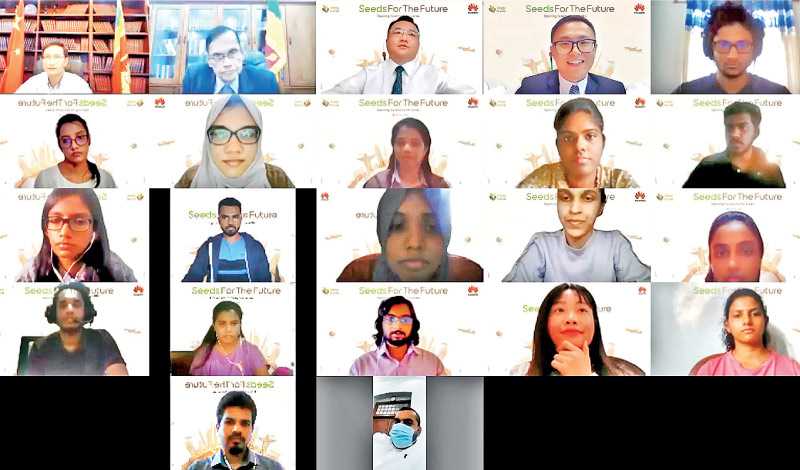 Leading global information and communications technology (ICT) solutions provider, Huawei launched flagship Corporate Social Responsibility (CSR) for the fifth time in Sri Lanka earlier this week, on 14 December in the presence of Minister of Education Prof. G.L. Peiris, Chinese Ambassador to Sri Lanka Qi Zhenhong and Huawei Sri Lanka CEO Liang Yi.

The Seeds for the Future program give access to knowledge on the ICT industry for tertiary students from Sri Lankan universities. The program further delivers them insight on ICT industries and Huawei's latest technologies. 16 students representing from 10 universities from five provinces are selected for this program.

"ICT and digital technology have far more become vital for the development of Education sector and Knowledge transfer in current global environment and Government of Sri Lanka is therefore heavily investing in the ICT and digital technologies for the development of future generation and their education" Minister Prof. Peiris said.

"It is commendable that a global ICT company such as Huawei has come forward to develop the ICT talent in Sri Lanka and that it has been carried out as a continuous program for the development of our youth with latest technologies," the Minister added.

"Talents are the most treasured resource for a country's sustainable development, and digital skills are an essential part of a country's development strategies. Overseas Chinese companies should fulfil their social responsibility for ICT knowledge transferring. 'Seeds for the Future' is a very representative program of such exchanges," Ambassador Qi Zhenhong said speaking during the event.

Mutual learning and common progress are the most outstanding features and that looking to the future, and the Ambassador believes China-Sri Lanka relations will enjoy greater development.

"I trust this program will help Sri Lankan students better understand the ICT industry and improve your ICT knowledge and skills. It could also help you broaden your horizons and deepen your understanding of China. We will continue to strengthen our cooperation with Sri Lankan universities. We hope these efforts will attract more outstanding talent to this program," said Huawei Sri Lanka CEO Liang Yi, adding his best wishes to the students for their future career.

The ceremony showcased students' performance of a cultural song in Sinhalese and Tamil language, to extend their best wishes to build Sri Lanka united as one nation.

Seeds for the Future is Huawei's global CSR flagship program. The program seeks to develop local ICT talent, enhance knowledge transfer, promote a greater understanding and interest in the telecommunications sector, and improve and encourage regional building and participation in the digital community.

In Sri Lanka, this initiative was launched in year 2016, 40 young ICT talents benefited the latest ICT industry practice and experience in Huawei headquarters in Shenzhen, China. This year, Seeds for the Future is held online as a global trend.