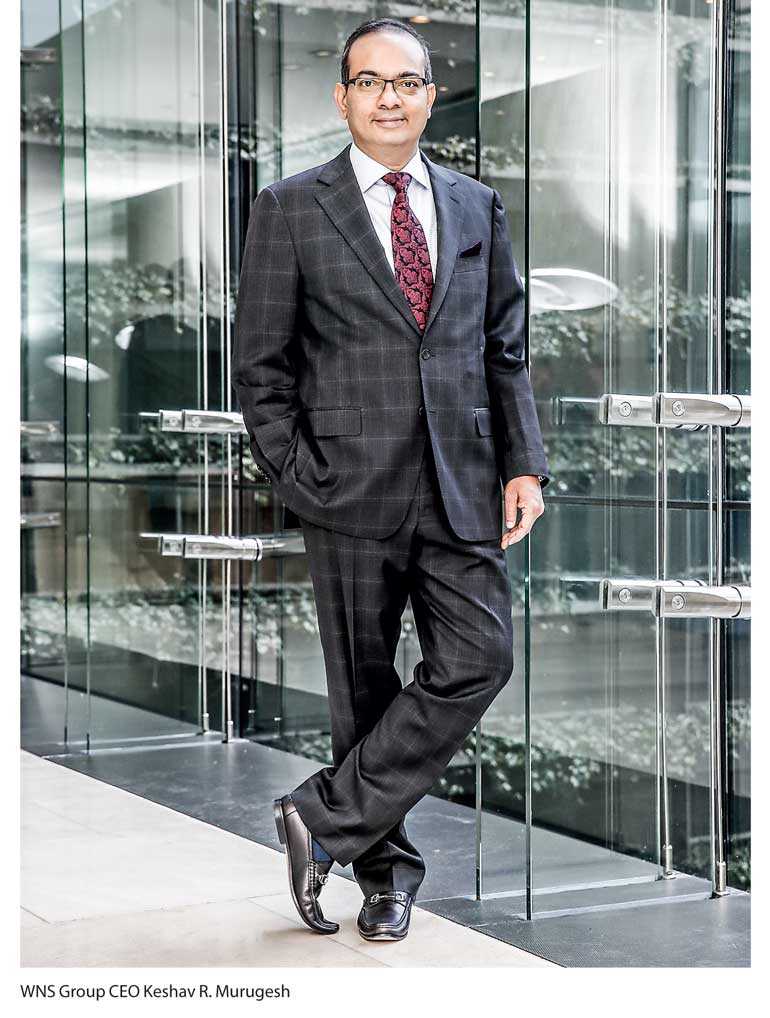 WNS Group CEO Keshav R. Murugesh shares key insights
Keshav R. Murugesh a Chartered Accountant by academic discipline, is more of a serial entrepreneur in terms of performance and achievement. The Chief Executive Officer and a member of the Board of NYSE-listed WNS Global Services, has been recently recognised as CNBC Asia's 'India Disruptor of the Year'. In an interview with Daily FT, Murugesh explains what sets the company apart. Following are excerpts:
Q: What are the verticals and geographies the company is focused on?
A: Today, we have vertical-led solutions in the areas of Insurance, Banking and Financial Services, Travel and Leisure, Manufacturing, Healthcare, Media and Entertainment, Retail and Consumer Packaged Goods, Consulting and Professional Services, Telecom, Shipping and Logistics, and Utilities. Insurance is the largest vertical for us, followed by Travel and Leisure and Healthcare.

We are also witnessing an upsurge in demand for our tech-enabled, AI/analytics-led solutions, as we heavily invested in creating these platform-based offerings, much ahead of the rest.

The North American and European markets will continue to be the largest consumers of our services. Having said that, we are seeing a rapid growth in new geographies in Asia Pacific and the Middle East.

As per FY18 financial results, North America market contributes the highest i.e. 41.6% of the total net revenue, followed by UK contributing 32.6% and then, other markets including rest of Europe, APAC, and South Africa.
Q: How is WNS adopting new age models in digitisation?
A: Social media, mobility, analytics and cloud computing (SMAC) technologies along with Internet of Things have been the most disruptive trends that have rewritten the rules of business and society. WNS is also moving away from the old models to newer-age models involving SMAC, domain, technology, artificial intelligence and robotics. There are several examples of excellence of new age technology that we deploy.

For instance, in Sri Lanka itself, our centre created one of the largest FAO (Financial and Accounting office) digital transformation platforms for one of the largest insurance companies in the world. This platform created a new paradigm in Finance and Accounting outsourcing, as it was powered by Robotic Process Automation (RPA) capabilities and next-gen fintech tools. We helped the client to increase the accuracy in the process by 100% through automated in-built review and validations using RPA. Total productivity savings was $ 10.8 million over the contract period.
Q: Could you throw light on the introduction of outcome-based revenue models to enhance business process management?
A: In addition to the disruptive, first-of-its-kind vertically aligned structure, we also introduced outcome-based revenue models in our business, where we charge the client for the outcomes that we deliver, as opposed to the traditional model of charging on FTE-basis. This has been received very well by the clients.

In fact, we are the first ones in the industry to report non-FTE based revenue, and as per FY18 results, 36% of our revenue comes from non-FTE based models.

Powered by automation, AI adoption, robust HR practices, par excellence service delivery have led us to cross a market capitalisation of over 2.5 billion and double digit revenue growth.
Q: What are the innovative HR programs introduced for better business process management?
A: WNS is known for its robust HR practices as it lays immense focus on training and mentorship. The company's talent practices, engagement channels, methodologies and leadership construct are all centred around this concept.

Last year, we introduced 'Centurion', a program to proactively identify and nurture 25 chosen women employees to take up top managerial and leadership roles within the organisation.

Recognising the fact that 65% of our workforce represents millennials, we have created a 'The CEO Millennial Council', where 24 chosen millennials across the globe are working closely with me and the senior management directly, contributing to the overall growth of the organisation. We have recently launched 'WNS Education', a learning academy that offers employees the opportunity to receive 'Digital and Business Process Management' certifications, enabling them to reskill and upskill for the digital future.
Q: What can Sri Lanka learn from India's success story in driving the BPM industry forward?
A: The Indian BPM industry has constantly moved up the value chain, finding the right opportunities to transform from the traditional call centre to fully fledged BPO (Business Process Outsourcing), then to BPM (Business Process Management). BPM providers serve as an extension of their customers and are seen as strategic partners to their clients. BPM companies in India have focused on developing deep industry knowledge as well as domain expertise of their clients' industries. Another thing that India's BPM sector has done effectively, is the tech-enabled platform driven services. Companies have created proprietary tech-driven solutions and advanced technologies leveraging data analytics, cloud, robotics and artificial intelligence, and combined it as a comprehensive offering to the clients. As a result, they have been seen to deliver faster speed to market, accelerated innovation and greater cost efficiency to its clients, globally.

Furthermore, the pricing models in the BPM sector in India have constantly evolved, in order to cater to the client needs. We have moved towards more mature engagement models such as transaction and outcome-based pricing. NASSCOM (The National Association of Software and Services Companies), a not-for-profit industry association has also played a big role in bringing together BPM players in India to build an enabling policy framework that puts the industry agenda forward, addresses concerns and triggers growth.
Q: What would be the top three things the Sri Lankan BPM industry can do to leverage the current disruptive technology to succeed?
A: In order to leverage the current disruptive technology that the BPM space is experiencing, it is imperative that companies are client-centric and agile in their approach. BPM companies must don the role of business partners and understand how the client's needs (whether articulated or otherwise), can be met by the use of advanced technologies.

They need to develop proofs of concept that can be quickly deployed and tested. Another area that needs focus is talent investment. In order to meet the requirements of disruptive technologies, existing talent will need upskilling.

Third, innovation and entrepreneurship must be promoted in BPM companies. Emphasis on innovation and entrepreneurship will enable these organisations to become a testbed for creative solutions. In addition to these three areas, I would like to add a fourth area of focus. Given that this is the age for collaborations and partnerships, if a company does not have the necessary technical expertise, they should consider acquiring those capabilities through partnerships.
Q: What are the talent requirements in Sri Lanka for the BPM industry?
A: Sri Lanka is already recognised as a game changer for Finance and Accounting (F&A) outsourcing. In fact, the country has the world's second largest pool of UK qualified accounting professionals, and it has become a value-for-money destination for F&A services.

Therefore, skill sets must be upgraded in order to keep pace with the changing needs of the F&A space, while also keeping track of the disruptive trends that will spike demand in the area of Robotics Process Analytics (RPA) and analytics talent.

If one looks at WNS' Sri Lankan operation, the company provides high-end accounting services as well as Fin-Tech support that has resulted in increased precision of tedious and repetitive tasks, by digitising aspects like emails, journaling, ledger entries and more. This has allowed the specialist outsourcing team at WNS to focus on the bigger picture of the organisation's financials.

The robotics arm of WNS eliminates the fat and streamlines the accounting process. At present 55% of the work undertaken by WNS in Sri Lanka is automated, allowing the outsourcing team to focus on the bigger picture of adding value to the financials of their customers.
Q: What is the business growth and sustainability potential in Sri Lanka in comparison to other Asian markets and the world?
A: With Government's support, SLASSCOM's (Sri Lanka Association for Software and Services Companies) launch of a national brand for the ICT/BPM sector in the country, earlier this year, branding it as the 'Island of Ingenuity', Sri Lanka is clearly focused to promote the IT and BPM sector in the country. Alongside India, which currently has the giant share, countries like Philippines, Indonesia, Vietnam, Malaysia, China, some East European countries and Brazil are, all looking to ride the low-cost advantage and take a bite of the global BPM market share.

For the most part, the trend so far has been for countries to take on the role of 'preferred' destinations for specific services. For instance, Philippines is a popular choice for contact centre services driven through voice-based support. Sri Lanka has taken on the specialty of strong finance and accounting talent, while also having the advantage of being a low-cost option and this is what needs to be focused on, as the sector surges ahead.
Q: What is WNS's business strategy in Sri Lanka for the next five to 10 years?
A: WNS has completed 15 years of operations in Sri Lanka and today, we have over 800 employees in Sri Lanka. We are in two locations, as of now, and offer F&A, legal services, banking and financial services and contact services. WNS is definitely looking at establishing Sri Lanka as our Centre of Excellence (CoE) for Finance and Accounting Solutions.

Sri Lanka centres plays a major role in delivering high quality F&A and legal BPM services to our clients at an optimal price. We have a large pool of easily accessible talent and the ability to ramp up to 500 F&A professionals within a short period of time. Sri Lanka has a ready pool of English speaking, skilled, certified finance and IT professionals.

WNS is also committed to working closely with the Government, industry bodies like SLASSCOM and educational institutions to grow the BPM industry in the country. Going forward, we do believe that the immense talent available in the country can be leveraged by Small and Medium Enterprises (SMEs) to enjoy premium access to a high-quality talent pool. In fact, we do see merit in SLASSCOM establishing high-in-demand niche competency centres that can capitalise on the inherent ingenuity of the workforce in Sri Lanka.
Q: Share the experience in working across many BPM markets around the world, and how it contributes to promoting change in the BPM landscape in Sri Lanka.
A: Today, WNS has presence in 13 countries with 55 offices across the globe. Across all our offices, focus is on nurturing and harnessing the best of talent capability available in that market and combine into our solution offering to the clients across the globe. Owing to this strategy, we have been able to offer an end-to-end BPM solution under one umbrella, thereby combining the best from each of our global delivery location.

In Sri Lanka, we are focused to grow our strength in the area of F&A BPM solutions. What we are also doing is bringing new technologies like RPA and analytics to create a unique offering to our clients through the Sri Lanka centres.
Q: What are the business values that WNS follows globally, and how are they adapted to suit local markets?
A: At WNS, we follow circle of values and we place clients at the centre of it. Our mission is to enable clients to outperform with our passion for service and innovation. By working alongside our clients and striving to have a thorough understanding of the client business, we create impactful solutions that can drive agility and excellence in their business processes. Our promise of outperformance stems from our deep domain expertise, partnership approach and a global delivery network.

The trend today is for BPM providers to take on the role of partners and for client/provider alignment, and at WNS our differentiated vertical organisation structure and ability to 'co-create' innovative solutions with our clients are well-suited to address this trend.