The startup ecosystem in the island has certainly come a long way and needs to talk more now about failures than clichéd success stories, and embrace them just as part of its journey ahead. In view of this, Hatch, a revolutionised workspace that advocates free-thinking and networking for all things start-up and budding entrepreneurs in Sri Lanka unleashed its initial meetup called F'Up Friday last month. A daring initiative from startup founders and entrepreneurs who relived their failures and discussed what they learned from their misjudgements, the meetup offered both hindsight and hope for the future.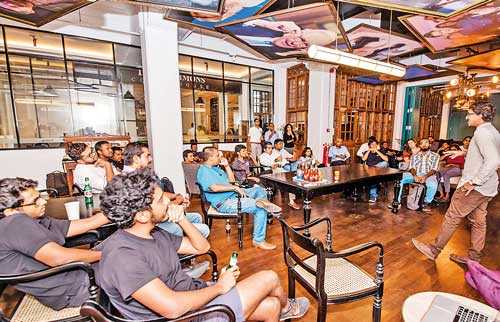 ReadMe.lk Co-founder and Director Enosh Praveen kicked off the very first event with his top three learning experiences on his entrepreneurship journey with ReadMe, Sri Lanka's top technology media publication. He shared how his arrogance, ego and inexperience each resulted in a total failure ahead in the road, and how they were invaluable to shaping him as an entrepreneur. As he put it, "Each of our failures simply taught us a valuable lesson on one additional way of how not to do things again."

It is a path that he acknowledges is still far from its end: "We're still making mistakes to tell you more stories next time!"

Praveen was followed by StartupX Foundry Program Manager Aloka Gunasekara, who stepped up to fill the audience in on his share of mistakes made during his startup journey. He emphasised, "The importance of having co-founders who challenge your ideas, and having a sound knowledge of HR and accounting matters when launching a startup is fundamental." He elaborated on the challenges he had to face, including sorting out Employee Provident Fund (EPF) and Employee Trust Fund (ETF) payments whilst his business partner was living in Australia, and how they ended up getting sued and fined by EPF. He also spoke of another entrepreneurial mishap saying, "We built a website in Australia to sell second-hand items and did not receive adequate visitors, even over months. Burning the hand in this experience showed us the importance of conducting thorough local market research before launching a business."

Many members of the audience went on to share their own failure stories from their entrepreneurial ventures, ranging from simple email errors to business disasters. Hatch CEO Randhula De Silva concluded the night with her F'Up Friday story from when she teamed up with a colleague to build their own startup accelerator.

De Silva revealed how that ended in them being played out by a consultant who promised to connect them with noteworthy investors and key individuals. After months of delays and undelivered results, they reluctantly gave up on sunk costs and decided to cut ties with the consultant, pushing the kickoff date a year longer. This was the underlying theme to many of the stories shared, learning from the past and persevering to fulfil the potential for a fantastic future – even building on a foundation of failures.