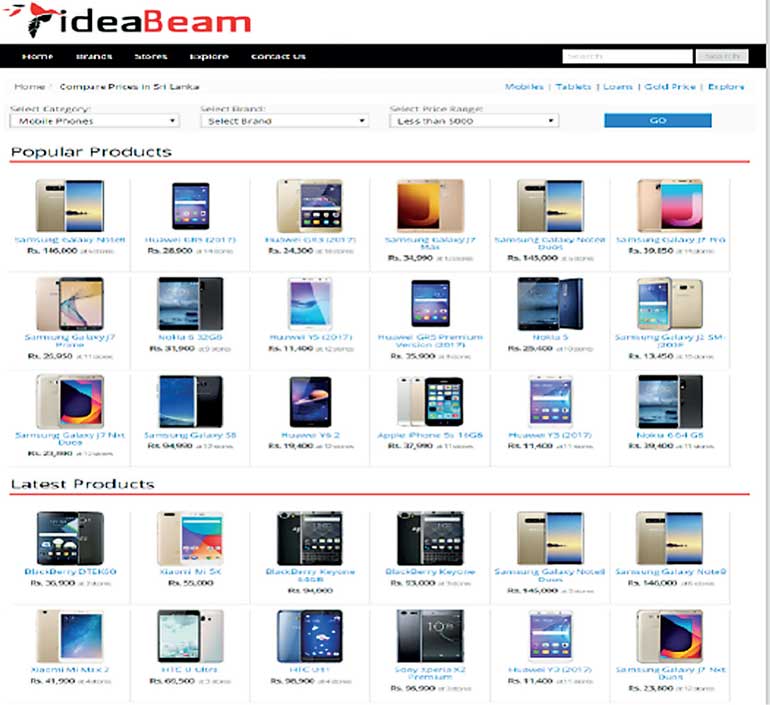 IdeaBeam, Sri Lanka's leading price comparison site, is a great place to start your search if you're looking for the best deal on mobile phones. The site's core purpose is simple – to help you get the best deals in town by letting you compare prices with a simple click of a button. Both online and offline shoppers are assisted by allowing them to compare prices across various shops or e-commerce sites. Prices of a range of products including the mobile phones, tablets to cameras are featured on the website.

Shopping experience has now been simplified with the internet supporting consumer's price hunt by offering price comparisons between prices of the same product with different vendor. We no longer have to go from shop to shop trying to find the best deal. IdeaBeam provides shoppers with a win-win situation as they are able to find the best deals, save time and money.

Ideabeam:

Sri Lanka's leading price comparison site

IdeaBeam has significant traffic online catering to the Sri Lankan emerging consumer's needs. Ideabeam facilitate over 5,000 transactions every month.

The website lets you compare over 5,000 products across more than 15 different categories. Ideabeam, an early pioneer in Sri Lanka was established in 2012. It has strongly penetrated among the young Sri Lankans aged between 18-35 years while appealing to both the urban and rural consumers in Sri Lanka.

In addition to the stores, product features and prices, IdeaBeam also informs about the stores offering additional benefits such as free warranty, delivery, etc. After selecting your desired product and store by browsing the catalogue, shoppers can visit the store and make their purchase easily and conveniently. Once shoppers realise about the perks and savings through a simple price comparison, impulsive shopping would be a distant dream.

Think twice before you shop next time and double check with IdeaBeam, as there might be a better deal somewhere.