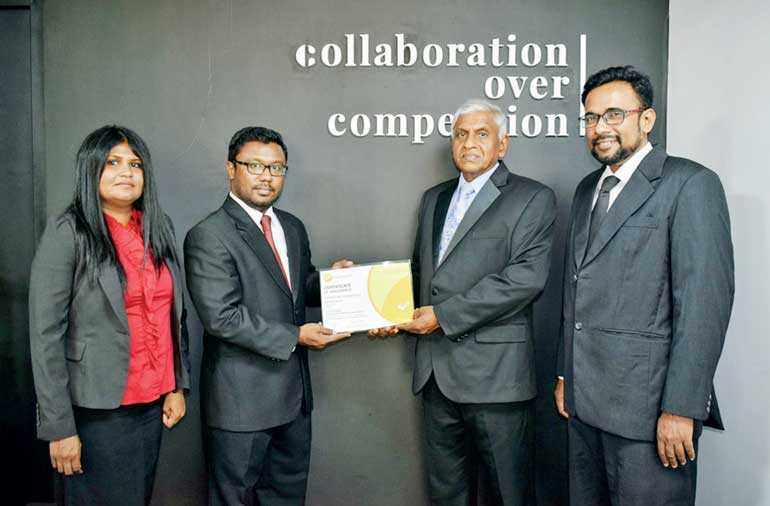 From left: ExroAsia CEO Prashana Samaraweera, ExroAsia Director Kavinda Dasanayake, Meta Defence Labs Board Member R.M.A.D.K. Rajakaruna, ExroAsia Director Nilusha Gunatilake
ExroAsia, Asia's fastest growing professional employment organisation, has been awarded Cyber Essentials and IASME cybersecurity certifications from the certification body, Meta Defence Labs, making it the first Sri Lankan company to receive this double accolade. Headquartered in Sri Lanka, ExroAsia offers seamless extensions to businesses with consolidated support as a one-stop-shop for Human Resource, payroll and GEO/PEO services for the Asia Pacific region.

ExroAsia Director Kavinda Dassanayake said, "We are delighted to have gained these two certifications as we understand the importance of protecting data and conducting business securely. This makes us stronger and more capable of delivering better solutions for our clients. This is a part of our company's ongoing commitment to cybersecurity best practice and assurance."

Backed by founders with a cumulative industry experience of over 50 years, ExroAsia specialises in managing human resources including hiring, screening, on-boarding, payroll and employee exit management solutions for organisations with an astute understanding of the challenges faced by businesses in expanding new markets.

ExroAsia CEO Prashana Samaraweera added, "With globalisation, local multinationals are looking to hire or send employees overseas to conduct business or foreign entities are looking to hire talent from Sri Lanka, without having a registered company. We at ExroAsia, support this process under our umbrella for Sri Lanka or with our partner network across several countries within the Asian region."

On congratulating the team on this achievement, Chani Simms, Infrastructure, Security and GDPR consultant and Managing Director for Meta Defence Labs said, "By certifying to the IASME Governance Standards which importantly includes the GDPR requirements, you have demonstrated that your organisation has a wider governance system for management of the controls protecting personal data under the GDPR. Together, Cyber Essentials and IASME has proven to stop over 80 percent of cyber-attacks to a company."

With the growing threat of cyber-related crime quickly becoming a major concern for most organisations and business leaders, it is the responsibility of every organisation to ensure they adequately protect themselves and their customers.

Cyber Essentials is a cybersecurity certification published in June 2014 that is backed by the UK Government in collaboration with the industry to promote a standard in cyber security practices across all industries and sectors. Based on five key controls, the scheme is designed to encourage organisations to adopt good security practices to address a number of common threats and minimise risk (even for businesses which aren't particularly experienced in technology). An official Assurance Framework has been produced to enable organisations to successfully obtain the certification by providing relevant guidance in the steps required to implement the appropriate controls to be compliant with the scheme at relatively low cost.

IASME encourages further security best practices on aspects such as information security risk management, GDPR and governance. The IASME Governance Standard is widely recognised as the best information security standard for SMBs by the UK Government. Companies with this certification can demonstrate they comply with the minimum GDPR requirements.