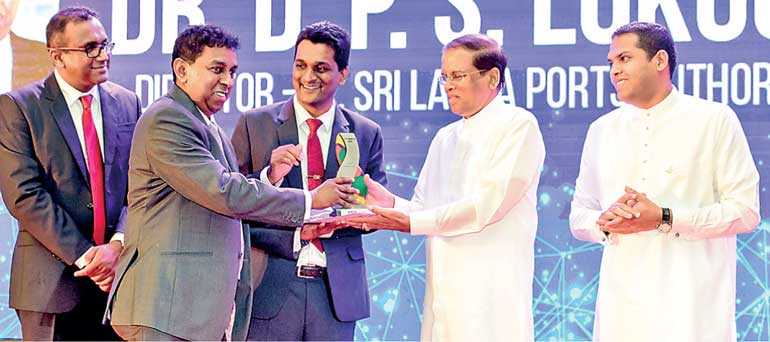 SLPA Director (Information Systems) Dr. Prasanna Lokuge receiving the CIO of the Year Award from President Maithripala Sirisena. Minister of Telecommunication, Digital Infrastructure and Foreign Employment Harin Fernando and CSSL President Yasas Abeywickrama are also present
Dr. Prasanna Lokuge – Director (Information Systems) of Sri Lanka Ports Authority (SLPA) has been awarded the prestigious CIO of the Year at the ICT Awards 2018 organised by the Computer Society of Sri Lanka (CSSL). The award was presented to Dr. Lokuge, by President Maithripala Sirisena at the inauguration ceremony of the 36Th National IT Conference 2018 (NITC) held recently at Shangri La Hotel, Colombo.

Dr. Lokuge is a PhD holder in Artificial Intelligence awarded by Monash University and counting over 25 years of hands-on experience in IT with proven track record of both local and foreign countries in handling Container Port Automation systems and other complex IT systems. He has experience in working Australia, France, Korea, China, Malaysia, Hong Kong, and Vietnam. He has also worked for World Bank and ADB-funded IT projects locally and internationally. He was the Past President of the Computer Society of Sri Lanka in 2008.

The Computer Society of Sri Lanka (CSSL) is the premier organisation dedicated to promoting and improving professional standards in the Information and Communication Technology sector since 1976.

CSSL ICT Awards is an award ceremony conducted with the view of recognising and motivating those who have served the ICT industry in Sri Lanka. These awards intend to encourage, recognise and celebrate excellence in ICT practice by rewarding the best and the finest of ICT Professionals. CSSL ICT Awards include calling nominations/applications, conducting selection and organising an award ceremony, however the final selections will be made by a panel of experts from the ICT industry as well as academia.