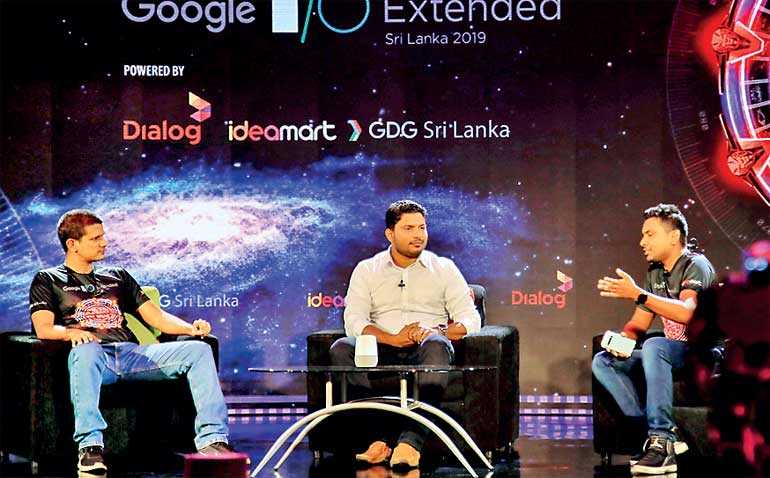 From left: Tech Blogger Malinda Alahakoon, Bhasha, Helakuru and PayHere Founder Dhanika Perera, and Tech Blogger Chanux Bro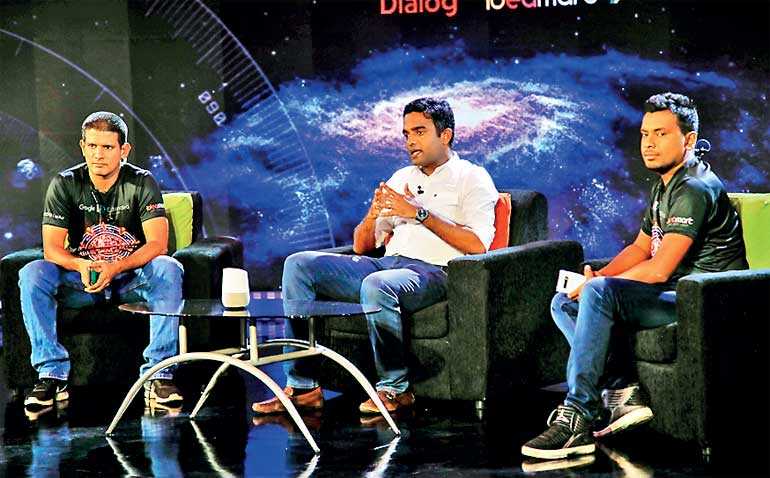 From left: Tech Blogger Malinda Alahakoon, Arimac Digital Founder and Chief Executive Officer Chamira Jayasinghe and Tech Blogger Chanux Bro
---
Dialog Axiata PLC, Sri Lanka's premier connectivity provider, and Ideamart, in collaboration with Google Developer Group Sri Lanka, successfully hosted the most anticipated tech event of the year, Google I/O Extended, for the fourth consecutive year.

A special feature of this year's event was that it was produced live at the Dialog Iconic by the Papare team and livestreamed across mobile, web, Facebook and Dialog TV platforms. Google I/O aims to bring together developers from around the world for tech talks, hands-on learning with Google experts, along with previews of Google's latest innovations and developer products. The keynote session was led by Google Chief Executive Officer Sundar Pichai.

The livestream was aimed at enabling the tech enthusiasts and the developer community across the country to take part in the I/O experience, drawing in over 50,000 viewers, and successfully engaging them with young tech talent in Sri Lanka.

The virtual event, first of its kind in Sri Lanka, hosted by local tech bloggers Chanux Bro and Malinda Alahakoon, also included various engagement segments where viewers had the opportunity to win prizes, experience entertainment segments and witness emerging technologies and cutting-edge innovations in a 5G showcase including AI (Artificial Intelligence) powered digital twins, robotic arm demonstrations and 360-degree virtual reality enabled video streaming.

One of the key attractions of the event are Google's hardware and software updates, with millions tuning in for the latest in tech news. As part of this year's announcements, Google officially launched the Pixel 3A and 3A XL, Google Nest Umbrella, a latest Android Q beta, live captioning, Project Mainline, an incognito mode for Google Maps, a Google Lens update and a follow up to last year's biggest news, Google Duplex on web.

Commenting, Dialog Axiata PLC Chief Digital Services Officer Dr. Nushad Perera said, "Dialog and Ideamart are proud to once again host the most awaited tech event of the year which aims to bridge local tech talent to global experiences. As a key driver of Sri Lanka's digital economy, it is increasingly important that we provide opportunities to engage in new technologies, ideas and networking amongst entrepreneurs."

This year's distinguished panel of experts featured Dhanika Perera, Founder of Bhasha, Helakuru and PayHere and Chamira Jayasinghe, Founder and Chief Executive Officer of Arimac Digital. Speaking at the event, Dhanika Perera shared his industry experience, along with challenges and opportunities for local tech companies in the journey to be sustainable, digital corporates. Likewise, Chamira Jayasinghe opted to discuss Sri Lanka's ongoing concerns regarding increased 'brain drain' as the country struggles to retain local talent in the community. He shared a host of success stories on how to retain young talent while embarking on his emergent strategies of Productised service models by showcasing local innovations such as IMI Games, Arimac Airspace, WynkAR and NERO.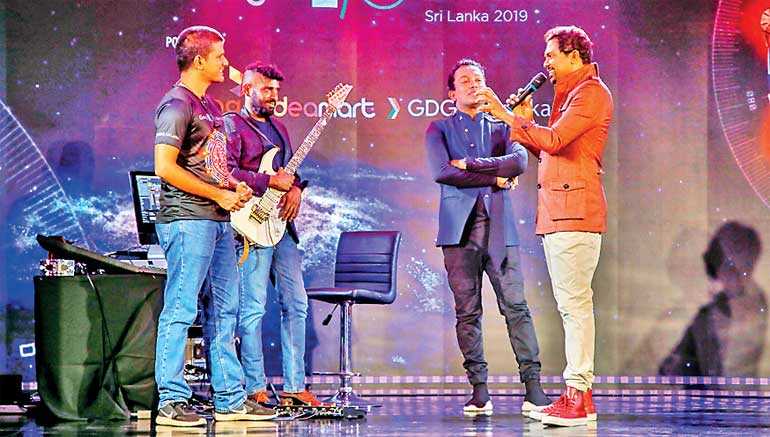 From left: Tech Blogger Malinda Alahakoon, singing sensations Bathiya and Santhush