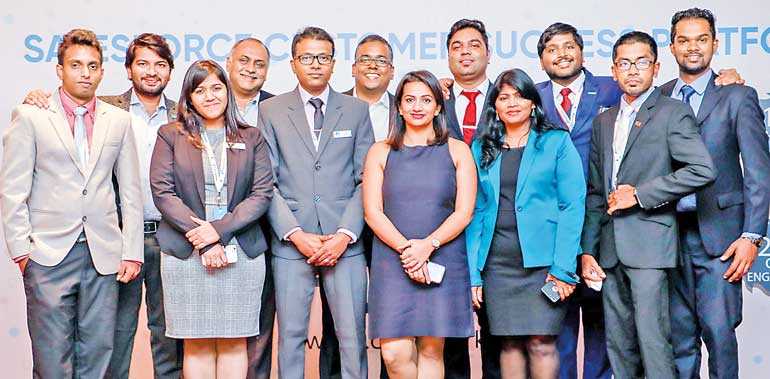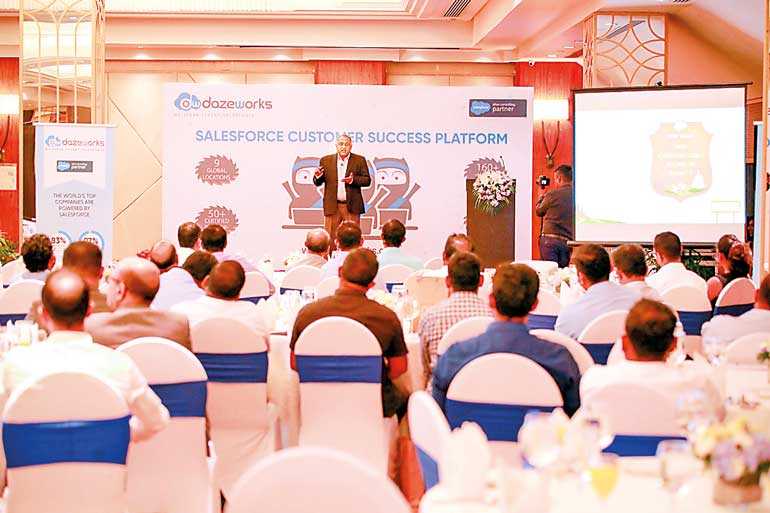 An exclusive business technology summit
Salesforce Customer Success Platform was an exclusive technology summit held on 17 January at Taj Samudra – the first of its kind happened in Colombo, Sri Lanka. It was a great opportunity to explore how Salesforce Silver Consulting Partner, Dazeworks Technologies along with Salesforce has transformed businesses in Sri Lanka and across the globe.

The event was an action-packed day between the keynote, thought-leader panel discussions, customer success stories, and live demos. The event was designed exclusively for the CxO community. It was an exciting chance to meet experts from Salesforce and business leaders from the community.

The event was filled with guests from the CxO community in Sri Lanka. Anjan Kalyani, Director of Sales at Salesforce, India was the keynote speaker for the event. Speaking about the 'Fourth Industrial Innovation', Anjan said, "With technology rapidly changing and transforming customer expectations at an unmatched pace, the Fourth Industrial Revolution is paving the way for disruptive changes in how we live and is impacting every business sector in unprecedented ways."

The event also had ESMB India Regional Sales Director Kamalkanth Tummala as one of the speakers. He spoke about 'How Technology enlightens our World' and said: "With embedded technologies, the Internet of Things and AI adding intelligence to nearly everything around us, we are beginning to connect to the world in whole new ways."

Campus Direct Director of PR and Marketing Amrith Weerasekara acknowledged and endorsed services by Salesforce and Dazeworks. Amrith said "Dazeworks has a great professional approach to support businesses to digitally transform with Salesforce. They have given us the flexibility to focus on brand experience, while they focus on architecting and building the how of it."

Other key participants included Suresh Gunasekara – Director of Operations at Campus Direct, Chandma Cooray – Chief Digital Officer at Hemas Holdings and Omer Fareed – CEO of Envoy Holdings.


The Dazeworks journey

The Customer Success Platform event was organised by Silver Consulting Partner Dazeworks and was powered by Salesforce. Dazeworks is the only listed Salesforce partner in Sri Lanka. They are pure-play Salesforce consultants with a global footprint in nine locations around the world. The team of certified Salesforce admins, developers, and UI experts work their magic in designing and developing a cloud solution that best matches the company requirements. They offer a gamut of services ranging from Salesforce development and implementation to Appexchange and the Salesforce mobile app development. With over 100+ clients in the US, Europe, Middle East, Africa, and Asia, Dazeworks has proved their expertise by working hand-in-hand with them for projects in implementation, development, system integration and data migration.

Salesforce is the world's #1 customer relationship management (CRM) platform. All Salesforce products run entirely in the cloud so there are no expensive setup costs, no maintenance, and your employees can work from any device with an internet connection – smartphone, tablet or laptop. Salesforce enables you to manage all interactions with your customers and prospects so your organization can grow and succeed.

The Dazeworks team in Sri Lanka is led by their director Chamil Madusanka. Chamil is also the founder of Sri Lanka Salesforce Developer User Group, Sri Lanka Salesforce Saturday and is the author of two Salesforce related books (first Sri Lankan to do so). He has been working towards spreading knowledge on Salesforce within the Sri Lanka region. The latest edition of the Customer Success Platform Event is one such initiative aimed at bringing the benefits of Salesforce to the business community in the country.For additional information on Dazeworks and Salesforce, visit their website at http://dazeworks.com/ or send an email to info@dazeworks.com.