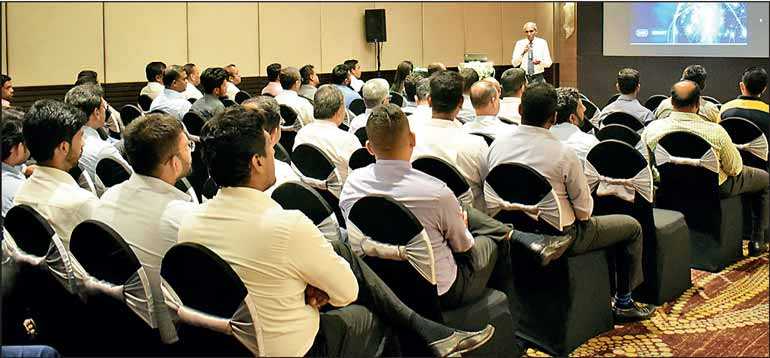 ---
Industry veteran DMS Electronics Ltd. together with VMWare, a world leader in software driven IT infrastructure, recently conducted a highly successful awareness session on exploiting Flexible IT Infrastructure for Digital Transformation at the Cinnamon Grand in Colombo.

Established in 1981, DMS Electronics is among the pioneers of the Sri Lankan IT landscape and continues to offer cutting-edge solutions through innovative strategising and adherence to quality. Their longstanding partnership with VMWare is set to look at new possibilities, where software driven flexible IT infrastructure can bring better adaptability to power digital transformation initiatives for growth, efficiency and improved profitability to businesses.

Welcoming the participants DMS Electronics Director/General Manager Chandana Weerasinghe spoke about the buzz that has been created by digital transformation across different industries. Banking and finance, travel, hospitality and even the government sector were highlighted. "Adaptable solutions require flexible infrastructure and is a key enabler in making digital transformation possible. Our partnerships with industry leaders enable DMS Electronics to provide proven solutions to drive the digital revolution," he said.

Speakers at the event, Assistant Manager/Pre-Sales Consultant Nilanka Costa and Senior Systems Engineer Samith Coorey from DMS Electronics described the capabilities of VMware's solutions like VMWare NSX SD-WAN by VeloCloud, VMWare NSX, vSAN and VMware on AWS. Speaking on SD-WAN by VeloCloud, Nilanka Costa said, "Legacy networks cannot support today's edge and it is of paramount importance to assure the performance of any application. In VMWare's SD-WAN solution by Velocloud, we have a solution that assures application performance while simplifying deployments and reducing costs. It also facilitates continuity without impacting performance in the event of a network failure."

Explaining VMware's HCI solution, Samith Coorey explained how VMware's vSAN reduces infrastructure costs while delivering high performance, flexibility and data security. It is also a simple, cost effective solution to manage ROBO (Remote Office Branch Office) services from the central data centre. Coorey also spoke of VMWare's partnership with Amazon Web Services which is an integrated solution that allows organisations to seamlessly migrate and extend VMWare environments to the AWS Cloud for infrastructure expansion as well as for Disaster Recovery purposes.

The event was well attended by CIOs, IT and networking professionals from leading state and private sector organisations. The event was also graced by VMware's country team in Sri Lanka.