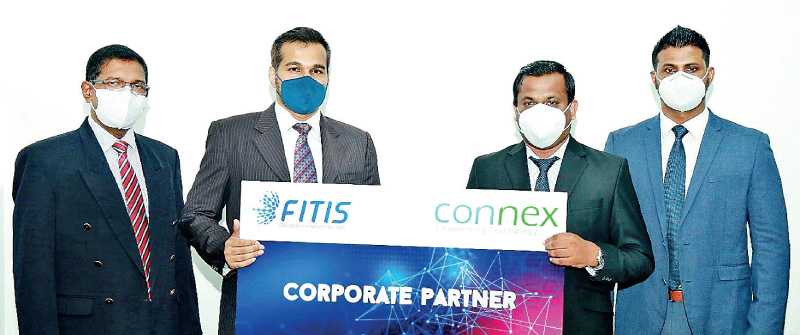 From left: FITIS CEO Aruna Alwis, FITIS Chairman Abbas Kamrudeen, Connex Director/CEO Suresh Wijesinghe, and Connex Country Head Dilshan Arjuna De Silva, at the cheque handing over ceremony recently
---
A leading value-added distributor in the Sri Lankan ICT industry, Connex Information Technologies Ltd., joined hands with Federation of Information Technology Industry (FITIS), as a Corporate Partner in November 2020. Connex has been headquartered in Colombo and has its business operations in Singapore and Maldives. It is the first in-country Sri Lankan distribution partner for FITIS with comprehensive enterprise solutions capabilities, and will initiate a progressive change in the ICT landscape of the country.

FITIS was set up in 1996 with the purpose of giving a much-needed focal point for the ICT industry in Sri Lanka. FITIS is the apex body of the ICT sector in the country covering all major industry segments such as Hardware, Software, Training and Education, Communication, Office Automation and Digital Services and Professional. FITIS which has been actively contributing towards changing the landscape of the Sri Lankan ICT industry during the last two decades has many 'firsts' and 'bests' to its credit.

"I am very pleased and proud to have partnered with FITIS to deliver IT infrastructure solutions and products for industries across the country and I believe this partnership will tremendously benefit both organisations alike," said Suresh Wijesinghe, Director/CEO of Connex Information Technologies, founded in 2014.

FITIS Chairman Abbas Kamrudeen said, "The partnership comes into effect at a time when digital transformation is perceived as an absolute necessity for businesses to stay resilient during the unprecedented outbreak of the COVID-19 pandemic. With many nations being impetus on building a Digital Nation, to boost innovation and economic growth and achieve such vision requires collaboration with top notch experts in the ICT Industry.

Connex Information Technologies Ltd. is a leading value-added IT distributor, focused on technology areas of every part of the business IT infrastructure through system integrators, resellers and consultants. Connex is the first to introduce most of the popular and latest global technologies to Sri Lanka for the local IT industries.

Connex has the power of technology to build fully optimised IT solutions to meet business objectives with a broad range of latest technologies offering across Security, Networking, Systems, Storage and Technical Services. Having highly skilled technical capabilities and industry experts, Connex provides significant local pre-sales and post-sales support, as well as logistics and fulfilment services for its product portfolio.