By Darshana Abayasingha
---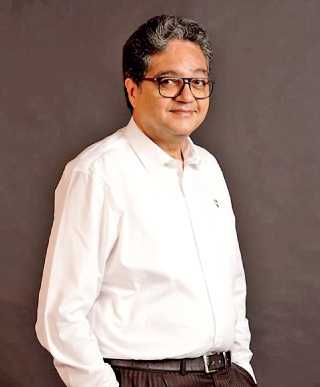 Cisco SAARC Managing Director Sudhir Nayar
---
Cisco announced recently efforts to strengthening its commitment to accelerate Sri Lanka's digital transformation and help build business resiliency with the launch of its Resilient Distributed Enterprise product portfolio.

The company adds it will double down its partner engagements and expand its Networking Academy program to empower Sri Lanka's businesses in this new milieu, supporting the Government's vision of a digitally inclusive and sustainable nation.

Resilient Distributed Enterprises (RDE) bring capabilities of resilient technology infrastructure that permits corporates and employees to work from anywhere, collaborate from any device, manage from anywhere (including automation, data analytics, assurance, and policy) and maximise experience and productivity by serving distributed workers, applications and cloud services, with security front and centre.

Speaking to journalists in Colombo from India, Cisco SAARC Managing Director Sudhir Nayar said 80% of Sri Lankan enterprises run Cisco systems. To deliver the benefits of its resilient technology architecture to many more businesses in Sri Lanka, Cisco is also focusing on expanding its partner ecosystem across the country. Nayar added technology could help build some of the trust that has been lost since Covid-19.

"This latest offering has been designed with the needs of the dynamic and nimble enterprise of the future in mind, augmented by Cisco's vast experience and expertise in cloud infrastructure, automation, and security. Through this initiative, which is bolstered by our continued commitment to developing skilled talent in the country, along with an extensive partner ecosystem to ensure maximum reach, Cisco aims to empower Sri Lanka's businesses to win in the new world," he said.

The new framework was innovated by Cisco during the lockdown considering new norms such as working from home connecting laptops, desktops and mobiles. Nayar explained that these situations provide new risks as sometimes up to 80% of threats come from within. With this new framework an entirely new digital security network will protect and track devices connected to the organisation, with customers provided live update on all such devices. He added that as some nations and organisations return to work as seen in Sri Lanka, the platform could be used

Even in terms of social distancing, as some organisations return to work in like in Sri Lanka, with this platform companies can track all devices and users and provide alerts based on mobility and flag and security or health threats in addition to the software side of things. It could reduce 85% of time spent on risk management, he added.

In addition to fostering RDE capabilities for its businesses, Cisco is continuing to help build a digitally proficient workforce in Sri Lanka through its Networking Academy. This program has trained almost 33,500 students since its inception and is one of the fastest-growing countries under the Cisco Networking Program in the APJ region in 2020. Cisco aims to increase this to 50,000 students by the end of 2021. "Education is a key factor, and we are working with a number of educational institutes to enhance digital knowledge and practical skills; they will come out digital ready," Nayar said.

Cisco is committed to Sri Lanka, as it has been for the past 20 years, and it is keen to enhance capacity to be future-ready. "The pandemic has significantly accelerated the digital transformation, and technology is becoming core to everything, which I believe spells incredible opportunity for its workforces, businesses, and economy. To help Sri Lanka capitalise on this opportunity, we are proud to enable organisations in the country to leverage Cisco's new Resilient Distributed Enterprise portfolio," Nayar concluded.