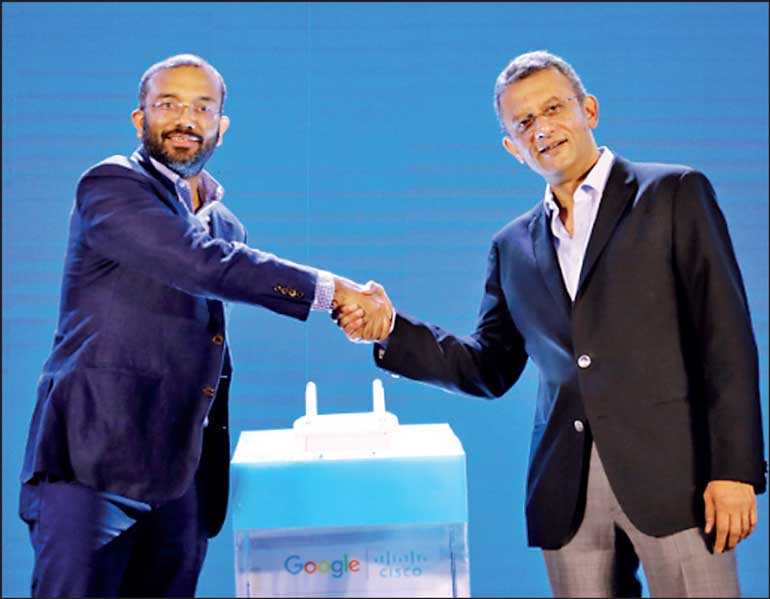 Sajith Sivanandan (left) Head of Google Pay India and SAARC with Sameer Garde, President of Cisco India and SAARC, at the launch of joint Wifi services during the Cisco Summit India.
---
Digital economy in India to reach $1 trillion in value by 2025
People are embracing digitisation, digital economy to go from 6% to 20%
Handset price, high data rate and local language content still impediment to growth
Cisco committed to Sri Lanka and realising potential and targets
By Darshana Abayasingha in Cochin, India

India will become a $ 5 trillion economy by 2025, and from this $ 1 trillion will be the outcome of digitisation, avers Cisco India and SAARC PresidentSameer Garde. Since independence in 1947, India took 65 years to become a $ 2 trillion economy, but just 5 years from then to add another $ 1 trillion, he pointed out. "Today, approximately $ 200 billion of that is what we call the digital value or digital impact out of $ 3 trillion. Even if we do nothing new and not make any proactive changes to the way digital disruption is happening, it will still reach $ 500 billion. But people are embracing digitisation, and therefore it will go from its current 6% to 20%, which will be a trillion dollars. This is the impact of digitisation and it's all happening within these ten years."

Garde was speaking on Monday at the Cisco India Summit 2019 held in Cochin this week, under the central theme 'The Power of Alliances'. During the two-day forum, Cisco India's senior management detailed its mantra for success in the new digital economy, which includes new business models, collaboration and co-innovation. Companies such as Cisco and others have certain skills which they bring to market, but effective collaborations with a multitude of partners combining business programmability will produce new models and greater outcomes that will pave the way to success in this era. Existing business models will cease to be adequate or efficient in this age, with transformation led by intelligent software.

"For all these things to happen, for software to enable growth and data and these GTMs,we need last mile connectivity. If that does not happen all of these get affected. It is critical to ensure we get last mile connectivity. Today we expect seamless video calls, or when you want to search for something which is immediate; you want availability of seamless data. Therefore, we are announcing a Cisco and Google partnership – the first country in the world to do so – where we will go live to connect Google Station with free Wi-Fi in Bangalore. Even today, close to 3 billion people are not on the internet all over the world for various reasons. What we are doing is building a partnership and conducting a pilot to drive the necessary access and affordability," Garde said.

The excessive price of smartphones was identified as an impediment to driving high smartphone usage and access to the internet as an average smartphone in India was listed at INR 11,000 when per capita GDP stood at around just INR 2,000. In addition, cheap smartphones present issues with storage compounded by high mobile data rates, whilst the lack of local language content in markets around the globe were also identified as impediments to accelerating usage and access to the internet. Access serves as the foundation for driving digital learning and empowerment. Over 1.75 billion new users are anticipated to join the internet over the next five years, and institutions such as Google who were represented at the forum stated that it is working tirelessly to "organise the world's information and make them accessible, useful and universal" for internet users.

Commenting of its operations in Sri Lanka, Cisco Managing Director of Partner Organisation and Sales B.Raghavendran told the Daily FT that the company remains committed to its strategy and growth and development in the market despite recent instability. "The work that we are doing with government agencies and our and service partners they have seen fruition and overall we continue to do the work we want in terms of the opportunity we see, so we continue to stay invested and look forward to see these opportunitiesrealise. From a digitisation perspectivecase there are huge opportunities before us. The trillion-dollar digital economy we spoke for India, that potential I'm sure is there everywhere in every country. Digitisation is relevant for all organisations be it small, medium or large. IT is a nebulous for business. We will invest with them and transform our partnerships be it vertical solutions or even the programmability part. In Sri Lanka we are happy to see partners who have excellent programmability skills within them, and are building solutions on top of our infrastructure to drive differentiation."

Sudhir Nayar, Cisco's Managing Director Commercial for India and SAARC reiterated the organisation's commitment to Sri Lanka, and detailed plans to evolve further with its partners in the island which number over a 100 in both the public and private sectors. He asserted that Cisco will work with any organisation be it a small and medium or large-scale enterprise on their journey towards digitisation, with state-of-the-art deployments integrating physical and cyber security, which he listed as crucial going forward. Nayar identified customer profiling and process, people and culture then collaboration as three important elements in any digitisation journey with its partners, and remarks that once the policy framework is set in place software should be able to manage a deployment in any number of locations.

"We will continue to focus a lot on training, and this is imperative for us in terms of resources for partners with sales, both pre-sales and post. We are also looking at what input students are getting from colleges. That is where we are looking at a huge expansion of Cisco's net academy program, where we have a dedicated person in Colombo. We go to education institutions and present a curriculum that is certified, and say here is how we can come and train teachers to impart that curriculum, and also give assistance to set up labs.So, when you come out with a diploma you actually have hands on experience on infrastructure and networking, so you already understand it. It's our responsibility to continue investing into that," Nayar stated.

He noted that Sri Lanka is more open and faster to adopting and deploying new technology and this has been seen across the years be it government or private sector. The banking and financial sector and very involved he says, with strong interest from the hospitality and real estate sectors. He added that pilot programs such as the deployment in Bangalore with Google Station should be rolled out in countries like Bangladesh and Sri Lanka, based on the success of the initial pilot in India.

During the program, Cisco announced plans to roll out free high-speed Wi-Fi zones across India with gStation to provide communities around the country access to a free, open, high-quality public Wi-Fi. As telecom infrastructure has become increasingly robust and ubiquitous in India, public access to high-speed data is critical for connecting over 800 million Indians who still aren't online. Reliable connectivity and high-speed public connectivity are key building blocks to realising the potential of a truly digital economy.

In line with the shared vision of connecting 1.3 billion Indians to the digital economy, the project has already begun its first phase of implementation. By September 2019, 200 locations in Bengaluru will be Wi-Fi enabled, followed by another 300 by in the second phase. The locations include public spaces like bus stops, hospitals, government offices, etc.

"Moving from slow to high-speed Internet access will increase user engagement and benefit millions of Internet users throughout the economic spectrum. The success of digitisation and digital citizen services is also closely tied to the proliferation of high-speed internet. We are excited to partner with Google to bring free, open, high-quality internet access to everyone in India. This also represents a significant growth opportunity, as the demand for public Wi-Fi hotspots is expected to go up 100 times over the next three years, creating new markets for Cisco and our partners," said Sameer Garde.

Sajith Sivanandan, Managing Director and Business Head, Google Pay and Next Billion User Initiatives, India, said: "Solving for access is one of the core pillars of our Next Billion Users strategy, and with gStation we have developed a best in class public Wi-Fi solution that provides a seamless, high-quality broadband experience to users. The results from gStation's railway station rollout have been hugely encouraging, and we're delighted to join hands with Cisco to broaden gStation's coverage in the city of Bengaluru. Our approach is to help create abundance where there is scarcity and do it sustainably. The proliferation of public Wi-Fi in India can provide a significant boost to the government's digital ambitions of ubiquitous connectivity and digital inclusion and serve as a complementary network for telcos and offer users full high-fidelity experience across India."

In India, 8 million additional hotspots must be installed to create new market opportunities for infrastructure providers and internet service providers on par with some developed markets. India has only 52,000 Wi-Fi hotspots today, necessitating a proactive strategy to make high-speed Wi-Fi hotspots ubiquitous across the country.

Public Wi-Fi also provides an opportunity to develop a broader connectivity ecosystem, which can not only benefit users and wireless ISPs but also telecom service providers, handset manufacturers, and venue owners. It is already seeing widespread acceptance by service providers globally and has evolved as a complementary network for traffic offload purposes — offloading from congested cellular networks on to lower-cost-per-bit Wi-Fi networks extending the coverage of mobile networks within buildings and other public spots like cafés and restaurants, retail chains, hotels, airports, planes and trains for customers and guests. According to the Cisco VNI report, nearly 59 percent of Internet traffic will be offloaded from cellular networks to Wi-Fi by 2022, wherein lies the tremendous opportunity for ubiquitous dispersion of Wi-Fi.