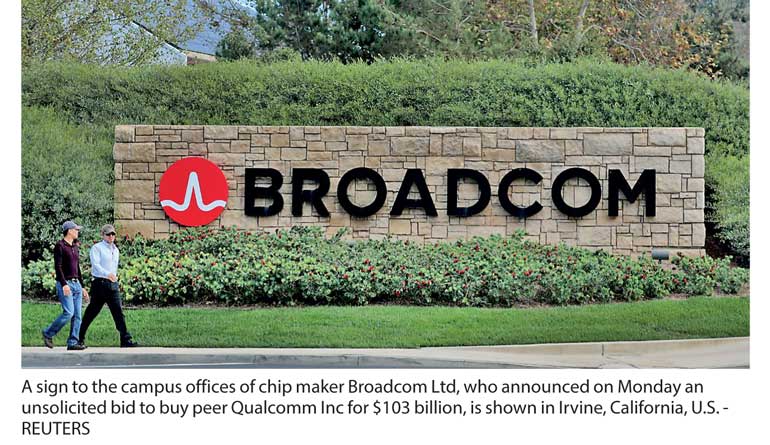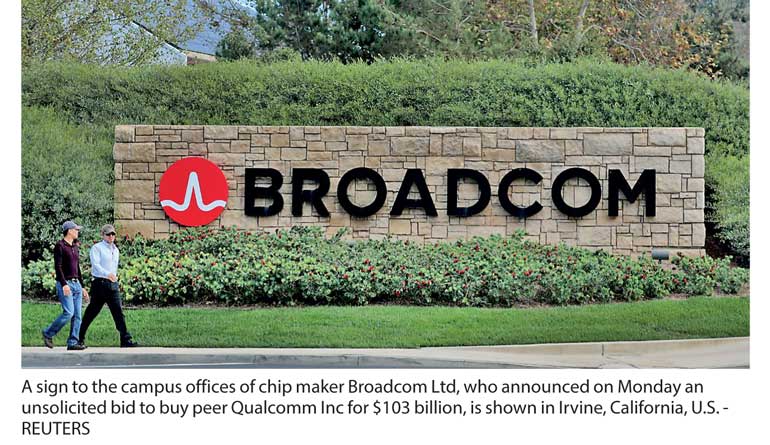 Reuters: Broadcom Ltd. made a $121 billion 'best and final offer' on Monday to acquire Qualcomm Inc, ratcheting up pressure on its US semiconductor peer to engage in talks on what would be the biggest ever technology acquisition.

The takeover battle is at the heart of a race to consolidate the wireless technology equipment sector, as smartphone makers such as Apple Inc and Samsung Electronics Co Ltd use their market dominance to negotiate down chip prices.

Qualcomm responded that its board of directors would review the latest offer, and declined to comment further until then.

Broadcom's new $82 per share offer included $60 in cash and $22 in Broadcom stock. Its first offer, of $70 per share, in November comprised $60 in cash and $10 in stock. The increased stock component would subject the deal to a Broadcom shareholder vote.

Reuters first reported on Broadcom's new offer on Sunday.

Qualcomm shares fell 4.3% to $63.20 at mid-afternoon on doubts about the deal's prospects, as well a KGI Securities report that said Apple might drop the chipmaker in favour of Intel Corp to supply modem chips for its next-generation iPhones.

Broadcom shares edged up 0.2% to $235.77.

Singapore-based Broadcom is mainly a manufacturer whose connectivity chips are used in products ranging from mobile phones to servers. Qualcomm primarily licenses its technology for the delivery of broadband and data, a business that would significantly benefit from the rollout of 5G wireless technology.

Qualcomm is locked in a patent dispute with Apple over its licensing agreements.

"Qualcomm got where it did in the last 30 years with a business model hinging on intellectual property licensing that is, at this day and age, not sustainable. You can sell products, as Broadcom does, very successfully, and generate a very good return for your shareholders," Broadcom Chief Executive Hock Tan said in an interview.

In a presentation issued on its website, Broadcom criticised Qualcomm's management team, led by its CEO Steve Mollenkopf, for its total shareholder returns of negative 7% since 2005, while the wider semiconductor index has returned 106%.