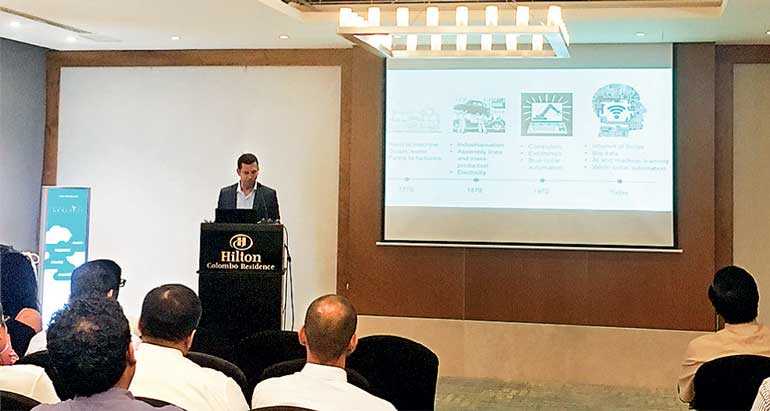 Keynote speaker at the event, Bileeta Director Imran Vilcassim
---
SMEs hold in them the potential to be the future engines of innovation, playing a significant role in driving economic growth and generating jobs. However, in order to improve productivity and overall business performance, Enterprise Resource Planning (ERP) is one of the enablers that Small and Medium Enterprises (SMEs) need to embrace, in order to equip themselves to successfully navigate to face future global challenges.
As such, Bileeta Ltd., known for their dominance in the ERP space, recently collaborated with HNB Bank to host a customer forum titled 'Organisational Transformation through Digital' at the Hilton Colombo Residencies. The key focus of the forum was to create awareness among the SMEs on the role of ERP in the Digital Transformation of Organisations to drive more productivity in their businesses.

This forum was an initiative in conjunction with the bold move taken by Bileeta to sign a strategic agreement with HNB PLC last year, in launching an ERP solution to drive scalable Enterprise Resource Planning (ERP) solutions to meet the requirements and aspirations of Sri Lanka's Small and Medium Enterprise (SME) businesses. The solution, 'Entution' a Cloud based ERP, will help SMEs expand their technological capabilities by narrowing down the complexities of daily operations to a click of a button, thereby making their operations more efficient and effective.

The event was participated by over 50 companies that comprised of some of the key HNB's SME client portfolio.

Keynote speaker at the event, Bileeta Director Imran Vilcassim delivered the presentation on 'Organisational Transformation through Digital' that was followed by a demonstration of the Entution ERP solution by Bileeta CTO Sanka Weerasinghe, who showcased to the SMEs present, that they now had a locally designed ERP solution specifically attuned to their needs, which would help facilitate greater productivity and more streamlined operations across all departments within their businesses at all times.

This event was the first of its kind to be held in the country, where a leading bank promoted an ERP solution as a value added service to their clients. This in turn demonstrates HNB's emphasis on developing Sri Lanka's SME sector and in building partnerships with top technology leaders in the market to deliver a bundle of benefits to their SME customers.

Bileeta believes that in today's business perspective, no business is too small for an ERP solution. Bileeta CEO Sanji De Silva stated, "In the past, there haven't been any suitable ERP options available to small-sized businesses. ERP for small business was not so easy as these businesses simply didn't have the funds or technical support to create the base necessary to endorse the traditional corporate-scale ERP solutions. Therefore, we designed and developed the Entution Solution to help small businesses to operate like an enterprise-scale business. After a lot of research and market study done to develop this solution, we believe that Entution is one of the best possible Cloud based ERP's currently available in the market, which has the unique capability of not only assisting large scale businesses but also meets the needs of small and medium scale enterprises."

With Bileeta's aim of empowering SMEs gain better business productivity and innovative growth, this forum is the first of its series, with the company hoping to hold many similar forums across the country in the near future.