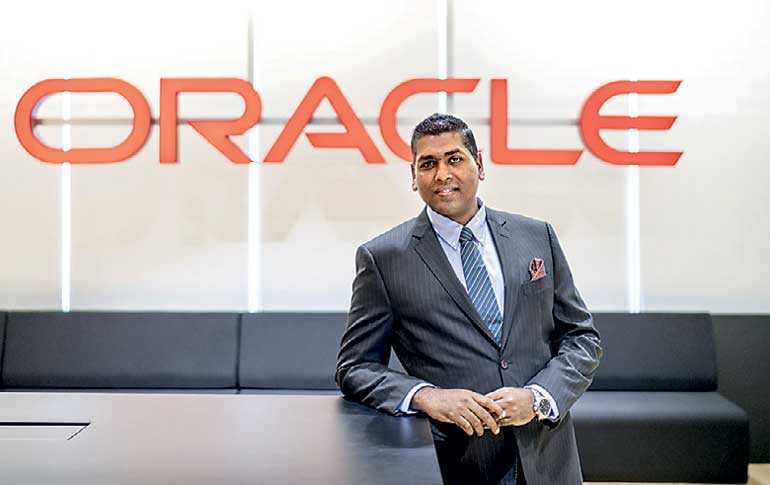 Oracle ASEAN region and SAGE Cluster Regional Managing Director and Vice President Cherian Varghese
---
The world's first self-driving, autonomous database from #1 database provider in the world is helping organisations reimagine business innovation
By A Special Correspondent

Human civilisation has long been driven by technological advancements. From fire and the wheel to more recent developments around the smartphone, internet and the cloud, they have irreversibly changed the way we live and work. Now many believe we are on the verge of another major milestone, the fourth industrial revolution; ignited by the rise of emerging technologies like automation and machine learning, and driven by the explosion of data.

There are key areas in business where this is critical. We are at a stage where we are generating an estimated 2.5 quintillion bytes of data every single day, and more data has been created in the past two years than in all of human history. But while the value contained in these data is immense, leading many to describe it as the new oil and start to rank it as one of businesses' most precious capital resources, the challenge is that humans just can't keep up. To realise the potential we need something different.


The promise of autonomous technologies

Speaking with Daily FT, Cherian Varghese, Regional Managing Director and Vice President at Oracle for the ASEAN region and SAGE Cluster, who oversees 19 countries including Sri Lanka, said that autonomous technology represents one of the next greatest leaps in technology's evolution.

"Autonomous technologies harness advanced machine learning and automation, twinning them together into a powerful combination that means that machines can, to an extent, really start to think for themselves and take on tasks that they have never been able to before but are best suited to, and without the need for human intervention."

"This means that we can free up people and funding from mundane tasks and redirect them to higher-value activities. At the same time, we can boost efficiency, as those tasks can be done at unprecedented speeds and with a level of accuracy and consistency that humans just can't match," said Varghese.

Varghese believes that it will be autonomous technology that will be that something different that will help CIOs pull their organisations out of maintenance mode and into innovation mode, allowing their people to fulfil their potential.

As such, he believes that the Oracle Autonomous Database will have a similar revolutionary impact for businesses as autonomous cars have for transport. Why?

Running on Oracle's Generation 2 cloud infrastructure, Oracle Autonomous Database is a self-driving, self-securing, and self-repairing database that automates key data management processes, including patching, tuning and upgrading. Because of this and through the use of groundbreaking machine learning it gives businesses unprecedented access to their data, at a speed not previously available and with things like maintenance and security performed by the database itself, without any impact on performance, and so at a much lower cost.


Charting a new course with Oracle Generation 2 Cloud

Varghese talked about Oracle's Generation 2 cloud infrastructure, a more advanced and secured solution that is purpose-built for the enterprise, and also to run Oracle Autonomous Database. Oracle CTO and Executive Chairman, Larry Ellison, showcased the new platform during his keynote at Oracle OpenWorld 2018, speaking at length about the current state of cyber defence, which he said, "is just not good enough".

"While first-generation clouds are built on decade-old technology, Oracle's Generation 2 cloud infrastructure is built specifically to help enterprises run the most demanding workloads securely. With unique architecture and capabilities, Oracle Cloud is able to deliver unmatched security, performance, and cost savings. Additionally, only Oracle Generation 2 cloud infrastructure is built to run Oracle Autonomous Database," said Varghese.

The foundation for Oracle's Generation 2 Cloud, Oracle Cloud Infrastructure, is designed to run any enterprise workload securely. Oracle's modern IaaS (Infrastructure-as-a-Service) offers native support for Oracle Autonomous Database. Not only is the platform for Autonomous Database but Oracle Cloud Infrastructure is the platform for all of Oracle's cloud services and applications, in addition to customer's existing and new workloads.


Oracle Autonomous Database: Driving a new industrial revolution

Discussing Oracle Autonomous Database, Varghese further added, "With four decades of innovation, plus the integration of machine learning, the Oracle Autonomous Database comes as one of the most important developments in Oracle's history. The availability, performance and security it delivers are unmatched – and it costs significantly lesser than anything else on the market."

Oracle Autonomous Database increases efficiency and enables customers to do more for less, putting data management and database maintenance on autopilot. In addition, it is at a much lower cost than any competitive offering. Here is why: Oracle Autonomous Database is faster than any other database, not just to run, but also in terms of set up – you can get a data warehouse going in seconds. This reduces the amount of time needed to run workloads, which since customers get charged by the minute, means it costs a lot less compared to running other databases. It also dramatically accelerates time to innovation and time to market."


Early adopters

The early adopters of these technologies span across different industries including banking, IT and professional services, and digital commerce. They are already realising numerous business benefits, armed, as they now are, with deeper and more meaningful insights, which have helped them to significantly improve and fast-track business decisions, introduce new products/services to market quicker and create a smarter workforce.

To emphasise the point, Varghese shared the stories of a number of organisations in the region that have leveraged Oracle Autonomous Database; interestingly, small and medium-sized businesses (SMBs) benefit from the Oracle Autonomous Database as much as large enterprises.

"Forth Smart – a Thailand-based company engaged in the provision of top-up machines – is operating over 120,000 vending machines nationwide and the business generates a lot of transactional data – around two million transactions per day. Using Oracle Autonomous Data Warehouse, they have been able to generate real-time insight into their network of vending machines, whereas previously this would have taken them two to three days.

"For effective organisations who want access to their data readily available for analytics, Oracle Autonomous Data Warehouse is the perfect fit. It abstracts away the complexities of managing and maintaining a data warehouse while still making it easy for business analysts to sift through and analyse potentially millions of records," said Varghese to Daily FT.

Varghese is of the opinion that Sri Lankan organisations also have the potential to use Oracle Autonomous Database platforms to meet the demands of evolving local consumers. "It is time for Sri Lankan organisations to get back to doing what they do best – providing the great service that consumers expect of them. Moreover, the only way to do that is to ensure that their people are free to focus on that task. Autonomous technology delivers the freedom necessary to make that vision a reality."


A game changer in security

Varghese also spoke about the in-depth defence mechanisms of Oracle Autonomous Database, on how it uses artificial intelligence and machine learning to recognise unusual activities, such as when a user unexpectedly changes permissions, privileges, or configuration settings.

"Rather than manually investigating incidents separately in each application and at each level of the stack, security teams can obtain a complete view of a multi-cloud environment. Oracle Cloud offers a secure layer of defence across users, apps, data, and infrastructure, and helps prevent, detect and respond to, and predict sophisticated security threats starting with the 'core' of data to the 'edge' of the network," said Varghese.

The self-securing feature of Oracle Autonomous Database starts with the security of the Oracle Cloud infrastructure and database service. Security patches are automatically applied every quarter or as needed, narrowing the window of vulnerability. It patches the full stack – the firmware, the operating system, Clusterware and the database.

"That lifts a huge burden from database administrators, who can then spend more time focusing on other aspects of security and data management. Oracle Autonomous Database Cloud services also continually monitor cloud administrator actions for any abnormal activity, and predefined policies for database auditing are turned on by default," Varghese opined.

In conclusion, Varghese re-emphasised how autonomous technologies can help drive efficiency. "With Autonomous, the IT function can become a true partner to the organisation. Ultimately, autonomous technology can lead to a future where there is no discernible difference between IT and the business – they are converged," Varghese opined. "The autonomous database, twinned with our next generation cloud, really is helping organisations reimagine business innovation."