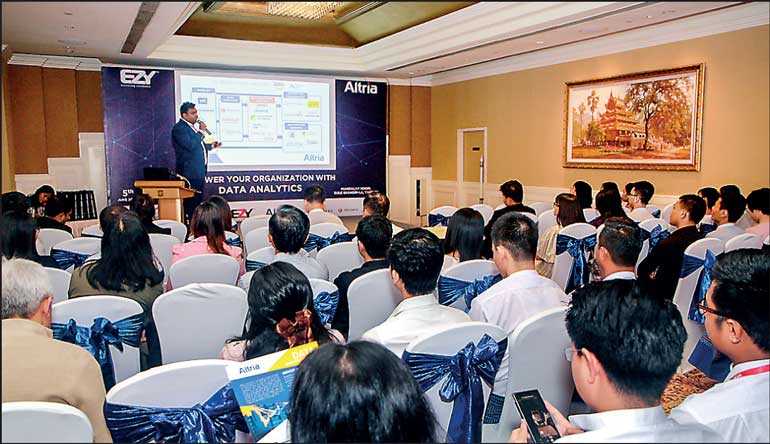 Altria Consulting Head of Business and Strategy Thilanka Mendis addressing the gathering

Altria Consulting Team with EZY Infotech Myanmar team

Altria Consulting Team
---
'Empower your Organisation with Data Analytics', an event organised by Altria Consulting in collaboration with EZY Infotech Myanmar, took place on 5 June at the Sule Shangri La Hotel, Yangon in Myanmar. Focusing on modern data platforms, the importance of data analysis and the capabilities of visual data analytics, this event was a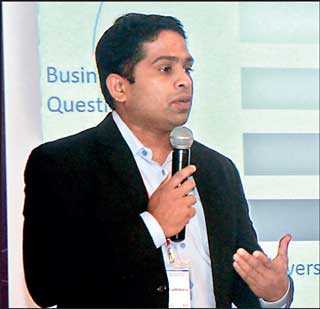 Altria Consulting VP- Business Development Chamikara Perera addressing the gathering
launch of Altria's related services and expertise in tools and technologies, marking the company's expansion of business activities into Myanmar. Having made significant strides in the Sri Lankan market, Altria Consulting is taking its first steps toward becoming a regional player in the rapidly growing world of all things data analytics.

Altria Consulting is a leading IT enabled services provider specialising in Data Analytics, Big Data Technologies and ERP Consulting which has made a name for itself, having completed and continuing to work on multiple projects for a vast array of large-scale banking, telecommunication and retail players in Sri Lanka. The company set its sights on Myanmar after successfully landing a project with an international telecommunications company based in the region. Armed with an enthusiastic team of certified consultants and experienced data engineers, partnered with technology providers such as Pivotal's Greenplum, and Tableau, Altria is confident on making significant strides in the market together with their local partner, EZY Infotech Myanmar.

EZY Infotech Co. Ltd. is the Myanmar-based arm of EZY Corporation, which focuses on IT services, enterprise distribution and training. Managed completely by native employees, the EZY Infotech team lead by Country Manager Zin Mar Thu, prides itself on having extensive expertise and experience in the local Myanmarese market which would prove to be a great asset to Altria Consulting in guaranteeing the success of this venture.

Representing Altria Consulting, Chamikara Perera – VP of Business Development and Thilanka Mendis Head of Business and Strategy, addressed the gathering of senior executives from some of Myanmar's largest telecommunication, banking, finance, and retail companies. Illustrating the vital benefits of dissecting and analysing the large quantities of data, their presentations elaborated the critical insights which could be discovered through visual data analytics which would prove as an invaluable asset to any organisation. Further, focus was directed towards Altria's potential to provide end-to-end solutions from data platforms, to data analytics through a technology agnostic approach, guaranteeing a once-off solution tailor made to fit the exact requirements of a client organisation.

The event was also graced by the attendance of Bhanu Jamwal – Senior Platform Architect for Pivotal Software's Greenplum, who enlightened the audience with the latest and greatest in today's world of Modern Data Platforms. Emphasising on the performance potential and capability of Greenplum as a data-platform solution, Bhanu Jamwal elaborated on Greenplum's roadmap into the future.

As the event drew to a close, attendees were given the opportunity to witness interactive demonstrations carried out by Altria's team of analytics experts, bringing further clarity in regard to not only the visual capabilities of the tools and technologies, but also the comprehensive expertise and experience of Altria Consulting as an data analytics solution provider.