---
Says investment in SL is long term
Will take the opportunity to invest while others are hesitant
By Shevanka Kurumbalapitiya

ASUS, one of the leading computer and phone hardware and electronics companies in the world and in Sri Lanka, has pledged its investment in Sri Lanka and will not be discouraged or hesitant due to the current situation in the country.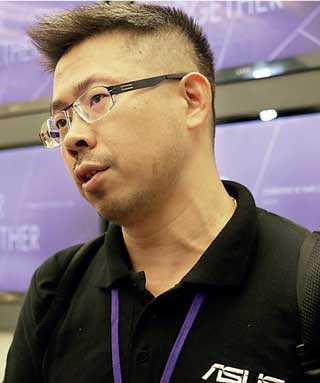 ASUS India and South Asia Regional Head Leon Yu


Established in 1989, ASUS recently celebrated its 30-year anniversary, having launched brand new products into the market at the recently held Computex 2019.

As a part of its 30th anniversary commemoration, ASUS has prepared a 30/30 market strategy, which refers to attaining 30% market share for commercial products, gaming, and other relevant areas in the IT industry.

Within the Asia and Pacific regions (APAC), ASUS already holds an average of 30% market share for commercial products and almost 50% market share for gaming, and around 40% market share for gaming within South Asia, which is well above the competition in that sector. In regards to Sri Lanka, ASUS currently has around 15% market share overall for its products.

Speaking to local media including the Daily FT, ASUS India and South Asia Regional Head Leon Yu said: "This year ASUS is ready to invest in the whole of South Asia, Sri Lanka for sure is very important."

ASUS aims to increase its current market share and rank and achieve a number one position in the world above the competition for commercial and gaming products with the use of an aggressive market strategy. Thus, with the introduction of the 30/30 market strategy, ASUS believes it will be able to achieve this tremendous feat.

Kicking off this strategy, ASUS launched the brand-new ZenBook Pro Duo and ZenBook Duo which have been fitted with the very first ScreenPad Plus, along with a vast number of commercial and gaming laptops, as well as motherboards and the new and improved ZenFone 6.

The ZenBook Pro Duo will be available in the Sri Lankan market in the near time to come, whereas the remaining new launches will be shipped to Sri Lanka very soon. However, the ZenFone 6 will not yet be available in Sri Lanka due to the requirements which must be met in order to be available in the country. In South Asia, only India has been selected to sell the ZenFone 6 for the time being, Leon Yu said.

ASUS products have been available in Sri Lanka for almost 25 years, where approximately 50 million products have been shipped to Sri Lanka during this time. This affirms its long-time partnership with the country. It aims to open more exclusive shops in the country to allow a better shopping experience for its customers.

ASUS recently formed a partnership with Singer Sri Lanka PLC and was appointed as a consumer notebook distributor and as the exclusive Large Format Retailer (LFR) for ASUS laptops in Sri Lanka.

Despite the Easter Sunday terror attacks which rattled the nation, ASUS remains unfazed and will continue its investment in Sri Lanka.

Emphasising on ASUS' continuous support and investment in Sri Lanka, Leon Yu said: "Our investment is long time. We know currently there is a riot, but our destination and investment will never stop in Sri Lanka. We believe this is just short term."

He goes on to say that other potential investors would be hesitant to invest in Sri Lanka due to the prevailing condition in the country, but ASUS sees this as an opportunity to bring it closer to its 30/30 target, and ensures that it will make the most of this opportunity and further its investment in the country.