---
15th Sujata Jayawardena Memorial Oration
---
Millennium IT Founder and Visionary Sri Lankan Entrepreneur Tony Weerasinghe will deliver the 15th Annual Sujata Jayawardena Memorial Oration on 28 March at the BMICH on the topic 'Up in the Cloud – Using Artificial Intelligence and Digitalisation to transform Sri Lanka to a Developed Country'.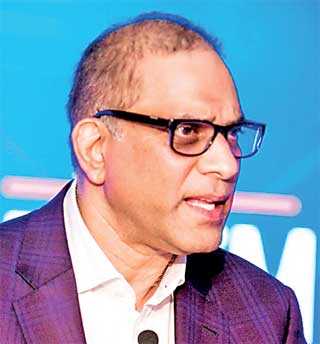 Tony Weerasinghe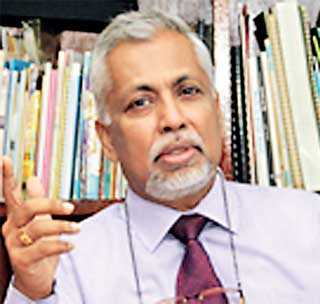 Colombo University Vice Chancellor Prof. Lakshman Dissanayake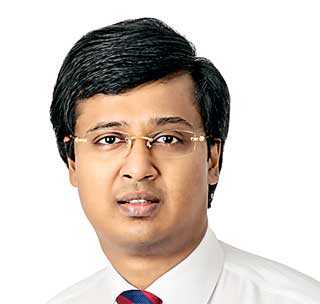 Colombo University Alumni President Rajeev Tony Weerasinghe Amarasuriya
Weerasinghe is a visionary with over 25 years' experience in the IT and Finance industries. He has built some of the world's most sophisticated trading systems, including the current platform for the London Stock Exchange. Today, he serves as the Chairman and Chief Executive Officer of Ustocktrade LLC — the first Alternative Trading System (ATS) providing retail investors same-day trade settlement for US equity securities.
Weerasinghe's contrarian tendencies have borne serious fruit in the world of global finance. In 2010, his company, Millennium IT, became part of the London Stock Exchange group. He then joined the London Stock Exchange Group as their Director of Global Development, and in less than a year had successfully migrated one of the world's largest trading platforms without missing a minute of operability.

At Millennium IT, Weerasinghe started e-Channelling, the first e-commerce company in Sri Lanka. At the age of 26, he was the youngest country manager for Oracle, and held positions with Sun Microsystems and Wang during the course of his career.

The Annual Sujata Jayawardena Memorial Oration, being a premier annual event of the University of Colombo is hosted for the 15th consecutive year by the Alumni Association of the University of Colombo, in memory of its illustrious Past President the late Sujata Jayawardena who rendered immense service to the University of Colombo.

Speaking at this year's Oration, University of Colombo President Alumni Rajeev Amarasuriya said that the Alumni Association selected the area of digitalisation and artificial intelligence to be the focus for this year's Oration, given its potential to disrupt and realign anything for the better.

Speaking further he said: "Sri Lanka has simply not gotten its act together – we had a 30-year war which ended in 2009, and one could justify the lack of significant development during that time, but it's nearly 10 years since then, and one thing all people will agree is that there have been many lost opportunities in the last 10 years.

"Many who saw the war through are now in their advanced age, and they cannot wait another 25 years to see Sri Lanka transform. We need something which will give energy and thrust to Sri Lanka, be it the public service or for that matter even the private sector and all other spheres, and the advancement of technology we have today may well provide that solution.

"It is in this context that we invited Tony Weerasinghe to deliver the 15th Sujata Jayawardena Memorial Oration on how the exponential advancements in technology could drive Sri Lanka to become a developed country and regain Sri Lanka's true place."

Vice Chancellor Snr. Prof. Lakshman Dissanayake said that it would be timely to have Weerasinghe speak on the digitalisation in the development of Sri Lanka and focus of the Government to develop digital strategy to support a digital economy in terms of the thrust sectors, namely, agriculture, tourism and manufacturing.

Weerasinghe, being a pioneer in this space, has successfully led his team to build the world's fastest trading system and to build some world class Fintech products including Trading Platform for Multiple Asset Classes, Surveillance Platform for Exchanges and Regulators and a Depository Platform for National Depositories that are being used at many national exchanges around the world.

Speaking of the Oration, he said that the Sujata Jayawardena Memorial Oration which is an important annual event of the University of Colombo, has also significance nationally, as it has provided a forum for timely, socio-politically and economically important topics of national importance to be discussed.

"Being the premier University in Sri Lanka, we are happy that, through the Sujata Jayawardena Memorial Oration, we are able to generate dialogue and exchange of ideas between leaders of respective fields, academics and the public, he went on to state."

Those interested in attending this year's Memorial Oration,

Email – alumni.colombo@gmail.com

Call - 11 250 1412/+94 71 7289 014 (Suraji) or 11 250 6236/+94 77 3822 473 (Sumanaratne)

Please make your phone calls between 9.00 a.m. and 4.00 a.m. as seats are limited and will be by invitation.