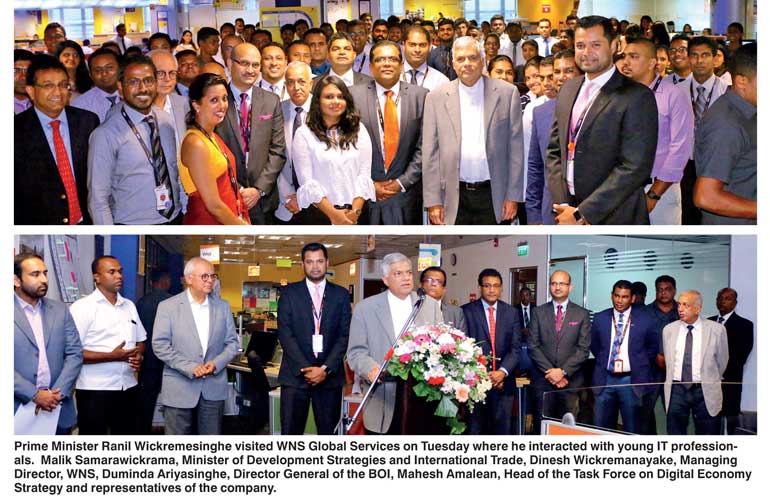 Prime Minister Ranil Wickremesinghe has pledged not to waste even an ounce of human talent in Sri Lanka when he addressed the young employees of WNS Global Services Ltd., one of the pioneer IT/BPM operators in Sri Lanka.

Quoting Parakramabahu the Great that not one single drop of water would be allowed to flow to the sea without being fully utilised, Wickremesinghe said his Government would employ a similar approach towards the country's talent pool. The PM said that IT and related industries are crucial to the country's future and committed to provide the support required to grow the industry.

During his visit, the Prime Minister met with WNS Managing Director Dinesh Wickremanayake and senior representatives of the company. Minister of Development Strategies and International Trade Malik Samarawickrama and Board of Investment of Sri Lanka (BOI) Director General Duminda Ariyasinghe also participated in the discussions on expediting the country's future IT growth.

WNS Group CEO Keshav R. Murugesh said, "It was a great honour to have the Prime Minister visiting our Colombo office today. We are delighted to see the commitment of Wickremesinghe and his Government to make Sri Lanka a leading destination for BPM work. The country has already taken big strides towards creating a conducive eco-system, and I am confident the support will grow in the years ahead."

WNS started its operations in Colombo with 35 employees in 2004, and today it has grown its presence to over 700 employees across two locations. WNS has successfully tapped into the country's high-end Finance and Accounting and Legal talents to set up its first Global Centre of Excellence in Financial and Accounting Outsourcing (FAO) in Colombo, outside of India. As a testament to the ingenuity and innovative capabilities of Sri Lankan talent, WNS incubated and rolled out Robotic Process Automation (RPA) initiatives across their client engagements globally. The company employs over 35,000 professionals across 53 delivery centres worldwide.

Following extensive private and public stakeholder consultations in 2017, Sri Lanka's National Export Strategy (NES) identified ICT to be one of the six priority sectors in strengthening export competitiveness and sustainable investment growth. The IT/BPM industry aspires to grow its export revenue from $ 1.2 billion at present, to $ 5 billion, provide employment to 200,000 people and enable 1,000 startups by 2022.

With the potential to become one of the leading export earners for Sri Lanka, the IT/BPM industry will see the development of related infrastructure facilities, capacity building for talent and improvements in ease of doing business as part of the implementation of government policy objectives. These initiatives will complement the industry's strengths and fuel its growth, positioning Sri Lanka as a hub for world-class knowledge solutions.

The Hon. Prime Minister will share his vision for the industry and the country's renewed focus on IT/BPM as he addresses the World Congress on Information Technology (WCIT) and NASSCOM India Leadership Forum 2018, on 19 February, in Hyderabad. This landmark event brings together over 2,500 visionaries, captains of industry, government leaders and academics from over 80 countries.