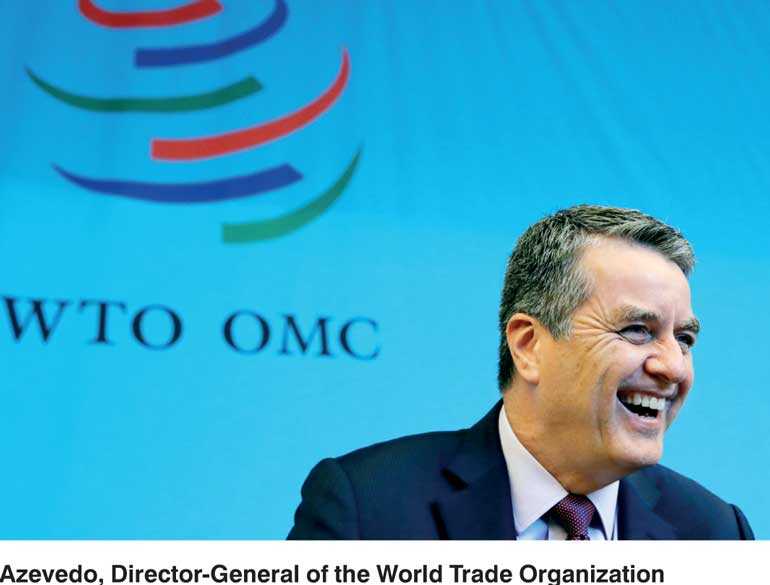 Geneva (Reuters): World Trade Organisation head Roberto Azevedo said on 31 August that US President Donald Trump's comments about potentially leaving the WTO were consistent with what the United States has said previously and did not reflect new concerns.

Trump said on 30 August that he could pull out of the WTO, potentially undermining one of the foundations of the modern global economy, which the United States was instrumental in creating.

"If they don't shape up, I would withdraw from the WTO," Trump said.

In a response on 31 August, Azevedo, the WTO's director general, said there was no reason for "panic".

"The US concerns about areas in the WTO that they would like to improve are not new. And I think what he said yesterday is consistent with what they have expressed before."

Trump has previously called the WTO a "disaster" and a "catastrophe".During his election campaign he told NBC's Meet the Press program that if the WTO rules blocked his policies, he would renegotiate US membership or pull out.

Trump's ambassador has said the United States will not shy away from being disruptive to shake up what it sees as a complacent organisation, and has precipitated a crisis by blocking appointments of WTO appeals judges, forcing other countries to discuss potential reforms to assuage Trump.

Many diplomats say that although they dislike the US tactics, they agree that the WTO needs reform, and hope that the situation can be used to make the 23-year-old trading club more efficient and effective.

The WTO is run on the basis of "consensus", meaning that every one of its 164 members has an effective veto and it is almost impossible to get agreement on any change to the rules.

Azevedo said many WTO members were now talking about improvements, which was a good development.

"Everyone that would like to see improvements in the WTO is very welcome to present their ideas and their suggestions to improve the organisation, sit down with the other members and get the job done," he said.
Trump says Canada not needed in NAFTA deal, warns Congress not to interfere
WASHINGTON (Reuters): US President Donald Trump said on Saturday there was no need to keep Canada in the North American Free Trade Agreement and warned Congress not to meddle with the trade negotiations or he would terminate the trilateral trade pact altogether.

"There is no political necessity to keep Canada in the new NAFTA deal. If we don't make a fair deal for the US after decades of abuse, Canada will be out," Trump said on Twitter.

"Congress should not interfere w/ these negotiations or I will simply terminate NAFTA entirely & we will be far better off," he added.

Trump on Friday notified Congress of his intent to sign a bilateral deal with Mexico, after contentious talks with Canada ended on Friday without a deal to revamp NAFTA. Trump had unveiled a deal with Mexico on Monday.

Lawmakers on Friday warned that a deal with Mexico could struggle to win approval from Congress unless Canada was also included. Support from Democrats would be needed to pass a purely bilateral deal, they said.

Trump last week threatened to slap tariffs on Canadian-made cars if Canada did not join the talks to revamp NAFTA, which he has repeatedly criticised. Trump on Saturday, in his Twitter posts, reprised his attacks that NAFTA has resulted in a loss of US jobs and business.