(Reuters): US Senator Amy Klobuchar entered the 2020 presidential race on Sunday, becoming the first moderate in an increasingly crowded field of Democrats vying to challenge Republican President Donald Trump.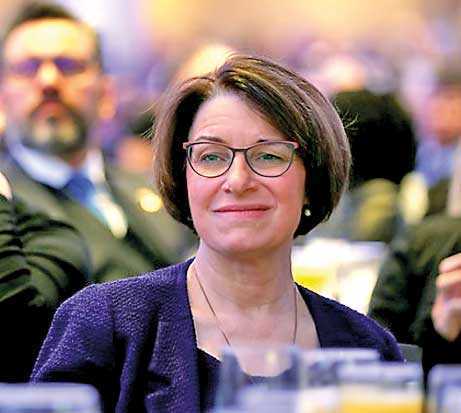 Senator Amy Klobuchar (D-MN) attends the National Prayer Breakfast in Washington, U.S., February 7, 2019. REUTERS
Klobuchar becomes the fifth US senator to announce her candidacy, and the fourth woman in the chamber.

Klobuchar, 58, now in her third six-year term as a senator for Minnesota, will seek to position herself as a contrast to Trump, who is expected to be the Republican candidate in the November 2020 election, focusing on both policy differences but also style and tact.

"I stand before you as the granddaughter of an iron ore miner, the daughter of a teacher and a newspaperman, the first woman elected to the United States Senate from the state of Minnesota, to announce my candidacy for president of the United States," Klobuchar said.

A large crowd assembled in Minnesota on an island in the middle of the Mississippi River, despite a heavy snowfall and 14 degree Fahrenheit (minus 10 Celsius) temperatures.

Klobuchar's announcement came amid several news reports of high staff turnover in her Senate office with workers complaining of having to do personal chores, making it difficult to hire high-level campaign strategists.

A former prosecutor and corporate attorney, Klobuchar joins a list of Democratic hopefuls that includes fellow Senators Cory Booker of New Jersey, Kamala Harris of California, Kirsten Gillibrand of New York and Elizabeth Warren of Massachusetts.