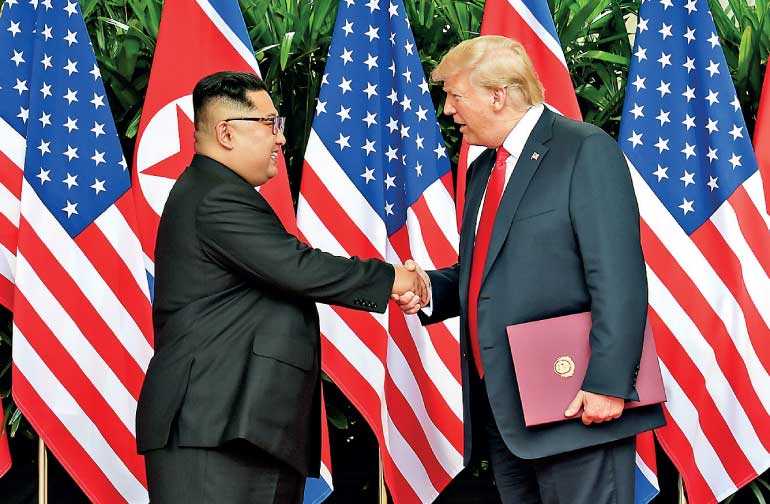 SYDNEY (Reuters): The dollar jumped to a 3-week top on Tuesday and Asian shares rose as US President Donald Trump said a summit meeting with North Korea's Kim Jong Un had made "a lot of progress," boosting hopes of a landmark deal to end a nuclear standoff on the Korean peninsula.

Asked by reporters how the historic talks were going, Trump said: "A lot of progress – really very positive. I think better than anybody could have expected. Top of the line, very good. We're going now for a signing." He gave no further details.

Kim had earlier said the meeting was "a good prelude to peace", just months after the two leaders traded insults and tensions spiralled in the region over the reclusive regime's nuclear programs.

Yet, there was some unease among investors about the outcome of the talks given the tense relations between the two nations. The combatants of the 1950-53 Korean War are technically still at war, as the conflict, in which millions of people died, was concluded only with a truce.

The dollar rose against the safe-haven yen JPY=, while the Korean won KRW= gained 0.2% to edge above a recent two-week trough. E-Minis ESc1 for the S&P 500 were barely changed.

In Asian equity markets, trading was volatile with Japan's Nikkei paring early gains to add 0.5% after earlier rising as much as 0.9%.

MSCI's broadest index of Asia-Pacific shares outside Japan seesawed between positive and negative territory, and was last up 0.2%. South Korean shares reversed losses to inched 0.1% higher, while Chinese shares were buoyant after starting in the red with the blue-chip jumping 0.9%.

"The key question is whether this summit will lead to a lasting, materially positive outcome," analysts at OCBC said in a note.

The dollar was well bid on Tuesday, with the dollar index up 0.1% against a basket of major currencies.

The US Federal Reserve is virtually guaranteed to raise interest rates this week while investors are focused on the US monetary policy outlook.

On the safe haven yen, the dollar jumped to a three-week top JPY= of 110.49 in early deals. It was last at 110.23.

Helping calm markets were comments from Italy's new coalition government that it had no intention of leaving the euro zone and planned to cut debt.

The euro stepped back from a three-week high of $1.1840 to be last down 0.1% at $1.1769.

In commodities, US crude was rose 14 cents to $66.24 per barrel, while Brent dipped 5 cents to $76.51. Spot gold slipped 0.2% to $1,297.31 an ounce.