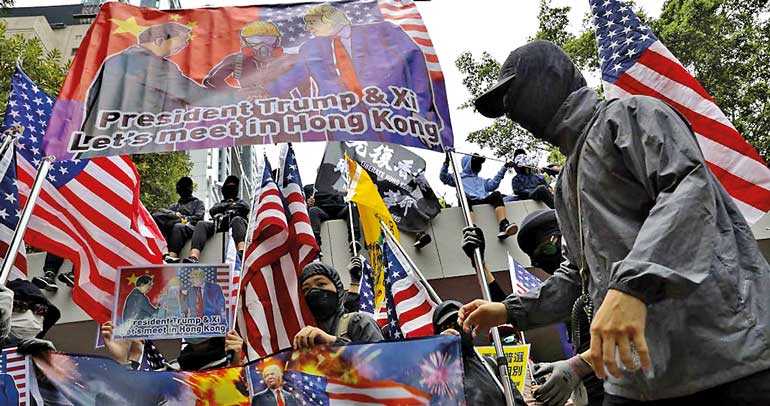 Participants wave US flags and posters depicting President Donald Trump during a rally demanding electoral democracy and call for boycott of the Chinese Communist Party and all businesses seen to support it in Hong Kong, Sunday
---
HONG KONG (Reuters): Police fired tear gas yesterday to disperse thousands of anti-Government protesters who gathered in a central Hong Kong park but later spilled onto the streets, briefly barricading roads and spray-painting buildings.

Out in numbers before the demonstration began, police intervened promptly when the rally turned into an impromptu march. Several units of Police in riot gear were seen chasing protesters and several arrests were made.

A water cannon truck drove on central streets, flanked by an armoured jeep, but was not used.

Organisers initially applied for a permit for a march, but police only agreed to a static rally in the park, saying previous marches have turned violent.

Once protesters spilled onto the streets, some of them, wearing all-black clothing, barricaded the roads with umbrellas and street furniture, dug up bricks from the pavement and smashed traffic lights. Police said in a statement two Police community liaison officers were attacked with wooden sticks and sustained head injuries. They also said some protesters threw water bottles at some other officers who were conducting a 'stop and search' operation.

"In view of the violent incidents, Police officers have asked the organiser to halt the public meeting... and urge participants to... leave the area by public transport," the statement said.

The 'Universal Siege Against Communism' demonstration was the latest in a relentless series of protests against the Government since June, when Hong Kongers took to the streets to voice their anger over a now-withdrawn extradition bill.

The protests, which have since broadened to include demands for universal suffrage and an independent investigation into Police handling of the demonstrations, had lost some of their intensity in recent weeks.