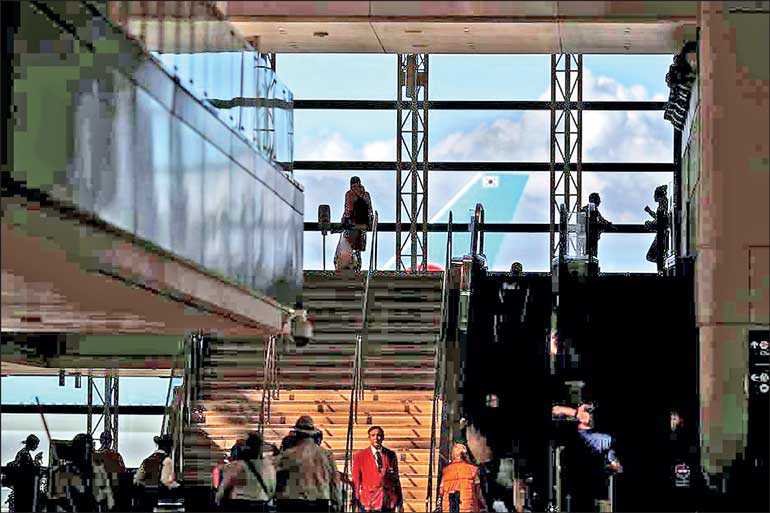 People walk through the international terminal at LAX airport in front of a Korean Air plane in Los Angeles, California, U.S., amid reports of the coronavirus - Reuters
---
Beijing/Washington (Reuters): Global markets took another hammering on Thursday as alarm over the coronavirus intensified, and governments from Ireland to Italy scrambled to contain the impact of a disease that has infected more than 126,000 people worldwide.

Travellers in Europe rushed to board flights to the United States after President Donald Trump imposed sweeping restrictions on travel from the continent, a decision that angered leaders there.

Events from sports matches to weddings were cancelled or suspended, as normal life for millions began to be directly impacted. Trump even suggested that the 2020 Olympics in Tokyo could be delayed by a year.

But in China, where the epidemic originated, officials said the disease had peaked and the global spread could be over by June if other nations applied similarly aggressive containment measures as Beijing's communist government.

Fears of the impact of such restrictions on the movement of people and goods hit global stocks and oil prices hard.

The Dow Jones Industrial index was on course for its worst day since 1987 amid growing signs of corporate distress in the face of the pandemic, while stimulus efforts from the European Central Bank did little to calm nerves.

The market plunge hit airline and leisure stocks particularly hard.

"This is something that markets had not factored in ... it's a huge near-term economic cost," Khoon Goh, head of Asia Research at ANZ in Singapore, said of the US move.

Trump restricted certain travel from Europe to the United States in a televised address about the health crisis on Wednesday, shocking investors and travellers.

On Thursday, he said he had no time to consult European allies before announcing the move, but hoped that the curbs on travel to Europe and China could be lifted very quickly.