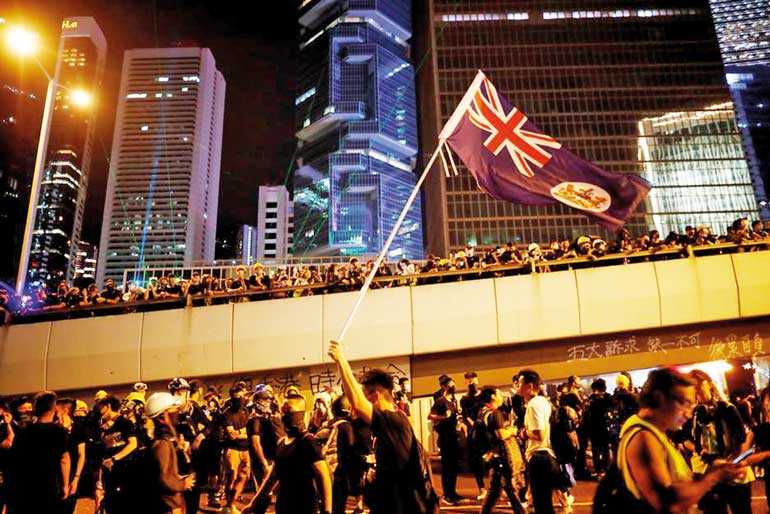 Anti-extradition bill protesters participate in a march to demand democracy and political reforms in Hong Kong, China - Reuters
---
HONG KONG (Reuters): Hundreds of thousands of anti-Government protesters joined a mass rally in Hong Kong on Sunday, filling major thoroughfares in heavy rain in the 11th week of what have been often violent demonstrations in the Asian financial hub.

Sunday's turnout showed that the movement still has broad-based support despite the ugly scenes witnessed during the past week when protesters occupied the Chinese-ruled city's airport, for which some activists apologised.

There was an uneasy calm after nightfall, with no violent confrontations and protesters unclear on what would happen next. Police in riot gear checked the IDs of some demonstrators to the west of the central business district, and there was a large police presence outside the western district police station.

Anger over a now-suspended bill that would allow criminal suspects in Hong Kong to be extradited to mainland China erupted in June, but the rising unrest has been fuelled by broader worries about the erosion of freedoms guaranteed under the 'one country, two systems' formula put in place after Hong Kong's return from British to Chinese rule in 1997.

Despite rally organisers not having permission to march, the park could not accommodate the crowd, which thronged the streets around the park. Many protesters headed towards the city's financial centre, chanting for the city's Beijing-backed leader, Carrie Lam, to step down.

It was impossible to put an exact figure on the number of protesters but Reuters journalists, reporting from around the territory, put the total at around 200,000.