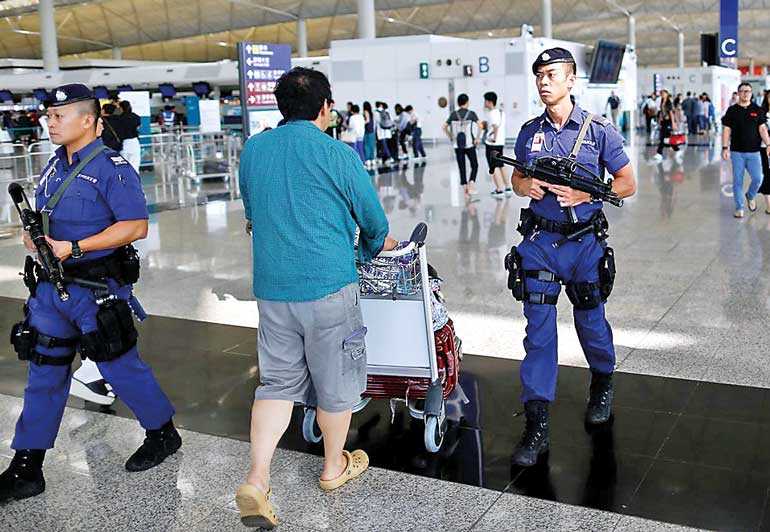 Armed police patrol the departure hall of the airport in Hong Kong after previous night's clashes with protesters, China - Reuters
---
HONG KONG (Reuters): China's Hong Kong Liaison office said on Wednesday that anti-government protesters were no different to 'terrorists', as US President Donald Trump said Chinese troops were moving to the border with Hong Kong and urged calm.

The Beijing-based Hong Kong and Macau Affairs office on Wednesday said extremely violent crimes must be severely punished in accordance with the law.

The strongly worded statements by China's central government follows violent clashes between black clad protesters and riot police at Hong Kong's international airport, which saw hundreds of flights halted for a second day.

A few dozen protesters remained at the airport on Wednesday while workers scrubbed it clean of blood and debris. Check-in counters reopened to queues of hundreds of weary travellers who had waited overnight for their flights.

Ten weeks of increasingly violent clashes between police and pro-democracy protesters, angered by a perceived erosion of freedoms, have plunged the Asian financial hub into its worst crisis since it reverted from British to Chinese rule in 1997.

China's Hong Kong and Macau Affairs Office said it strongly condemned the "near terrorism criminal actions" in Hong Kong including what it called a violent attack on a mainland Chinese journalist and tourist at the airport.

Police condemned violent acts by protesters overnight and said a large group had "harassed and assaulted a visitor and a journalist". Some protesters said they believed one of those men was an undercover Chinese agent, while another was confirmed as a reporter from China's Global Times newspaper.

Five people were detained in the latest disturbances, police said, bringing the number of those arrested since the protests began in June to more than 600.