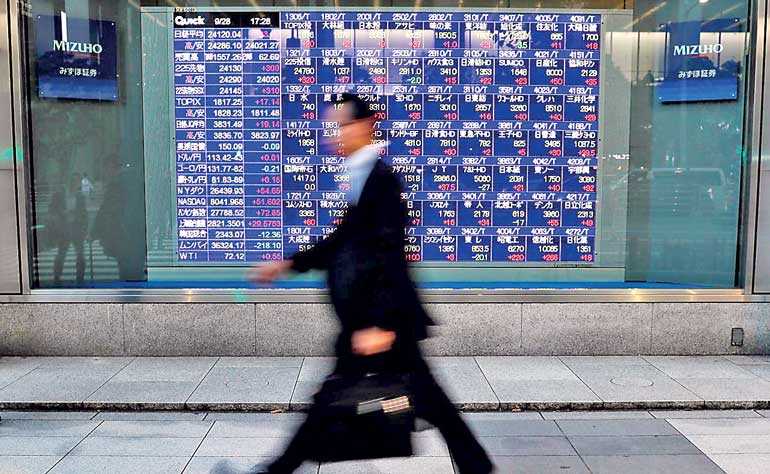 Passersby walk past in front of an electronic stock quotation board outside a brokerage in Tokyo- REUTERS
SYDNEY (Reuters): Asian shares slipped on Wednesday as oil prices nearing four-year highs threatened to roil emerging economies, while the euro rebounded from six-week lows on reports Italy will reduce its budget deficit more quickly than expected.

Spreadbetters pointed to a firm start for the European markets amid hopes Rome could stave off a debt blow-out. E-Minis for the S&P 500 and the Dow were up 0.1%, while E-Stoxx 50 added 0.2%.

The euro was boosted by a report published by the Corriere Della Sera newspaper, saying Italy would reduce its budget deficit to 2% of gross domestic product (GDP) by 2021.

The report came after the coalition Government said last week that it planned to run a deficit of 2.4% over the next three years in a move that tripled the previous target and worried investors in both Italy and the European Union.

"The big market mover in the last 24 hours has been Italy and the concerns around its debt, so the latest news is being considered a much better outcome than was priced into the market," said Melbourne-based analyst at IG Kyle Roda. "The news has prompted some buying, we're seeing a bit of a relief rally."

The euro jumped 0.3% on the news to $ 1.1585, snapping five straight days of losses that had pushed it to a six-week trough of $ 1.1506.

Italian BTP futures opened 98 ticks higher while German Bund Futures slipped as the spread between the two narrowed.

Sentiment in Asia remained jittery as investors considered how a new trade pact between the United States, Mexico and Canada could impact the ongoing US-Sino tariff war as it contained a clause forbidding deals with non-market countries, like China.

MSCI's broadest index of Asia-Pacific shares outside Japan slipped 0.2% with Hong Kong's Hang Seng index down 0.4%.

Japan's Nikkei closed 0.7% lower while Indonesian shares fell 0.4% and India's Nifty 50 faltered 0.8%.

China's financial markets are closed for the National Day holiday and will resume trade on 8 October. South Korea was also closed for a public holiday.

Chinese markets have been hammered this year as investors worry that the trade row with the United States could crimp economic growth.

The dollar index, which measures the greenback against a basket of major currencies, was last at 95.343, pulling back from six-week highs of 95.744 set on Tuesday.

Gold traded near its highest level in more than a week as investors sought refuge in the safe haven asset after equity markets weakened. Spot gold was last at 1,204.79 after adding 1.3% to $ 1,208.23 an ounce overnight.

Oil prices held close to four-year highs on supply worries due to Washington's sanctions on Iran.

The firmer oil has hit the Indian rupee and Indonesia's rupiah as the two nations import most of their oil and are heavily exposed to fluctuations in oil prices and the US dollar.

Brent rose 7 cents to $ 84.87 per barrel, not far from a four-year high of $ 85.45 touched earlier in the week. US crude inched 9 cent up to $ 75.32 a barrel, after earlier touching a four-year high of $ 75.91.