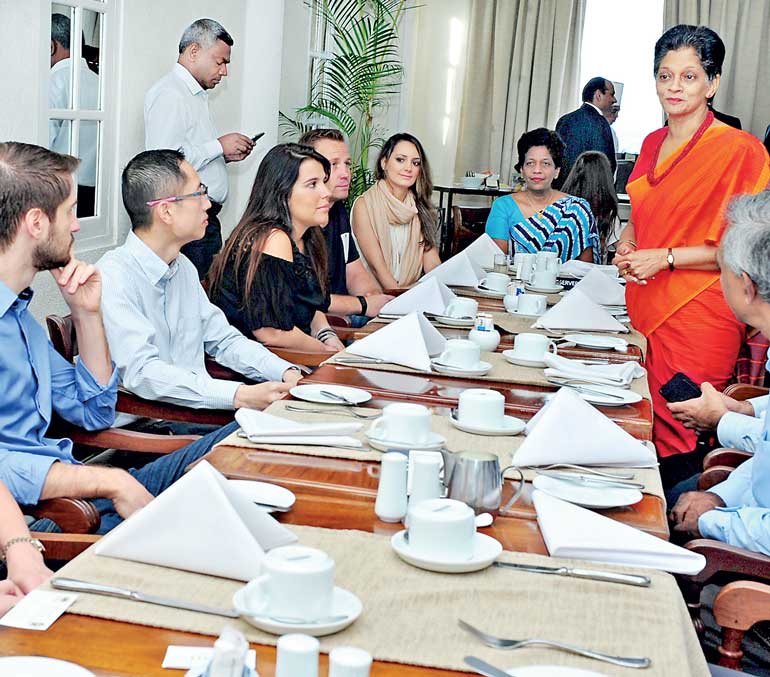 EDB Chairperson and CEO Indira Malwatte (standing right) addresses visiting global buyers on Friday at the Mount Lavinia Hotel as Lankan apparel industry representatives (right) look on
The Lankan apparel sector secured sudden success when it snatched a new market and some premium global buyers from three other new markets last week.

A visiting high powered multinational buyer team finally linked with the EDB reps and Lankan apparel giants on 27 November at the Mount Lavinia Hotel after a three-year long resolute quest by EDB to link with nine top global retailers.

"This is good news for our surging apparel sector," said the State Minister of International Trade Sujeewa Senasinghe . "We believe that this breakthrough could help us to move towards our new apparel export target set by the industry."

Apparel is Sri Lanka's topmost merchandise export and in 2014 it earned $ 4.9 billion – just short of $ 5 billion (increasing by 9.2% from 2013). Last week, Sri Lanka's apparel industry set an ambitious new export target of $ 10 billion by 2025.

The visiting international buyer team, flown in by EDB, consisted of reps from top fashion retailers from Brazil, Australia, India and Denmark.

"EDB's years of efforts to get new markets such as you, the top international retail representatives, to visit Sri Lanka has worked and we thank you for meeting here this morning," said EDB Chairperson and CEO Indira Malwatte, addressing the global representatives. "This is the first time we have met such a group of top, new major buyers in Sri Lanka in one go. Our apparel sector now supplies well-known labels including Calvin Klein, Gap, Marks & Spencer and Victoria's Secret, and we are pleased to introduce you to our apparel industry," she added.

The reps of the visiting international buyer team were from Brazil (Casas Pernambucanas, Grupo Guararapes, Cia Herring), Australia (Pilot Athletic, Cotton on Group, Bein Sports and Auluaulu International), Denmark (Day Birger Mikkelsen) and India (Raymond Apparel Limited). They were instantly wowed by the high quality of Lankan apparel and promptly embarked on EDB-facilitated factory visits of Lankan manufacturers on the same day. The buyers also took part in the Sri Lanka Design Festival in Colombo on 26 November. EDB estimates Brazil's apparel import market to be worth $ 2.5 billion while that of Australia's to be worth $ 6 billion and Denmark's $ 5 billion.

A spokesman from leading Sri Lankan apparel maker, the Hirdaramani Group, revealed: "We are highly grateful to EDB for linking us to the world's largest textile retailer, Spain's Zara chain. After talks, Zara has entered Sri Lanka and now we started work with them for their requirements."

Despite being the world's largest textile retailer, Zara does not advertise. Zara is owned by clothing group Inditex, which in turn is owned by Spanish mogul Amancio Ortega. Ortega last month briefly surpassed Bill Gates as the world's richest man.

"We at Auluaulu work with global brands and we usually specialise in niche apparel from Sri Lanka - swim, beach, active wear and lingerie. Among our clients are such labels as Jane Lamerton, MYER and WaterSun," said Lankan-born Australian Nirosha Fonseka, Director Marketing Auluaulu International –Melbourne, Australia.

"We are happy to say that we brought down a leading Australian fitness fashion label 2XU to source from Sri Lanka. They arrived today and are now in town, meeting with Lankan apparel suppliers," Fonseka added.

"Casas Pernambucanas is one of the pioneering retailers in Brazil market having started almost a century ago," said Casas Pernambucanas Production Manager Hamilton Chen.

"We have heard of Sri Lanka on and off but it has been largely unknown to us. What I saw during these few hours in Sri Lankan apparel manufacturing factories really impressed and amazed me due to the level of high production quality. In fact, we are ready once the price ranges of supplies match our requirements," Chen added.

Casas Pernambucanas is the 14th largest retailer in Brazil with $ 1.6 billion in revenue. In 2013, it was listed as the number one Brazilian retailer.

Joining the morning session to meet new markets were Joint Apparel Association Forum Chairman Azeem Ismail, JAAF Deputy Chairman Noel Piyatilleke and JAAF Secretary General Tuli Cooray. Several visiting buyers who did not visit Lankan apparel factories earlier were facilitated by EDB on the morning of 27 November itself for their requested visits.

The EDB's work to facilitate the buyer delegation started way back in 2012. As a result, a year ago last October, the first ever Lankan apparel industry delegation to Spain's Inditex took place, again facilitated by EDB. The Lankan delegation took part in a presentation by General Director of Communication for Inditex SA, Echevarria Hernandez, at the Inditex offices in Spain.