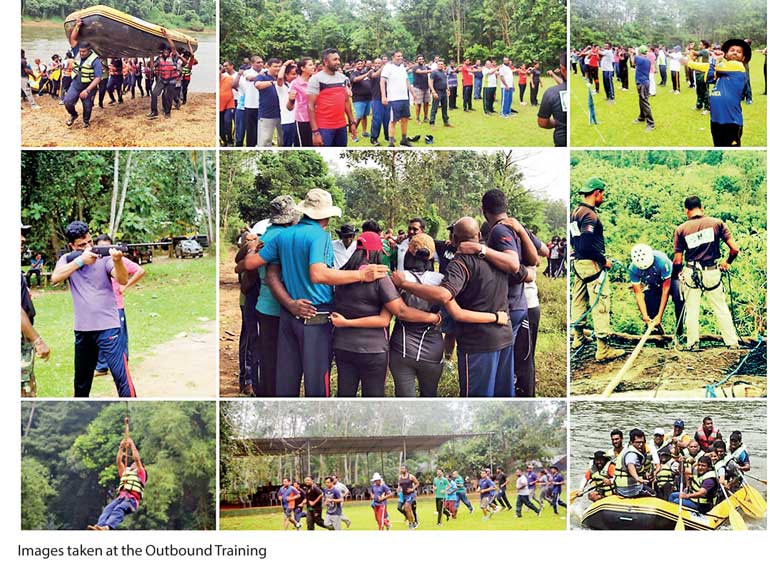 February 23, 2018: Employees of Watawala Plantations and Hatton Plantations took part in an outbound training (OBT) on team building and leadership recently.

Held at the Che Adventure Park premises in Hanwella, the OBT program was organised to provide a unique training method for enhancing organisational performance and deliver a valuable learning experience for employees away from their conventional working environment.

The two-day program was organised as a series of fun-filled yet challenging activities. They were mainly focused on building a great sense of belonging by forming trust in the relationships among employees, developing high-performance and energetic teams, creating open-minded, creative and competent leaders and reinforcing ongoing internal service quality.

These activities highlighted the importance of having responsible and motivated teams in a working environment and included vital learning elements on how to build a positive, supporting and empowering work culture as well.

"In keeping with our ethos of building our future upon a strong value base where stakeholder interest comes first, our family of employees takes precedence. On that note, we believe that experiential training of this nature allows employees to move out of their comfort zone into an unfamiliar environment where they are better able to challenge themselves and pit their wits against the elements in situations that are physically different but mirror a day at work. The added advantage of being able to integrate and interact with fellow employees on a more personal level provides an opportunity for bonding that is imperative for team building and improving cohesion," said Sunshine Holdings PLC Group Head of Human Resources Michelle Senanayake.

She added: "Sunshine Holdings is a conglomerate that has a very vibrant and diverse employee-base from different cultures, religions and ethnicities imaginable. This policy of accommodating and celebrating diversity is one of the main reasons why Sunshine Holdings has emerged to be one of the most respected conglomerates in the country. Trainings like this serve to promote overall harmony and understanding among employees while driving home key learning outcomes. We have come to understand that investing in employees with a view of developing competency and skill is very important and we hope to carry out similar programs like this in the future."

Estate Management Services Ltd. (EMS), the agri-business arm of Sunshine Holdings PLC, manages Watawala Plantations and Hatton Plantations. Sunshine Holdings is a diversified conglomerate with interests in healthcare, plantations, FMCG, and Renewable Energy. The Group with revenue exceeding $ 120 million is listed on the Colombo Stock Exchange.

Beginning with the healthcare business in 1967, the group has built strong businesses over the last five decades. Other Group companies include Sunshine Healthcare Lanka, Watawala Tea Ceylon Ltd and Sunshine Energy.