CANADIAN WIM AWORDS 2018
---
Great opportunity to showcase Sri Lankan products amongst Sri Lankan Canadians living in Canada
Women in Management Sri Lanka (WIM), is committed to empower Sri Lankan career women and women entrepreneurs by providing them with guidance to leadership through furthering their skills and knowledge. Further, it inspires them to achieve their business and personal goals. Furthermore, it encourages them to act as conduits to the transformation of the role of women in career and business into a dynamic force.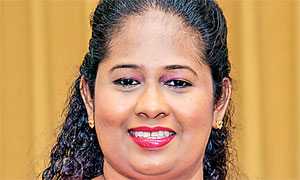 WIM Founder Chairperson Dr.Sulochana Segera
In Sri Lanka together with the World Bank's private sector investment arm International Finance Corporation (IFC), the eighth edition of the 'WIM Top 50 Awards' was concluded in August 2018.

WIM Founder Chairperson Dr.Sulochana Segera commented: "WIM has taken its awards program to Canada to recognise and award with the prestigious WIM Award to Sri Lankan origin women who have excelled in their field of profession and business in Canada. Further, WIM has launched its Canada chapter in March 2018 to empower Sri Lankan origin women living in Canada to excel in their field of profession and business in Canada."
WIM Awards Canada 2019

WIM has already launched the second edition of the awardprogram by calling for nominations and will be celebrating iton 29Marchat Grand Cinnamon Banquet and Convention Centre, 3895 McNicoll Avenue, Toronto, Canada. The objective of the awardprogram will be to recognise and reward the outstanding women of Sri Lankan origin who have excelled in their business or professions in Canada.
WIM Representative in Canada Rienzie Martinesz said: "We had a very successful award program and an awards ceremony in 2017/2018. We had an amazing response from people congratulating WIM for the initiative taken. We received quality nominations. We also saw people demonstrating their commitment to be a part of this unique and fruitful program. We had 52 nominations last time and 37 were chosen as winners by the judges and they became the recipients of the prestigious WIM Award. It was a proud moment for us to get to know 37 Sri Lankan origin women who have excelled in their professions and businesses in Canada. It is certainly an aspiration to younger and other women living in Canada. It is a great opportunity to showcase Sri Lankan products amongst Sri Lankan Canadians living in Canada."

This award program has now become the 'talk of the town' amongst people of Sri Lankan originliving in Canada. If any organisation or a brand associating with this event will certainly get a greater exposure amongst the 400,000 Sri Lankan origins (20,000 households) living in Canada.

Martinesz added; "We will provide marketing and brand exposure opportunities for our valued sponsors."
Awards categories

There are two broad categories for women professionals and women entrepreneurs to apply. There are also special category Awards to be chosen by a distinguished panel of judges headed by Dr. Rohantha Athukorala.
Professional Category, Business Categoryand Special Awards

JKH Properties Ltd.: This initiative is powered by JKH Properties –JohnKeells Group, Sri Lanka.And supported by Canada Sri Lanka Association, Tri-Zen, Grace Canada and Riyaz Rauf.

For further inquiries contact Rienzie Martinesz at +1 416-270-7199 or via email rienzie@canits.com or Dr. Sulochana Segera at +94 773 878722 or via email wim.srilanka@gmail.com.