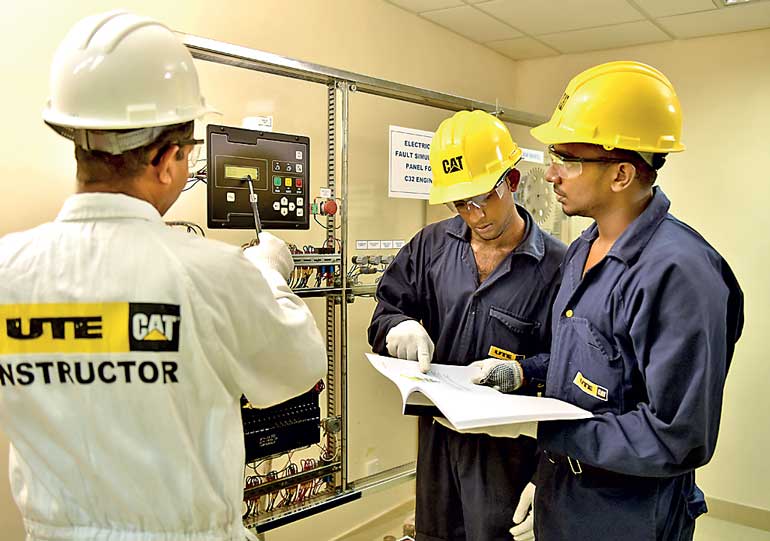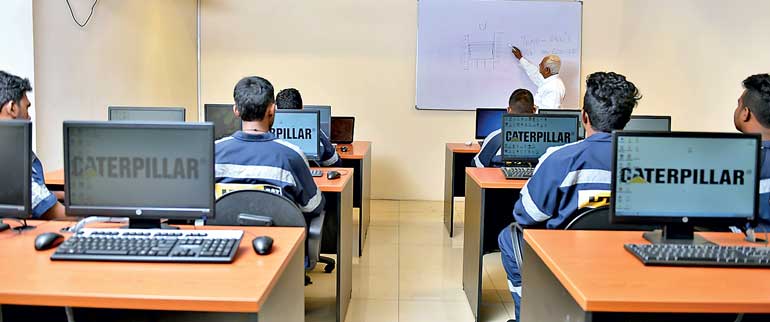 The UTE Engineering arm of United Tractor & Equipment Ltd. (UTE), recognised as one of the nation's premier engineering solutions providers is firmly committed to help grow the country's skilled technical workforce and enhance their capabilities.

Understanding that the technical and engineering landscape has changed dramatically, UTE Engineering, developed specialised training programs aimed at ensuring the technical engineering workforce is prepared to support the nations builders to face tomorrow's challenges.

UTE Engineering's flagship training 'National Certificate in Construction Equipment Mechanic (ACCEM)' program in industrial construction and mechanics, is the sole local certificate course available in Sri Lanka for Construction Machinery recognised by the Tertiary and Vocational Education Commission, the apex body for vocational education.

Additionally, this is the only such course in the country for Construction Machinery offering a NVQ Level 4 qualification and presents an ideal opportunity for participants to be recognised as Professional Technicians.

UTE's unique CAT/Dealer relationship of over seven decades enables participants of this programme to also achieve global recognition. They receive an elevated educational experience through Caterpillar University's e-Learning training modules and earn relevant Cat certification.

During the two and a half-year course, training is conducted on a range of engineering topics by experienced and trained UTE Engineering personnel who have received special Caterpillar accredited training. Participants receive training via classroom sessions and at UTE Engineering workshops.

Expanding its training outreach UTE Engineering recently introduced a series of new skills-oriented training programs. The 'Preliminary Certificate in Construction Equipment Technology' program is an ideal two-month short course for students who have just completed their Ordinary Level exams. The program seeks to inspire these young minds and attract a new generation into the construction mechanic profession.

Specialist certificate Cat Programs such as the Solar PV System Training, Service Technician Training and Cold Planer Service Training are also now offered via UTE Engineering's Training Centre. UTE Engineering offers other short 1-2 day training courses for professionals equipping participants with practical skills used in today's electrical engineering fields. These include the 'Effective Maintenance of Backhoe Loader, Power Generation & Generator Maintenance, Know your Cat Diesel Engine, Effective Maintenance of Hydraulic Excavator, Safe Operation and Maintenance of Forklift Truck'.

Supporting UTE Engineering's training is its world class Training Centre, dedicated to providing excellence and high quality programs. Recognising UTE Engineering's achievement, the Centre is the proud recipient of a Cat four-star rating and the prestigious Service Training Excellence Accreditation Award (STEAA) from Caterpillar. It is also acknowledged as one of the largest training facilities among the Asian Cat Dealership.

As pioneers in the construction equipment industry, UTE also continues to be the only institution to provide students with opportunities to enhance their knowledge and understanding on the practical aspects of engineering technology. Specially designed interesting sessions via full-day training modules are offered to students who are thus able to gain invaluable hands-on experience on rudiments of engine systems, electrical components and hydraulics, etc. To-date students from many schools have attended the full-day workshop and benefitted from the practical experience it affords. This year too, UTE Engineering hopes to continue these initiatives inviting schools across the Western province investing further in future generations.