The ACCA Sri Lanka prize winners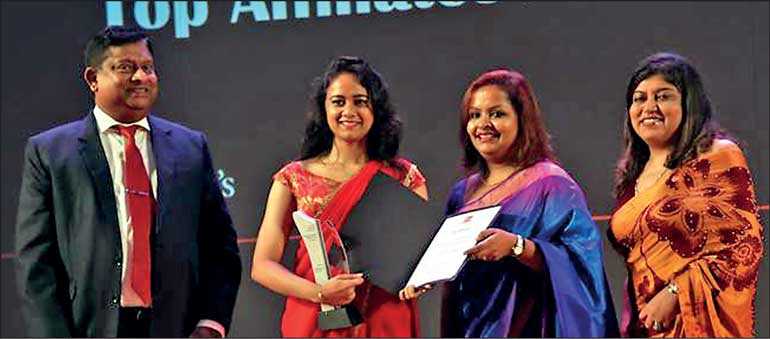 Top Affiliate Awards
---
ACCA (Association of Chartered Certified Accountants) recently held their awards ceremony at the BMICH Colombo, to recognise and award those students who have excelled in their exams in December 2017 and March and September 2018.

The Chief Guest at the function was Rear Admiral Jagath Ranasinghe, Deputy Chief of Staff of Sri Lanka Navy and Vice Chancellor of The Sir John Kotelawala Defence University, Sri Lanka.

In his keynote address Rear Admiral Jagath Ranasinghe said, "I reckon that the professionals in the field of accountancy are the backbone of a country in terms of its economic management either at the micro or macro levels. They play a prominent role in handling and controlling financial management in private, public as well as private-public domains of enterprise. Thus the knowledge, skills and attitudes of accountants and their professionalism are always behind the success of the organisations they serve and ultimately the country. In this sense, the globally acclaimed ACCA qualification enables energetic and futuristic individuals to look forward to contributing to their nation or to the world at large through excellent service in their chosen field of expertise."

Chairman, member network panel for ACCA Sri Lanka, Suren Rajakarier noted, "As ACCA keeps upgrading its syllabus, examination techniques and thought leadership, we hope our students will continue to work hard and use smarter processes to fulfil the public trust bestowed on us and be a business partner in their organisations, solving critical business issues."

The learning providers of ACCA in Sri Lanka comprising of Platinum partner Mercury Institute of Management, Gold Partners, K-Aims Business School, KBBS Campus, ICON Business School, Achievers Business College and tuition partners Neptune Edification, Imperial College of Business Studies were also handed tokens of appreciation for their untiring efforts in helping achieve the kind of successes that has placed Sri Lanka amongst the best in the world in finance talent.

Over 176 prize winners and passed finalists received their awards at the ceremony from Rear Admiral Jagath Ranasinghe, Country Head for Sri Lanka and Maldives Nilusha Ranasinghe and Chairman, member network panel for ACCA Sri Lanka Suren Rajakarier.

Bagging the top world prizes and doing Sri Lanka proud were Pradnidhi Manasha Wirthamulla for the subject Advanced Performance Management for March 2018 and Dayanijah Srimuruganathan for Taxation for September 2018.

The outstanding affiliates comprised of Rumali Shenelka Tennekoon for December 2017, Geeganage Minusha Sanka Weerasuriya for March 2018, Fathima Hafsa Nizar for June 2018 and Sandaruwan Nadeesha Premarathna for September 2018. Each of these students have been ranked 1st in the island in the respective periods of time.

Congratulating the prize winners, the head for Sri Lanka and Maldives Nilusha Ranasinghe commented that the ACCA qualification provides a framework of practical experience and requirements and ethical developments, essential in a world where there is a demand for talent. Therefore, the knowledge gained will help to make a significant contribution to Sri Lankan businesses. She further indicated that there is also a high expectation for each student to uphold ACCA's values – accountability, diversity, opportunity, innovation and integrity – all are the cornerstone of the ACCA Qualification.

Once again showcasing the key role played by ACCA in delivering a highly structured and industry-relevant qualification that produces the next generation of finance professionals with the ability to contribute positively to the future business landscape, this year's prize winners ceremony stood as a testament of ACCA having continued to hold their position of being the largest and fastest growing professional and international accountancy body in the world.