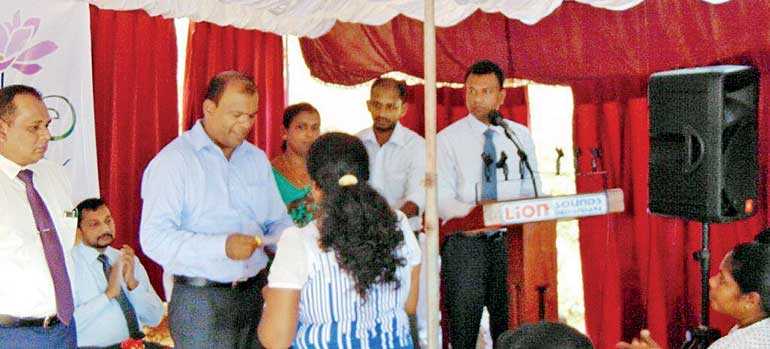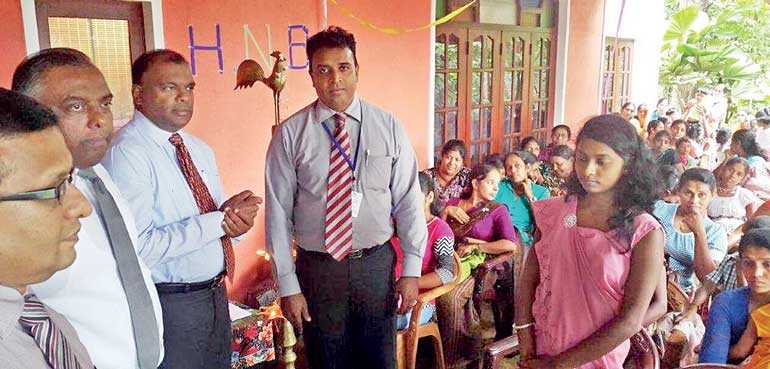 Through iconic microfinance initiatives like HNB Gami Pubuduwa, HNB bank has consistently worked to partner with women entrepreneurs across the island, and between 2008 to 2017, HNB has supported over 23,000 such individuals and enterprises across the island
By Jonathan Alles

Today, despite immense progress made by enterprising, socially conscious and highly-successful female leaders like social entrepreneur and philanthropist Otara Gunawardene, Ceylon Biscuits Group Managing Director Sheamalee Wickramasingha and – closer to our own industry – Nations Trust Bank CEO Renuka Fernando, the opportunities provided to Sri Lankan women remain limited and extremely challenging.

Today it is estimated that female labour force participation hovers at just 40%, as compared with male labour force participation of 75%. Similarly, 20.4% of women in Sri Lanka are unpaid family workers, as compared with just 3% for men, while just one in every four Sri Lankan entrepreneurs is woman.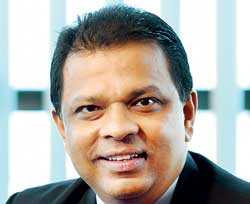 Conversely, 1.2 million households in Sri Lanka – almost a quarter of the national total of five million households – are headed by women, particularly in the Northern Province. Despite playing such a crucial role in our society, unfortunately, these women are not brought into the formal labour force, or are sub-optimally employed or compelled to seek jobs as menial labour overseas.

Particularly when taken in the context of a nation that is continuously grappling with severe shortages in skilled labour, these figures speak to a tremendous underutilisation of desperately needed human resources and skills, that if encouraged, would doubtless make unprecedented contributions to national economic development while at the same time enabling these courageous women a to gain a measure of financial independence.

This is why HNB as an organisation believes that the empowerment of women remains one of the most crucial pre-requisites to achieving exponential growth across all economic sectors.

However, in order to make any meaningful progress towards this important goal, we must necessarily take cognisance of the economic and cultural forces acting as constraints on women's empowerment at the micro and macro level.

A culture that

is increasingly

at odds with itself

While dominated by male leaders, Sri Lanka's rich and storied history is also adorned with numerous examples of women who have taken the lead, particularly in ancient times in the case of leaders like Queen Lilavati under whose rule, the island was said to have enjoyed an extended period of peace, social and economic development at a time when male dominance flourished and female authority was practically non-existent.

Despite these and many more examples of outstanding Sri Lankan women stretching well into contemporary times, our island remains a place where many women are constantly discouraged from participating in the social and economic development of the nation.

According to the Legal Aid Commission, our paradise island is also home to the highest rates of sexual harassment in South and East Asia, in addition to taking the dubious honour of having the second highest rate of gender-based violence in the world with a 2013 UN study reporting that one in three Sri Lankan men admitted to carrying out at least one act of physical or sexual violence against a woman.

If our nation is to develop, these are among the first and most important and severe flaws that our nation must to address with extreme urgency. We can all agree that Sri Lanka is a nation that aspires to a higher moral standard, hence the need to drive cultural change is paramount. However while equal treatment for men and women at home, in public and in the workplace is an extremely compelling moral consideration, there is an equally strong economic argument for women's empowerment.

Internationally, it is estimated that violence against women causes $ 1.2 trillion per year as a result of direct costs to healthcare, counselling, legal services, childcare and welfare support and related services. This effect is further compounded by indirect costs, such as lost wages, productivity and potential. Meanwhile, a 2012 study found that the very best predictor of a state's peacefulness is not its level of wealth, its level of democracy, or its ethno-religious identity but rather, how well its women are treated.

Clearing economic obstacles to women's empowerment

Cultural change is possible but almost always slow-moving. Nevertheless, progressive economic initiatives are already being put into place, and hold the potential to drastically accelerate the rate at which Sri Lankan moves towards a gender inclusive economy.

The recent announcement by the Asian Development Bank (ADB) to provide a $ 12 million grant to the Sri Lankan Government in order to promote and improve female entrepreneurship in Sri Lanka and this is certainly a welcome development that holds the real potential to introduce a larger segment of women into the labour force over the next two years.

Given the strong relationship which HNB maintains with the ADB – particularly in the field of microfinance and SME development – we are confident the approach that our bank takes towards women's empowerment is working, and worthy of emulation. This approach is based on two central pillars: expanding access to personalised finance and microfinance products and enhancing financial literacy and management ability among women entrepreneurs.

Through iconic microfinance initiatives like HNB Gami Pubuduwa, our bank has consistently worked to partner with women entrepreneurs across the island, and between 2008 to 2017, HNB has supported over 23,000 such individuals and enterprises across the island, providing them with the financial capacity, and vital knowledge resources needed to establish thriving businesses – many of which have graduated into fully fledged export-oriented companies. Moving forward, the bank is also working to deploy technology in order to improve loan delivery, monitoring and advisory services to women entrepreneurs.

While many of these enterprises are either directly or indirectly linked to the agriculture sector, we believe that in time to come, more women are going to take the lead traditionally male-dominated industries, particularly in the IT and tech sector.

In that context, I believe that we must now, as a nation, commence the crucially important task of identifying and supporting Sri Lanka's next generation of women entrepreneurs, and do our utmost in every aspect of our personal and professional lives to promote a culture that is focused on equal opportunity, and entrepreneurial spirit for all Sri Lankans, regardless of gender.

(The writer is HNB Managing Director/CEO.)