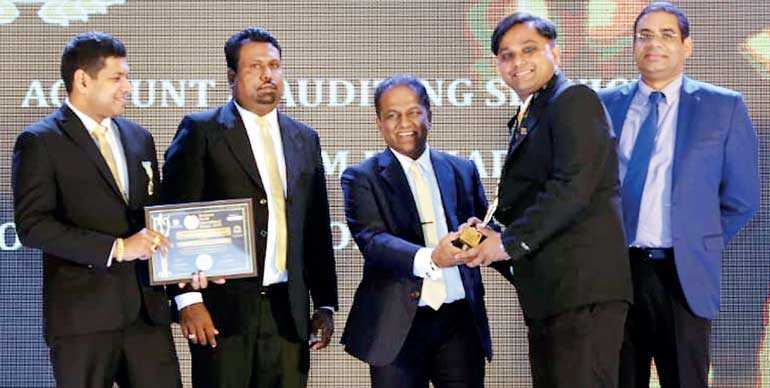 Dr. Irshad Jabir receiving the award from Thilanga Sumathipala MP. Also seen are Commercial Bank Former Chairman Dinesh Weerakkody, BWIO Chairman Prof. Dexter Fernando and BWIO Project Chairman Dr. Tharidu Wijenayake
Dr. Mohamed Jabir Mohamed Irshad CEO of Super ACC Solution received the prestigious Sri Lanka Young Professional of the Year award at the Business World International Organisation (BWIO) Awards ceremony at Taj Samudra Hotel, Colombo recently.

The BWIO Awards recognises and rewards exceptional individuals and organisations for their spirit of business and entrepreneurship, and outstanding contribution to the business world. The Business Award celebrates business excellence as a platform that provides inspiration to businesses and sets bench marks for best practice. The glamorous event was well-attended by VIP celebrities and leading business leaders who amount the recipients of awards presented by BWIO.

Dr. Irshad was recognised for his impressive professionalism. He holds a PhD (Acc & Fin) Costa Rica, three master qualifications and 14 graduate and postgraduate level qualifications local and overseas. He is a Certified Business Accountant and Senior Member of AAT SL, and is doing his professional services since 2011.

Dr. Irshad was thankful to BWIO for believing in his achievements and presenting the award.

BWIO aims to recognise the success and vitality of the global business sector empowering both the local and international business community. The awards are the most prestigious annual event of the organisation honouring outstanding performers.

This unique annual awards program has been established specifically to acknowledge, encourage and celebrate excellence amongst business and the community by giving them the opportunity to gain valuable exposure and well deserved recognition for their ambitions.

The BWIO are the highest honours within the Asia Pacific Region. The goal of the awards program is primarily to help the Sri Lankan business sector grow and prosper.