Dr. Irshad Jabir receiving his honorary doctorate from Dr. Dietmar Doering. Dr. Anoma Wijenayake, Dr. Tharidu Wijenayake, Dr. Thissa Jayaweera, and Prof. Dexter Fernando were also present at this ceremony
---
Super ACC Solution CEO Dr. Irshad Jabir was conferred with the award of Doctor of Letters (Honorary Cause) from the American National Businesses University in the USA. The ceremony was held at the Global Tower, Colombo recently.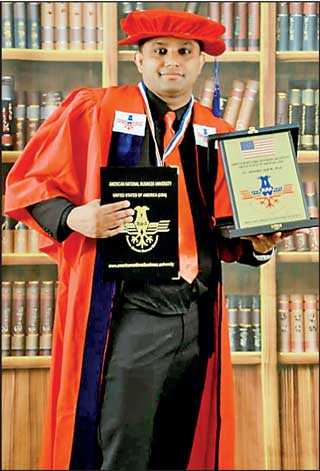 Super ACC Solution CEO

Dr. Irshad Jabir


Dr. Jabir received the Dr. Abdul Kalam Memorial Excellence Award for Education Excellence for his exceptional education achievements. Dr. Jabir holds a PhD in Accounting and Finance from American National University, Costa Rica, and holds a Doctor of Letters from Trinity College and University in Spain. He also holds an MBA (Malaysia), Master of Project Manager (USA), Master Professional Auditor (USA), International Tax Analyst (USA), and Chartered Business Strategist (USA). He is also a fellow member of the American Academy of Project Management. He holds a Postgraduate Diploma in Finance first class, is a highly qualified accountant and recently received the Young Professional of the Year Award at BWIO.

His professional qualifications are in Accounting and Finance, and he is a Certified Business Accountant (Chartered Accountant) of Sri Lanka, senior member of the AAT SL, Associate Management Accountant, Member of IMSL SL, Associate Member of Chartered Professional Managers, and holds a Graduate Diploma CPA (SL) and Certified Banking and Finance (IBSL).

He is a member of the Association of Institute of Finance Managers UK and he was appointed as a Peace Ambassador of Sri Lanka and received the Global Peace Ambassador and Global Brigadier titles as well.

Dr. Jabir is a distinguished old boy of Zahira College Colombo and was a Senior Prefect of the College.